Skip to Content
MAKE A DONATION
Millions of children around the world struggle to survive, living in impossible circumstances. They desperately need your support.

Your gift will give them the help, safety, and comfort they need.

Thank you for giving what you can.
Donate to World Vision
You can transform a child's life
Donate to World Vision's work and you will be helping wherever it's needed most. For children living in the aftermath of disaster or families struggling to find drinking water, your gift today will help re-write their futures and transform tomorrow for some of the world's most vulnerable children.


£8 could buy a mosquito bed net, saving a child from nasty mosquito bites and protecting them from malaria
£35 could provide an emergency food assistance bundle in the aftermath of a disaster - enough dry and preserved food to feed a family of five for a month, while they begin to rebuild their lives
£52 could buy 4 solar lamps – so children can do their homework and feel safer after dark



For every £1 of World Vision UK's total income
82p

is spent reaching the world's
most vulnerable children
18p

g

oes towards raising
the next £1

 See how donations spent or learn about our promise to you when you support World Vision
You can change the lives of children like Erphan
Erphan and his family were forced to flee violence in Myanmar along with many thousands of other of refugees. The journey to Bangladesh was dangerous, and Erphan worried about his mum, Jaheda, who was heavily pregnant. She had no choice but to give birth in a stranger's home.

Thankfully, Erphan's little sister was born safely, but with little food, Jaheda struggled to feed her. When the family eventually arrived in Cox's Bazar – the world's largest refugee camp where over a million people live – Jaheda was told, "Your daughter will not live."

Erphan and his sister were hungry, day after day. "She was tiny. She wasn't eating anything" he said.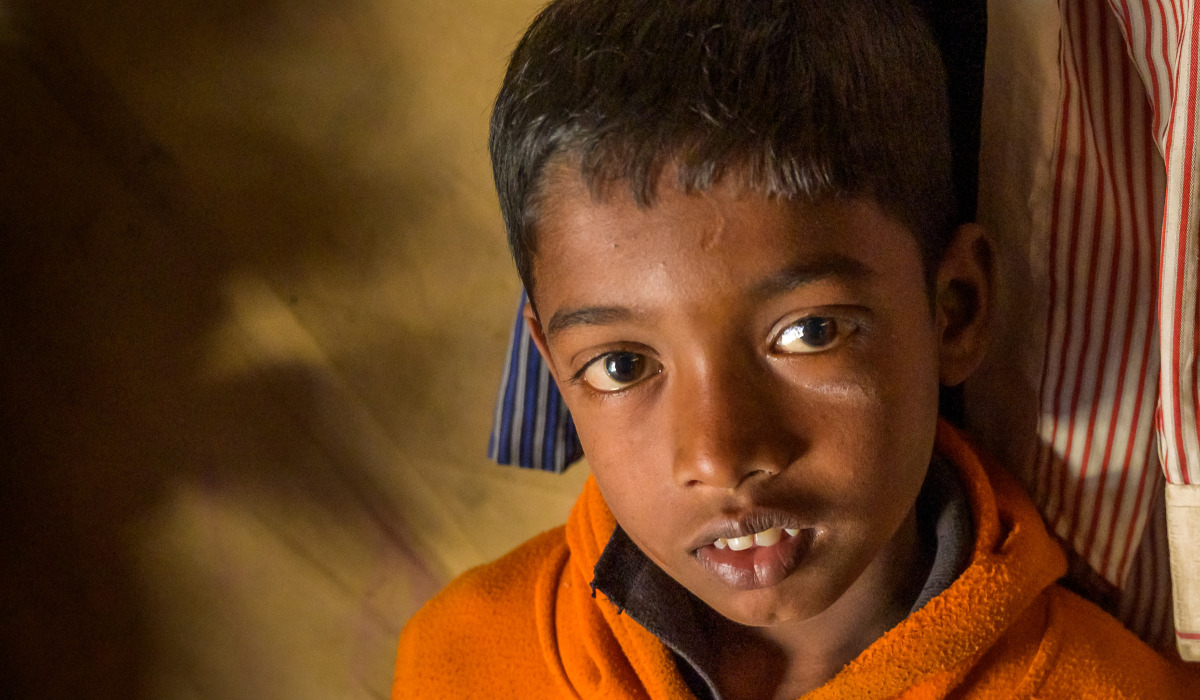 Erphan was desperate to help his baby sister
Malnutrition in the first 1,000 days of life can be devastating, and her brain development was at risk. 

But thanks to the generosity of supporters like you, World Vision was able to support Erphan and his family, giving them the help they desperately needed. 

Donate to World Vision today, and you'll help vulnerable children who need it most
As a Christian, international children's charity, we believe every child deserves a bright future – the chance to thrive, not just survive. We pursue poverty wherever it's found to reach the most vulnerable and marginalised children and their communities. Places rife with violence, instability and exploitation, where few others can go and where children suffer the most.
LATEST NEWS
Wednesday 08, Apr, 2020
Thirty million children's lives are in danger because of the secondary impacts of the COVID-19 pandemic, a new report from World Vision warns.
Friday 03, Apr, 2020
One in three UK children between five and 18 years old (36%) have told parents they are lonely since the government shut schools, a survey commissioned by World Vision reveals.
Wednesday 25, Mar, 2020
World Vision welcomes the UN's COVID-19 Global Humanitarian Response plan, launched today (March 25).
Back to top