MYANMAR-BANGLADESH REFUGEE CRISIS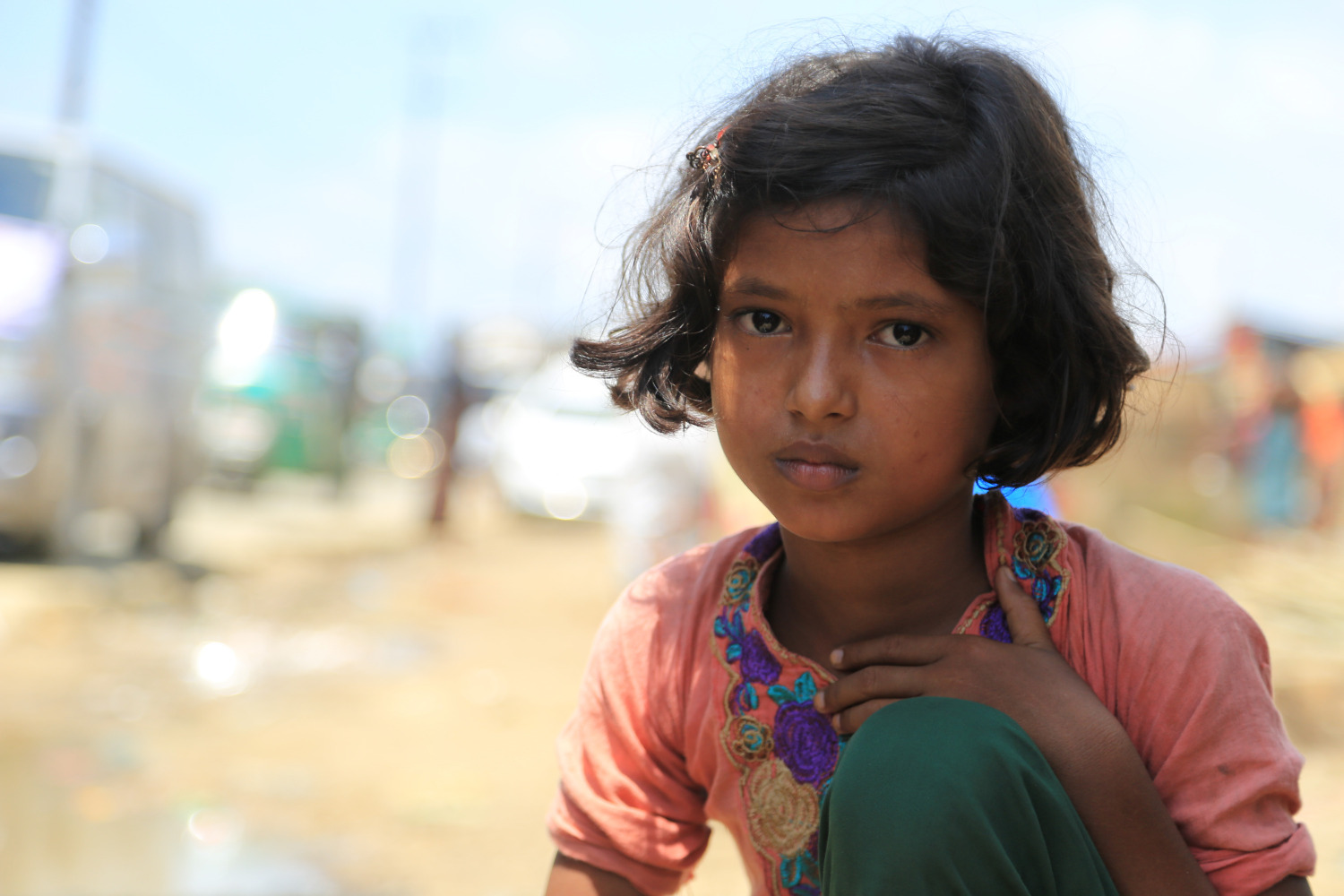 Kalima, 7 years old "We have no shelter yet, so we have to stay in our relatives' shelter."
Refugees from Myanmar in Bangladesh, (many of whom identify as Rohingya), remain in a desperate situation and protection needs continue to rise. An estimated 890,000 have fled to Cox's Bazar, Bangladesh. Nearly 55% of those are children, joining the existing 200,000 refugees from previous influxes. An estimated 1.3 million people – including in host communities – need water, health and sanitation assistance.
Crisis within a crisis

:

After fleeing violence in Myanmar, people living in the world's largest, most densely populated refugee camp have been battling to survive seasonal monsoon rains. Hazards included flooding, landslides, collapsed or damaged shelters, contaminated water, overflowing latrines and risk of disease outbreaks including cholera. The risk, especially for children, increases significantly during the monsoon season. More than 2.5 metres of rain were forecast from June to August 2018—almost three times the UK's total average annual rainfall. Thankfully, few lives were lost due to effective disaster mitigation by UN agencies and NGOs, including World Vision.
WHAT CAN I DO?
Many thousands have fled from violence or witnessed atrocities. Children have travelled alone, separated from parents or orphaned – with no-one to keep them safe.
Please pray:
For all those who are escaping across the Myanmar - Bangladesh border.
That they might find a place of safety, with shelter and basic provisions - where they can feel free from fear.
Particularly for those who are most vulnerable.
Children and pregnant mothers who are arriving severely malnourished and urgently in need of nutritious food.
For the Government of Bangladesh.
That they might continue to show compassion for their neighbours and make the best decisions for all refugees.
For global leaders.
That together they can find peaceful and effective solutions to help those seeking refuge from Myanmar.
For international donors.
So that they may continue to provide much needed, timely funding to support ongoing aid efforts.
For all the World Vision staff in Bangladesh, as they support hundreds of thousands of children and families.
Give them the wisdom, strength, resources and compassion to help wherever there is need. For all World Vision Myanmar staff that have been caught up in this crisis and particularly for those who are now refugees in Bangladesh as a result of the violence.
HOW ARE WE HELPING?
World Vision has been working in Bangladesh and Myanmar since 1972 and 1991, respectively, helping the most vulnerable children and families through both relief and long-term development work.
The Myanmar-Bangladesh Refugee Crisis Response has reached approximately 213,000 refugees (around 120,000 of those are children) and 25,000 people from the local host community.
Your donations are already helping children. See our latest infographic for more details on how we are responding »
Through the Disasters Emergency Committee (DEC) appeal, we have achieved the following: 135,250 refugees have received food parcels, including rice, sugar, salt, oil and lentils.
4,601 children and adolescents can access protection and psychological care through our Child Friendly Spaces and Women, Adolescent and Young Child Spaces. Women and girls have also been provided with dignity kits and baby kits.
25,500 refugees now have blankets and sleeping mats to provide comfort and warmth in their shelters.
Together, we have already achieved so much – but there is much more to do.
WHAT NEXT?
With DEC funding generously donated by the UK public we hope to help in the following ways.
Child protection
Newly arrived children are distressed from experiencing or witnessing violence; from the loss of or separation from family; and from the ordeal of displacement. According to UNICEF, children and adolescents – especially girls – are at high risk from the many child trafficking groups active in the region. We will set up 49 Child Friendly Spaces and Temporary Learning Centres benefitting 35,500 children and adolescents and providing psychosocial support and learning opportunities.
Nutrition
Twenty Women, Adolescent and Young Child Spaces (WAYCS) will be established, for pregnant women, breastfeeding mothers and children under five serving approximately 110,000 beneficiaries. The WAYCS will benefit approximately 76,000 people through psychological first aid, survivor-centred gender-based violence (GBV) response and mitigation. In these centres we've screened over 12,000 under-fives for malnutrition and provided thousands of mothers with advice on how to improve their children's nutrition.
Water, sanitation and hygiene
A lack of safe water means refugees are drinking from potentially contaminated water sources. Many, including children, are suffering from acute diarrhoea; over 10,000 cases have already been reported by the Bangladesh authorities (according to UNHCR). We will reach approximately 180,000 beneficiaries through construction and maintenance of deep-tube wells to access clean water sources, provision and maintenance of latrines and handwashing facilities, as well as hygiene related education and messaging.
Food
Most refugees are solely reliant on food distributions. We'll provide nutritious food and fresh food vouchers to over 40,000 refugees to help reduce severe malnutrition among pregnant and breastfeeding mothers and children. We'll also assist 21,500 refugees and local community members make a better living through, for example, agricultural resources and technical training.
Shelter
We will reach 32,000 households with upgraded and improved shelter kits for the monsoon season and will provide items such as kitchen sets, baby items, post-natal packs and dignity kits.
STORIES AND BLOGS
Wednesday 21, Aug, 2019
World Vision is one of 61 local, national and international NGOs working in Myanmar and Bangladesh calling for Rohingya refugees…
Wednesday 10, Jul, 2019
World Vision is delivering life-sustaining aid to hundreds of thousands of children and their families as monsoon rains lash the…
Thursday 21, Jun, 2018
BANGLADESH - Child refugee | Rokiya, 9, lost everything when she fled from the violence in Myanmar - her home, her friends and s…