World Vision UK presents It Takes A World petition to DFID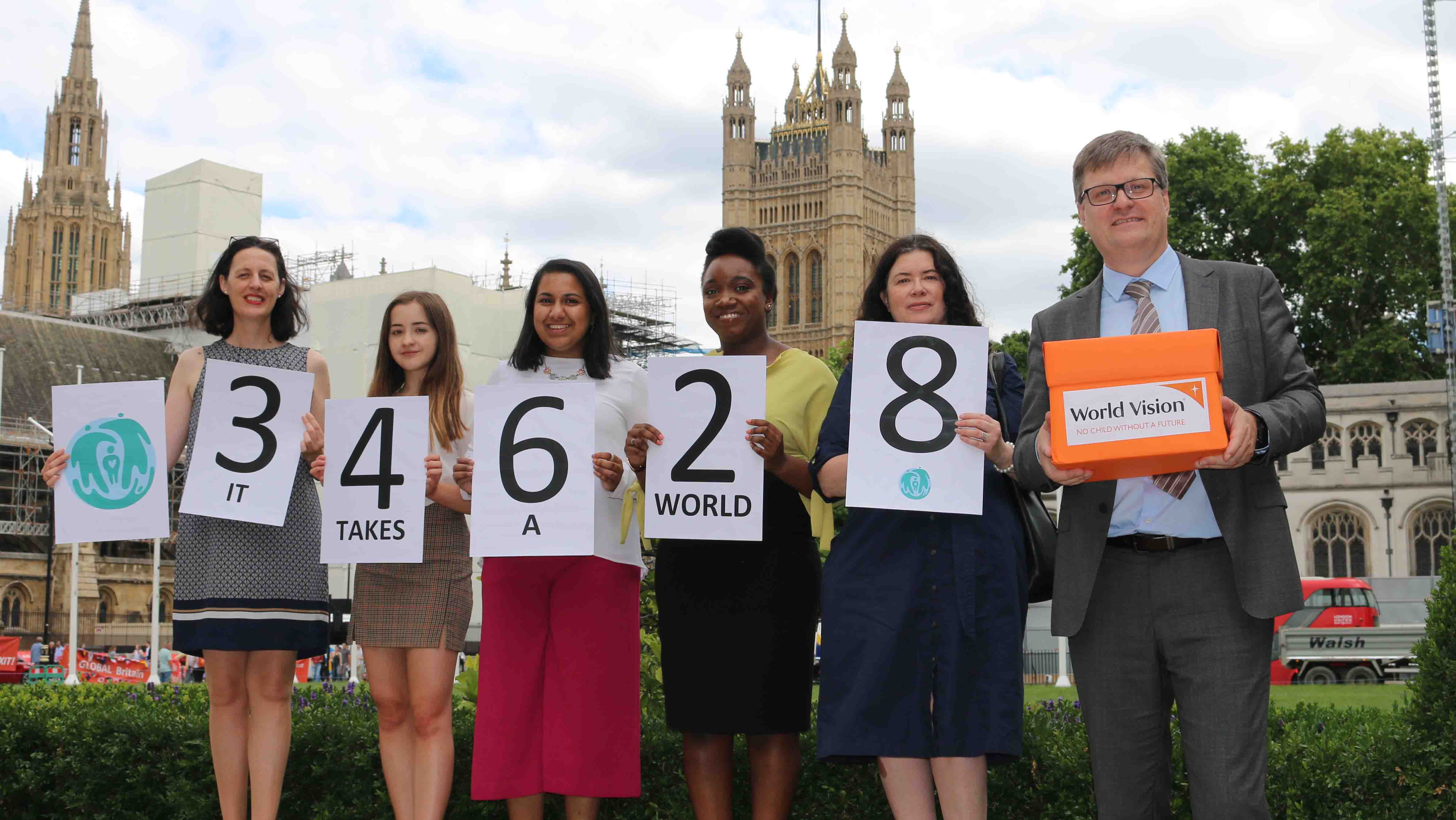 World Vision UK, on Monday 1st July, presented the Department for International Development with a petition urging it to increase spending to stop children being abused and assaulted in disaster zones.
The petition, which was launched as part of World Vision's It Takes A World campaign, was signed by more than 34,000 people around the UK.
535 million children are living in a country affected by conflict or disaster. In these crises – conflicts, natural disasters, epidemics – children and young people suffer the most while being the least responsible. They are particularly vulnerable to violence such as being recruited to child soldiers, sexual abuse, trafficking and hazardous labour. The UK government must step up its investment to keep them safe.
The 34,628 supporters who have signed our petition care about protecting children around the world. They are sending an important message the Secretary of State for International Development cannot ignore.
- Rhian Beynon, Campaign Manager at World Vision UK
The UK Government has committed to end all violence against children by 2030. However, according to research commissioned by World Vision into UK aid in 2017, only 2.5% of the Government's bilateral humanitarian spending goes on projects safeguarding children from violence. In contrast, the Government of Sweden invests more than 20% of its humanitarian budget on this. World Vision UK's petition calls on DFID to this year commit to increasing this spending to at least 10 per cent of the humanitarian budget.
The charity also urges DFID to designate child protection as 'life-saving' in any emergency response. Making it as vital as water, food and shelter in the aftermath of disaster will unlock the support and resources to keep children safe.
Additionally, it is asking DFID to track how much it is spending on ending violence against children within all its programmes. This will improve transparency and make sure all aid is being spent as effectively as possible. Children and young people must also be included in discussions about aid and foreign policy issues which affect them, World Vision UK says.
Protecting the world's most vulnerable children from violence is worth more than the current price tag the Government is putting on it.
The UK Government must dramatically scale up the humanitarian aid it spends on keeping children safe. This is crucial to meet its promise to end violence against children living with conflict and disaster.
- Rhian Beynon, Campaign Manager at World Vision UK
World Vision UK's It Takes A World campaign was launched in November 2018, and is part of a global movement to protect children from violence.
International children's charity World Vision UK hosted a general election hustings event open to all electoral candidates for Milton Keynes North.
"We are desperately sad to hear reports of the deaths of a number of Ebola aid workers who were killed in the line of duty – giving their lives to help vulnerable communities in eastern DR Congo," says Anne-Marie Connor, National Director for World Vision DR Congo
A sudden surge in violence in the DRC has forced aid agencies to suspend work, putting lives at risk as the fight against Ebola and measles is undermined.
World Vision welcomes reports of the repatriation from Syria of three orphaned British children. Innocent victims of war should not be punished for the actions of their parents.