Education for Rohingya refugees must be top priority, say World Vision, Oxfam and Save the Children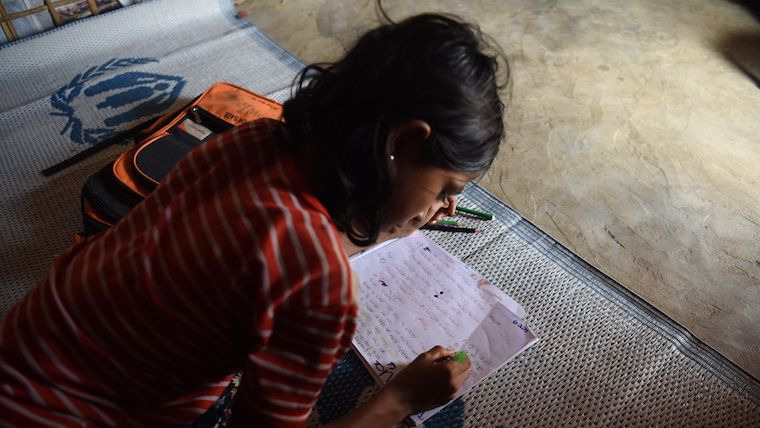 Education and income-generating opportunities must be made top priorities for the nearly 1 million Rohingya still languishing in the world's largest refugee camp almost 18 months after fleeing violence and persecution in Myanmar, said three leading NGOs at the launch of a new UN funding plan for the crisis launched in Geneva today.
In a statement issued today, Oxfam, Save the Children and World Vision called on international governments to generously fund the 2019 Joint Response Plan (JRP) for the Rohingya Humanitarian Crisis. While the agencies applaud the ambitious new JRP—an appeal for US$ 920.5 million to assist 1.25 million people, including 909,000 Rohingya refugees and 336,000 host community members—they urge donors to emphasize education and income-generating activities when allotting funding.
The three agencies are also calling on donors and the Government of Bangladesh to ensure that humanitarian action in Bangladesh supports refugees and host communities to live in greater safety and dignity, while meeting basic needs for food, clean water and shelter. This means investing in education to equip children and youth with the skills they will need to create a more prosperous future in Myanmar when they can safely return there. It also means enabling refugees to become self-reliant today so they can provide for their families in dignity.
Education is not a luxury. It is a human right. Refugee children and parents tell us that education is a top priority for them. However, there is an overwhelming gap in access for children and adolescents.
- Rachel Wolff, World Vision's Rohingya Refugee Crisis Response Director
An estimated 700,000 children and youth age 3 to 24, including 200,000 from the host community, lack access to educational services. The situation for refugee adolescents and youth is particularly dire: only four in 100 have access to any form of education or life-skills and vocational training.
Thirteen-year-old refugee, Sirjil, worries that he'll never go back to school. He says, "I was in fifth grade in Myanmar, but here I have nothing to do. Sometimes I go to the forest to collect firewood. Sometimes I go to the river. There is no opportunity for education. Tutors cost 300 taka a month (about $3.50). How can you pay that if you have no money?"
David Skinner, Team Leader (Designate) of Save the Children's Rohingya Response said: "The Rohingya children currently in Bangladesh have had their rights abused by being forced to flee their homes in horrific circumstances. They have experienced things that no one—let alone a child—should experience. They should not suffer a double penalty by also being denied their right to education. The least the world can do is to ensure that they are not any more disadvantaged."
In addition to insufficient access to education, the lack of income-generating opportunities renders Rohingya refugees dependent on aid, making them highly vulnerable to exploitation, especially children.
Dipankar Datta, Oxfam Country Director said: "Rohingya girls, especially when they hit puberty, face major obstacles in getting an education. The lack of options for Rohingya women to find work in the refugee camps makes it very hard for single mothers to support their children. Donors and the Government of Bangladesh should increase opportunities for women and girls to earn and learn, in order to help protect them from abuse and exploitation and be able to provide a better future for their families."
Oxfam, Save the Children and World Vision are calling on the international community to support the Government of Bangladesh in making education for children and youth a central priority, and to encourage initiatives that promote self-reliance and recovery for their parents.
International children's charity World Vision UK hosted a general election hustings event open to all electoral candidates for Milton Keynes North.
"We are desperately sad to hear reports of the deaths of a number of Ebola aid workers who were killed in the line of duty – giving their lives to help vulnerable communities in eastern DR Congo," says Anne-Marie Connor, National Director for World Vision DR Congo
A sudden surge in violence in the DRC has forced aid agencies to suspend work, putting lives at risk as the fight against Ebola and measles is undermined.
World Vision welcomes reports of the repatriation from Syria of three orphaned British children. Innocent victims of war should not be punished for the actions of their parents.