World Vision seeks sponsors to give girls in poverty a fighting chance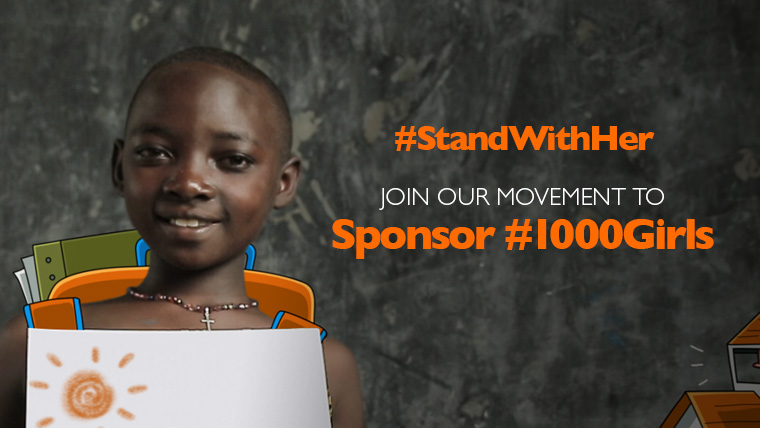 International children's charity World Vision UK is looking for people to support the movement for gender equality by sponsoring 1000 girls in developing countries.
The #1000Girls campaign comes at a critical time for girls around the world, who are fighting terrible odds to give themselves a better future. This year 12 million girls will be married against their will and 31 million will be out of school – many forced into work or domestic servitude. Less than two in five countries provide girls and boys with equal access to education.
The Christian aid organisation aims to get 1000 girls sponsored by the International Day of the Girl on 11 October. This global moment celebrates girls' strength and potential in the face of severe challenges.
Too often, girls suffer unfair treatment every day in their communities and homes. Gender inequality wreaks havoc with a girl's self-belief, contracts her horizons and narrows her ambitions. Such injustices are a scourge on the world's conscience.
Motivated by our faith, we stand with these girls. World Vision does not accept that they are second class citizens. We believe every girl has a God-given right to reach her full potential. Girls everywhere are standing up for their rights. They are breaking through barriers, raising their voices against violence, and setting themselves free.
- Tim Pilkington, World Vision UK Chief Executive
World Vision runs programmes in over 60 countries which help tackle gender discrimination. The charity work alongside marginalised girls in poor areas - and with community leaders, teachers and families - to fight abuse and oppression. It gets girls into school, stops child marriage, provides sexual health services, tackles menstrual stigma and combats sexual violence and harassment.
World Vision staff mentor girls through school and help them grow up to be community leaders. They train teachers to support girls through education and provide schools with clean water and girl-friendly toilets. They help mothers spot the signs of malnutrition, learn skills, set up businesses and advocate for girls and women's rights.
All our work is made possible through child sponsorship. We now have 1000 more girls waiting for a sponsor. Please visit our child sponsorship page, find a girl and stand with her.
When you sponsor a girl, you don't just support and protect her. You do something far bigger. You empower that girl to achieve more in her life for herself and for others. You change the attitudes of whole communities. You join a global movement."
- Tim Pilkington
World Vision's 1000 Girls campaigns are taking place in 10 countries around the world, including Canada, New Zealand, Spain, Finland and Austria. The World Vision UK campaign will feature girl-focused projects on Facebook, Twitter and Instagram. They include a menstrual hygiene project in Zambia, a karate project for Syrian refugee girls and a project to support pregnant teenagers in Uganda.
On the International Day of the Girl, World Vision will hold a girls' empowerment breakfast in London with female opinion formers. The event will celebrate what girls can achieve, even in the harshest places, and discuss how to build the movement to empower more girls.
World Vision is urging members of the public to speak out on global girls issues on social media using the hashtag #StandWithHer and #1000Girls. To join the movement, click here.
Reports of new cases of Ebola in north-western DRC confirm World Vision's greatest fear: that the country is contending with yet another outbreak in a new province – Equatoria.
Cyclone Amphan is creating crisis on top of a crisis – making it even more difficult to contain COVID-19 at a critical time in the response by both India and Bangladesh, World Vision warns.
Up to 85 million more children face physical, sexual and emotional violence at home and in their communities over the next three months, as COVID-19 spreads worldwide.
World Vision has dramatically scaled up its emergency response to the COVID-19 pandemic, as the virus continues to spread rapidly around the world.