Monsoon floods: World Vision warns of spike in child malnutrition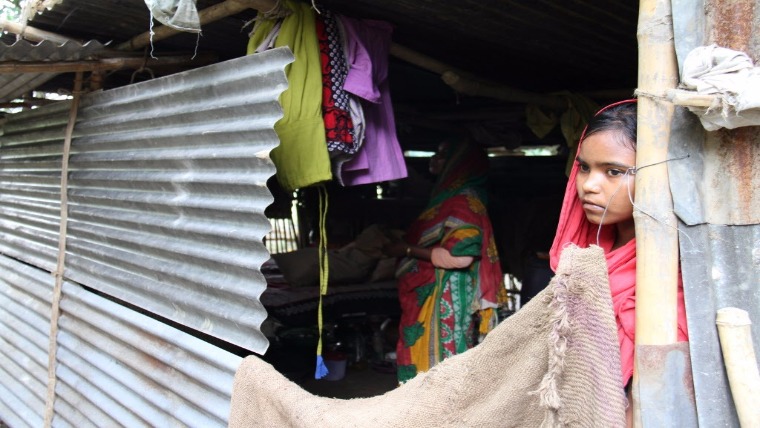 International children's charity, World Vision, is responding to deadly floods in Bangladesh that have devastated northern parts of the country.
Experts on the ground report that close to 8 million Bangladeshis have been affected by the worst monsoon rains in two decades. World Vision fears that the floods will lead to increased child malnutrition rates.
Jared Berends, Senior Director of Operations for World Vision Bangladesh said, "In some parts of Bangladesh up to 33% of children are malnourished. We are worried that families who have lost their homes and crops will run out of food, leading to even higher rates of malnutrition which will have serious consequences for child health and development.
The international community needs to act now if we are to avoid a spike in malnutrition for million.
- Jared Berends, Senior Director of Operations for World Vision Bangladesh
Berends said, "The scale of this disaster is hard to fathom, 144 people killed, 570,000 hectares of crops have been damaged, almost 10,000 animals have been killed; and over 9,000 kilometres of roads and over 450 bridges have been severely damaged.
"People are in need of food, safe drinking water and medicine in the worst-affected areas where access has been difficult for relief operations. They need support to rebuild their homes and re-plant their crops."
Hundreds of thousands of children have been affected by the monsoon floods.
Child survivors have had the most horrific experiences. 13-year-old Sharmin was forced to wade through chest-high, insect-infested waters in order to get to higher ground.
Her parents have lost everything and her school has been destroyed. She now faces a very uncertain future.
- Berends
World Vision Bangladesh is supporting over 3,400 families - that is over 17,000 people - with a multi-purpose cash grant of £30.
Abdul Barek, World Vision Bangladesh's Response Manager, said, "We are working with the government to identify some of the most vulnerable people who need this cash grant. It will help female-headed households and other vulnerable groups get back on their feet again. Some families will prioritise rebuilding their homes, others will spend the grant on food and education for themselves and their children."
World Vision is also providing emergency relief to flood-affected India and Nepal.
Kunal Shah, World Vision India's Disaster Response Manager, said: "The situation is quite grim. Our emergency assessments in 32 different villages shows that the floods have decimated people's food stocks.
"Over 23 million Indian's have been affected. More humanitarian aid is needed in addition to government relief efforts."
World Vision aims to support 71,000 people. Over 24,000 have already received flood relief in Bihar, Mizoram and West Bengal.
Monsoon rains have also devastated parts of Nepal. Half a million people have been displaced,141 people have died and over 64,000 hectares of farmland has been destroyed. Many families are without food and face extreme hardship. World Vision has reached over 12,000 people with food and shelter. However, there is still a funding gap of nearly £777,000 for the early stage recovery work.
Angelina Theodora, Operations Director of World Vision International Nepal said "families have lost their crops and livelihoods. The estimated loss is around USD 81 million. Our flood response will focus on helping families re-plant late harvest crops, maintain wells so that people have access to clean water and to support children return to school. " 
Reports of new cases of Ebola in north-western DRC confirm World Vision's greatest fear: that the country is contending with yet another outbreak in a new province – Equatoria.
Cyclone Amphan is creating crisis on top of a crisis – making it even more difficult to contain COVID-19 at a critical time in the response by both India and Bangladesh, World Vision warns.
Up to 85 million more children face physical, sexual and emotional violence at home and in their communities over the next three months, as COVID-19 spreads worldwide.
World Vision has dramatically scaled up its emergency response to the COVID-19 pandemic, as the virus continues to spread rapidly around the world.