World Vision urges UK Government to ramp up refugee package in Bangladesh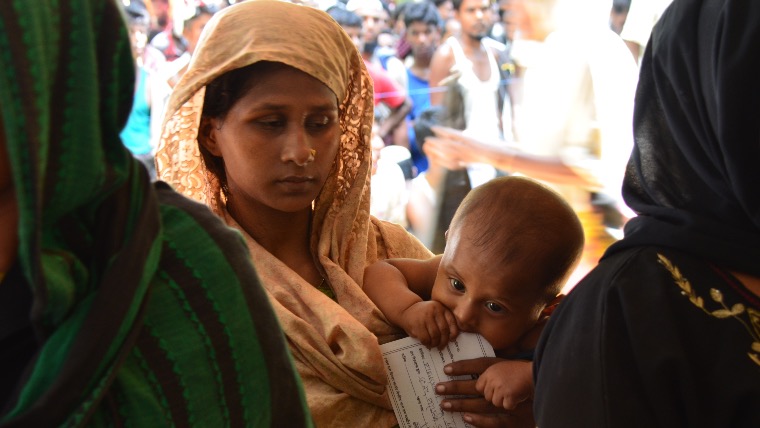 World Vision has called on the UK government to urgently step up aid supplies to desperate refugees in Bangladesh.
The international children's charity has issued its call as Britain's ambassador meets with the UN Security Council today to discuss the unfolding crisis. A UN-led humanitarian appeal to reach those in need is currently only 42 percent funded. 225,000 children who have fled across the border from Myanmar are now languishing in terrible conditions.
World Vision warns that hundreds of thousands of families are now crowded into refugee settlements with little access to food, clean water or sanitation. Women and girls are in particular danger in the unplanned, unlit camps.
Refugees are still crossing the border every day.
We urge the UK government to urgently scale up its support for the almost half a million refugees – including over 200,000 children – living in deplorable conditions in camps in Bangladesh. The government must play a pivotal and leading international role to end this crisis before it becomes an even larger humanitarian catastrophe.
- Peter Keegan, Government Relations Manager at World Vision UK
World Vision is distributing food to more than 15,000 refugees in Bangladesh but the charity remains blocked from providing life-saving aid in Myanmar.
Hundreds of thousands of people are facing catastrophe. In the refugee camps, a lethal cocktail of tight enclosures, poor sanitation and downpours is creating breeding grounds for disease. Aid workers and the government are racing against time before the situation spirals out of control.
Things will get far worse unless there is an urgent injection of funding. The longer refugee needs are not met, the greater the risk of disease outbreak, medical complication, and fatality. Which children emerge from the camps alive and in good health could soon become a lottery.
We're facing a roulette wheel of disaster unless donors step in – and quickly.
- Fred Witteveen, World Vision's National Director in Bangladesh
You can help children and their families affected by the crisis - please donate to our Emergency Work Appeal »
World leaders must wake up to the deadly Ebola crisis in the Democratic Republic of Congo (DRC), World Vision warns today.
The fight against Ebola has intensified after the first Ebola death in the major city of Goma in the DRC, World Vision warns today.
World Vision is delivering life-sustaining aid to hundreds of thousands of children and their families as monsoon rains lash the world's largest refugee camp.
World Vision UK on Monday presented the Department for International Development with a petition urging it to increase spending to stop children being abused and assaulted in disaster zones.