World Vision urges UK Government to ramp up refugee package in Bangladesh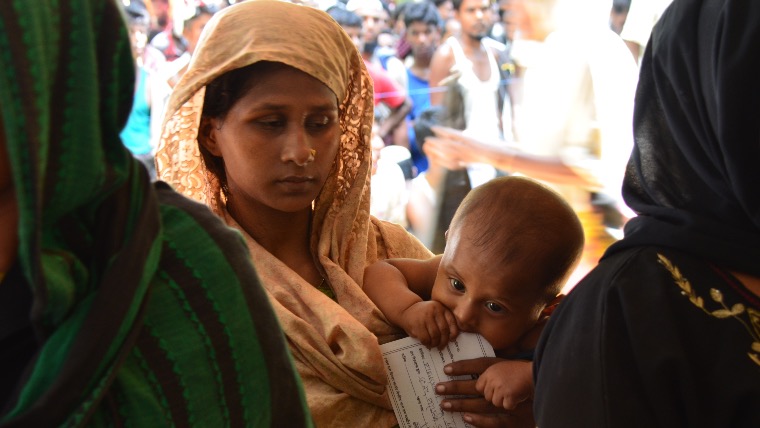 World Vision ambassador Jerome Flynn says he is 'changed forever' after hearing heart-rending stories from war-scarred children in South Sudan.
<p>
Jerome met traumatised children last month on a fact-finding trip organised by international charity World Vision. South Sudan is the world's youngest country, gaining independence in 2011. The East African country has been convulsed by a five-year long civil war which has killed at least 400,000 people. Over 19,000 children have been conscripted into various armed groups.
<p>
"Children told me about unimaginable horrors they had seen and experienced," Jerome says. "Some children were kidnapped by armed groups and forced to fight and kill and watch other children get killed for not keeping up. Others fled torched homes and villages and sought refuge in camps for displaced people, with little food and no education. Many lost mothers, fathers, brothers and sisters and were forced to make choices no child should have to make, just to survive.
<p>
"I met families torn apart because of the conflict and talked to parents who had sons and daughters snatched from them," he continued. At times I found their stories of what they had to endure almost too painful to bear.
<p>
"Yet I also saw hope in a country ripped apart by war. Dedicated World Vision aid workers are helping desperate families stitch their lives together amid the chaos. I was blown away by the resilience of the children, humbled by their spirit, and inspired by their determination to find happiness. 
<p>
"I saw how war costs children their innocence but does not always destroy their childhoods. The bravery of the children I met will stay with me forever."
<p>
Full-blown conflict is likely to flare up again in South Sudan unless a national army of government and rebel forces is formed by May 12. More children and young people could then be forced into the bush to take up arms or flee the fighting. 
<p>
Jerome says: "South Sudan's latest peace deal is on a short fuse and the situation is desperate. Help is needed urgently to protect children from further violence. Sadly, there are thousands of children across the world who need support right now. Please give generously to help them."
<p>
Jerome's trip forms part of World Vision's Made for More appeal for funds to protect the world's most vulnerable children.

World Vision has called on the UK government to urgently step up aid supplies to desperate refugees in Bangladesh.
The international children's charity has issued its call as Britain's ambassador meets with the UN Security Council today to discuss the unfolding crisis. A UN-led humanitarian appeal to reach those in need is currently only 42 percent funded. 225,000 children who have fled across the border from Myanmar are now languishing in terrible conditions.
World Vision warns that hundreds of thousands of families are now crowded into refugee settlements with little access to food, clean water or sanitation. Women and girls are in particular danger in the unplanned, unlit camps.
Refugees are still crossing the border every day.
We urge the UK government to urgently scale up its support for the almost half a million refugees – including over 200,000 children – living in deplorable conditions in camps in Bangladesh. The government must play a pivotal and leading international role to end this crisis before it becomes an even larger humanitarian catastrophe.
- Peter Keegan, Government Relations Manager at World Vision UK
World Vision is distributing food to more than 15,000 refugees in Bangladesh but the charity remains blocked from providing life-saving aid in Myanmar.
Hundreds of thousands of people are facing catastrophe. In the refugee camps, a lethal cocktail of tight enclosures, poor sanitation and downpours is creating breeding grounds for disease. Aid workers and the government are racing against time before the situation spirals out of control.
Things will get far worse unless there is an urgent injection of funding. The longer refugee needs are not met, the greater the risk of disease outbreak, medical complication, and fatality. Which children emerge from the camps alive and in good health could soon become a lottery.
We're facing a roulette wheel of disaster unless donors step in – and quickly.
- Fred Witteveen, World Vision's National Director in Bangladesh
You can help children and their families affected by the crisis - please donate to our Emergency Work Appeal »
An escalation of violence in Idlib, North West Syria, may lead to the worst humanitarian crisis in Syria's 8-year conflict.
Children fear they might not be able to go back to school after the devastation of Cyclone Fani in India and Bangladesh.
World Vision UK has launched an emergency appeal to fund the humanitarian response to Cyclone Fani.
World Vision is ready to provide emergency humanitarian assistance in Bangladesh and India, as Cyclone Fani threatens millions of families.