World Vision issues red alert for Hurricane Irma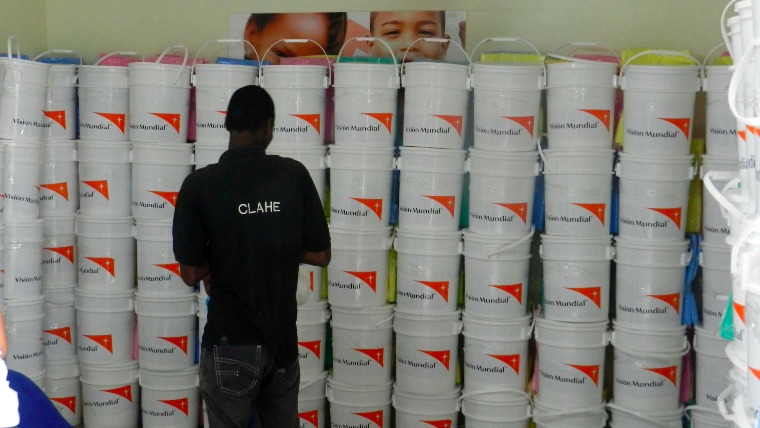 Pre-positioned supplies for the hurricane Irma response
Global children's charity World Vision is scrambling emergency relief in Haiti and the Dominican Republic before Hurricane Irma hits tomorrow.
The aid charity has put teams in the Dominican Republic and Haiti on red alert, and positioned food and hygiene kits ready for distribution to affected areas.The charity is also poised to help 122,000 people in Haiti with food, shelter, health and sanitation supplies. Relief efforts will focus on keeping tens of thousands of vulnerable children safe
Some areas we work in are just metres above sea level. If we have storm surges this hurricane could devastate coastal areas. We are providing thousands of sheets, health kits, food, water and other provisions to meet people's immediate physical needs. And we are ready to provide child friendly spaces for affected children.
- Juan Carlo Ramirez
Communities in Haiti are fearful of the approaching storm. Yvrodiane Mompremier, 52, lives with her husband in a house on the banks of the Guayamunk river in Hinche, Haiti.
Our house cannot withstand another hurricane. But we have nowhere else to go. We will stay here anyway. If good happens we will accept it, if evil happens we don't have any other choice than to accept it.
- Yvrodiane Mompremier
John Hasse, World Vision's Latin America regional leader, says, "Our teams are poised to respond to everything that Irma has to throw at us. The threat of destruction is very real. Last year, I was in Haiti when Hurricane Matthew hit. Bridges were swept away and lives were lost.
"My colleagues in Haiti and the DR are working with national government and other NGOs to provide comprehensive support to some of the region's most vulnerable children."
Reports of new cases of Ebola in north-western DRC confirm World Vision's greatest fear: that the country is contending with yet another outbreak in a new province – Equatoria.
Cyclone Amphan is creating crisis on top of a crisis – making it even more difficult to contain COVID-19 at a critical time in the response by both India and Bangladesh, World Vision warns.
Up to 85 million more children face physical, sexual and emotional violence at home and in their communities over the next three months, as COVID-19 spreads worldwide.
World Vision has dramatically scaled up its emergency response to the COVID-19 pandemic, as the virus continues to spread rapidly around the world.