World Vision deploys mobile clinic to assist victims of Iraq quake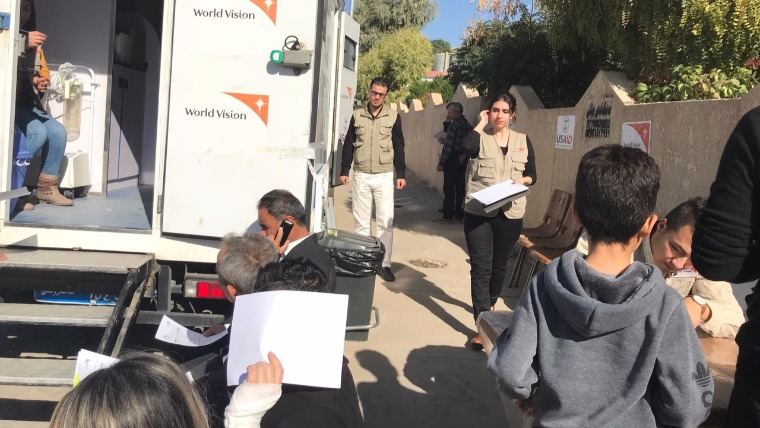 World Vision, has deployed a mobile clinic to respond to the urgent health needs of victims of the devastating 7.3 magnitude earthquake that shook the Middle East region on Sunday.
The international children's charity's efforts follow the severe damage of the main hospital in the town of Darbandikhan, in northern Iraq, which rendered the facility inoperable.
Rebekah Price, World Vision's Communications Manager for the Northern Iraq response said: "Driving through the town of Darbandikhan, the team was shocked to see the number of damaged properties. Some buildings just totally pancaked.
"Our mobile team of medics rushed to assist in Darbandikhan after a request from the health authorities following the collapse of parts of the town's hospital. Our staff have been treating some of the minor injuries and providing triaging support with more serious cases being passed to the hospital which is struggling to cope. We have staff on hand to also provide psychological first aid. People were still very unsettled today," she added.
Sunday's magnitude 7.3 quake was centered 31 kilometers (19 miles) outside the eastern Iraqi city of Halabja, according to the US Geological Survey. The earthquake is the deadliest of the year, eclipsing the one that hit Mexico City in September, and was felt as far away as Turkey and Pakistan. At least 452 people were killed and thousands injured on either side of the Iran-Iraq border.
While much aid has been pledged, there is an immediate need for blankets, children's clothes, medicine and large cans to store drinking water, aid workers have said. Price added: "There has been a series of aftershocks so people are naturally nervous about going back into buildings. Tents have been set up outside and beds and materials arrive in trucks while medical staff attend to patients.
"We are in the process of assessing the damage and needs and working out how best to support the local authorities, should they need it."
You can help by donating to our emergency work appeal »
World leaders must wake up to the deadly Ebola crisis in the Democratic Republic of Congo (DRC), World Vision warns today.
The fight against Ebola has intensified after the first Ebola death in the major city of Goma in the DRC, World Vision warns today.
World Vision is delivering life-sustaining aid to hundreds of thousands of children and their families as monsoon rains lash the world's largest refugee camp.
World Vision UK on Monday presented the Department for International Development with a petition urging it to increase spending to stop children being abused and assaulted in disaster zones.