Former 'forced wife' receives Marsh Award at Tedx summit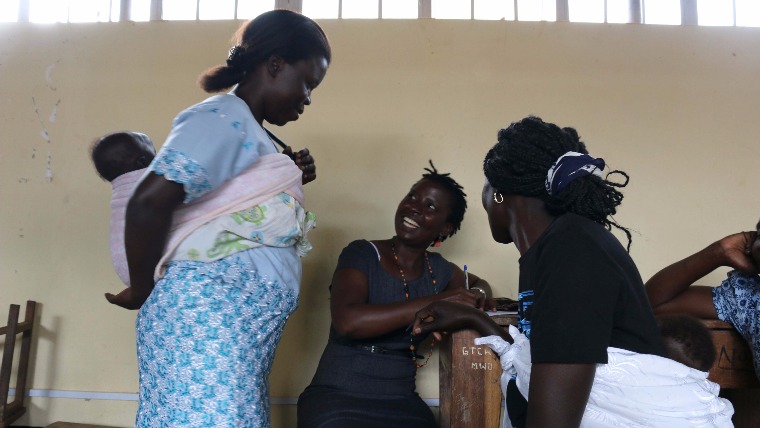 Angela Atim Lakor, a survivor of Joseph Kony's Lord's Resistance Army (LRA) and now a World Vision partner, this week returns to London where she will be honoured for her contribution to building peace, tackling stigma and supporting women and children recovering from war.
Angela will present a Tedx Talk on her experience of war as a child as part of this year's Whitehall Women event at HMS President in London on Friday 3 November. As part of the event Angela will also receive the Marsh Award for Peace-making and Peace building from the prestigious Wilton Park. She shares the award with fellow human rights campaigner Ms. Fareeda Abbas Rasho Khalaf, a member of the Yazda Yazidi women's organization.
The infamous LRA militia abducted Angela when she was only 14. She endured sexual violence as part of the LRA's 'forced wives' system for many years. On escaping, Angela was supported at the World Vision Children of War Reintegration Centre in Gulu, Uganda. As a survivor herself she went on to co-found the Watye Ki Gen charity which supports female returnees from the Lord's Resistance Army and their children - helping them combat the stigma that affects every area of their lives from employment to their children's education.
World Vision's Children of War Reintegration Centre has helped rehabilitate and reintegrate nearly 15,000 former child soldiers and children born in captivity in the past decade.
Erica Hall, World Vision UK's Technical Policy Lead on Child Protection, said, "Children are vulnerable in the face of conflict. Recent UN figures show that there were at least 14,500 grave violations against children in armed conflict last year, including recruitment, sexual violence and abductions."
Reports of new cases of Ebola in north-western DRC confirm World Vision's greatest fear: that the country is contending with yet another outbreak in a new province – Equatoria.
Cyclone Amphan is creating crisis on top of a crisis – making it even more difficult to contain COVID-19 at a critical time in the response by both India and Bangladesh, World Vision warns.
Up to 85 million more children face physical, sexual and emotional violence at home and in their communities over the next three months, as COVID-19 spreads worldwide.
World Vision has dramatically scaled up its emergency response to the COVID-19 pandemic, as the virus continues to spread rapidly around the world.