World Vision UK welcomes Government £10m in matched funding as DEC appeal reaches £24m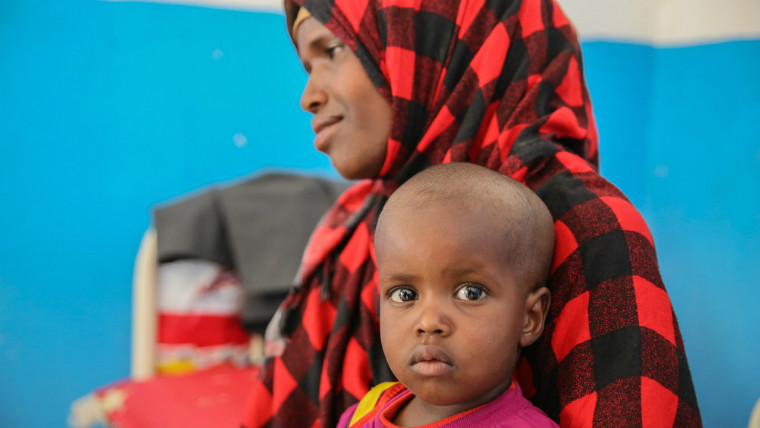 International children's charity World Vision UK today welcomed the Government's commitment to double its matched funding for the Disaster Emergencies Committee (DEC) East Africa crisis appeal.
The UK Government announced over the weekend that it will match fund an additional £5 million donated by the public. This will increase its total commitment to matched funding to £10 million. Gavin Crowden, Head of Policy and Public Affairs at World Vision UK, praised the UK Government's commitment.
"We are delighted that the UK Government is leading the charge in responding urgently to the hunger crisis in East Africa," Crowden said.
"The additional funding announced this weekend will mean vital aid is given to the people who need it most – including some of the world's most vulnerable children.
"We have only a small window of opportunity to avoid catastrophe across the East Africa region. We hope the international community will follow Britain's lead in responding immediately to the crisis."
International Development Secretary Priti Patel today visited the offices of the DEC in Euston to meet aid workers from six of its member charities recently returned from the crisis areas.
Aid workers discussed the impact of the generous donations of the British public, UK Aid and the life-saving work that the DEC's 13 member charities carry out on the ground.
Ms Patel said: "I'm delighted to be here at the DEC appeal's headquarters today where so far, thanks to the generosity of the British public, we have helped to raise £24 million for the East Africa Crisis Appeal.
"I've met the amazing team at the DEC, volunteers and some inspiring aid workers who have just come back from South Sudan and Somalia.
"My plea is very simple: don't delay, please donate and the UK government will double what you give up to £10 million."
Drought and conflict have left 16 million people on the brink of starvation and in urgent need of food, water and medical treatment.
People are already dying in South Sudan and Somalia. In Kenya, the government has declared a national emergency and Ethiopia is battling a new wave of drought following the strongest El Niño on record.
DEC member charities including World Vision UK are already providing help to people across the four countries with lifesaving aid, such as food, treatment for malnutrition and cash, but much more needs to be done to reach those in desperate need.
The Disasters Emergency Committee (DEC) appeal for the crisis in East Africa has raised £24 million since it launched on Wednesday, with donations continuing to flood in from the UK public.
DEC Chief Executive Saleh Saeed said: "Our East Africa Crisis Appeal has now raised a staggering £24 million thanks to the generosity of the British public, my heartfelt thanks to everyone who has donated so far.
"I also want to thank the UK government for recognising the urgent needs across East Africa and supporting the appeal by committing to £10 million match funding.
"More than 16 million people are on the brink of starvation and people are dying across East Africa. This humanitarian crisis has reached critical levels and we would urge people to continue giving to save lives and reduce suffering."    
Reports of new cases of Ebola in north-western DRC confirm World Vision's greatest fear: that the country is contending with yet another outbreak in a new province – Equatoria.
Cyclone Amphan is creating crisis on top of a crisis – making it even more difficult to contain COVID-19 at a critical time in the response by both India and Bangladesh, World Vision warns.
Up to 85 million more children face physical, sexual and emotional violence at home and in their communities over the next three months, as COVID-19 spreads worldwide.
World Vision has dramatically scaled up its emergency response to the COVID-19 pandemic, as the virus continues to spread rapidly around the world.