World Vision joins faith-based NGOs in support of DEC East Africa appeal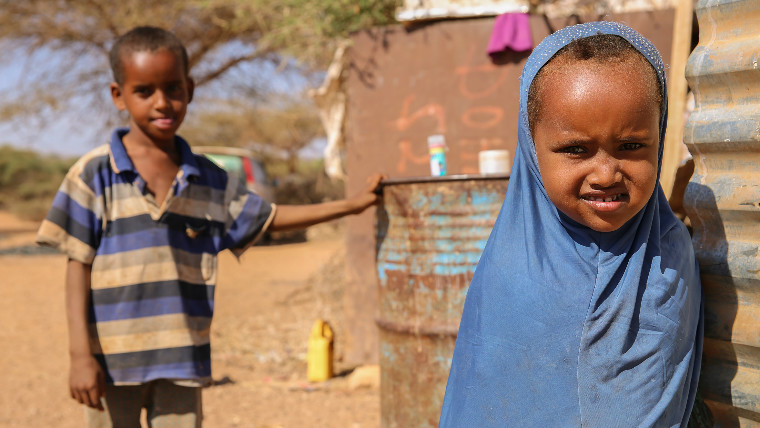 Children in Somalia: Children are often the worst affected when famine strikes.
World Vision - alongside faith-based NGO's: CAFOD, Christian Aid, Islamic Relief and Tearfund – called on faith communities across the UK to support the Disasters Emergency Committee's (DEC) appeal to help 16 million people affected by drought and conflict in East Africa.
The situation in East Africa is critical. Earlier today, Simon Nyabwengi, World Vision Somalia national director, told the BBC's Victoria Derbyshire show that children are dying from preventable conditions – namely acute watery diarrhoea. Thousands of people are trekking tens of kilometres to find help. One women he met near the town of Baidoa had two children die en route. She buried them and was then forced to continue on to help save her remaining children.
"Our biggest fear is that there are more dead and starving children in the rebel-held rural areas that we cannot access," he continued.
Chine McDonald, our Head of Christian Influence & Engagement, called on our church partners to walk alongside the most vulnerable children and their families.
Children in East Africa are dying every day because they have no food. There is no time to waste. We urge church leaders to support this Appeal and encourage congregations this Sunday to open their hearts and dig deep into their pockets. We cannot stand by and watch as children starve to death.
- Chine Mcdonald | Head of Christian influence and Engagement WVUK
All parliamentary candidates should sign up to keep Britain as an outward-looking country committed to helping the world's most vulnerable communities, World Vision urges today.
The Famine24 event raised nearly £2,000 for World Vision UK.
The argument that DFID should be merged with the Foreign Office amounts to a backdoor attack on the aid budget, says Gareth Wallace, Government Relations Manager for World Vision UK.
Civilians in north-east Syria are at risk and humanitarian aid could be cut off following the launch of a new military operation in the area, leading aid agencies are warning.