DEC East Africa Crisis Appeal raises £40 million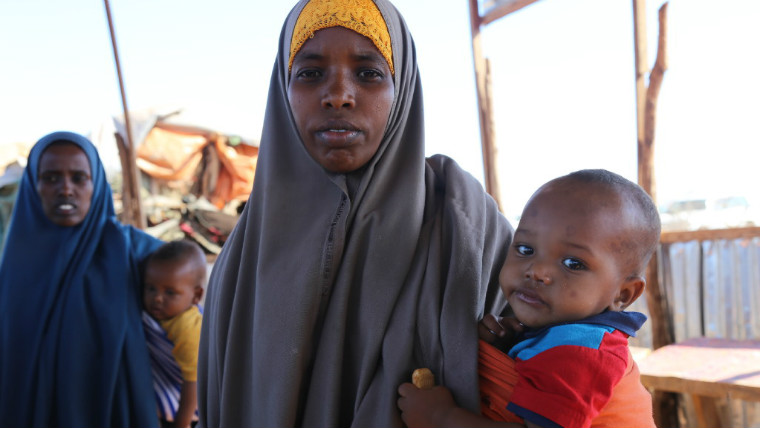 World Vision UK has today welcomed the £40 million raised by the Disasters Emergency Committee (DEC) appeal for East Africa.
The international children's charity is one of 13 DEC member charities providing lifesaving aid across the East Africa region, where more than 16 million people are on the brink of starvation.
People are already dying in Somalia and South Sudan. In Kenya, the government has declared a national emergency and Ethiopia is battling a new wave of drought following the strongest El Niño on record.
"We're delighted that the British public has been so generous in responding to the humanitarian crisis in East Africa," said Mark Bulpitt, Head of Humanitarian and Resilience at World Vision UK.
"More than 22 million people need urgent humanitarian assistance, and the funds raised by the DEC appeal will help World Vision and other agencies scale up our response across the region.
"No one should starve to death in 2017. It's not too late to help – but we must act now."
The DEC appeal was opened two weeks ago by British figures including Bill Nighy, Sir Mo Farrah, Eddie Redmayne and Brenda Blethyn. Since then, a steady stream of donations has been flowing in from the public at a rate of over 2,000 per minute.  
Donations have been received from The Queen and Prince Charles as well as companies, and faith groups. Across the UK, the general public have been busking, holding bake sales, running marathons, shaking collection buckets and raising awareness for the 16 million people across East Africa who are on the brink of starvation and in urgent need of food, water and medical treatment.
Employers have been matching employee donations, trusts and foundations have rallied to the call and children as young as four-year-old Henry, have even been donating their pocket money.
DEC Chief Executive Saleh Saeed said: "It's been so inspiring to see how the British Public has responded to this desperate need and to hear the passion and creativity they have put into fundraising. I cannot thank everyone enough for their support. 
"Our 13 member charities are already on the ground delivering vital life-saving assistance to some of the worst affected people. We are now getting reports of how food aid is getting through. For example, in Kenya, children like Cecilia and 300 families are receiving food at the Kambi Ya Juu food distribution centre. 
"All the money raised by the DEC appeal will provide millions of people in desperate need with vital food, water and medical treatment. Every donation makes a huge difference, so if you haven't had a chance to support please don't delay, donate today."
Cyclone Amphan is creating crisis on top of a crisis – making it even more difficult to contain COVID-19 at a critical time in the response by both India and Bangladesh, World Vision warns.
Up to 85 million more children face physical, sexual and emotional violence at home and in their communities over the next three months, as COVID-19 spreads worldwide.
World Vision has dramatically scaled up its emergency response to the COVID-19 pandemic, as the virus continues to spread rapidly around the world.
International aid agency World Vision has launched a £64m aid plan to help millions of the world's most vulnerable people defeat coronavirus.