Survivor of rape in conflict praises Angelina Jolie and UK government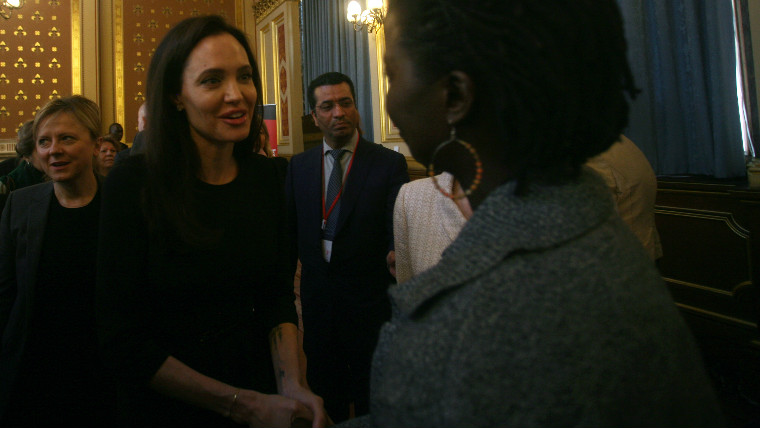 Angela Atim (r) meets Angelina Jolie at UK government sponsored event to end sexual violence in conflict.
World Vision UK joined government ministers, Hollywood star Angelina Jolie and other global campaigners at a Foreign Office organised event to mark the fifth anniversary of the Preventing Sexual Violence Initiative (PSVI) in London.
Activists and advocates of the campaign welcomed the progress PSVI has made since Ms. Jolie - special envoy of the UN High Commissioner for Refugees - launched the initiative with Lord Hague, then UK Foreign Secretary, in 2012. However, the Hollywood star insisted much more needs to be done to defeat the scourge of war zone sex assaults; and called for more prosecutions, increased evidence gathering and better training for armies. World Vision partner and survivor of sexual violence in war, Angela Atim, was part of the panel that addressed the London event yesterday.
All of us involved in addressing sexual violence are proud of the PSVI's work so far. In Uganda, we live amongst the perpetrators. The support of William Hague, Angelina Jolie, the UK government and NGO's like World Vision has given survivors strength. Women are now speaking out and seeking justice. We need long term support to help women and their children, born of rape, to live lives free of stigma. If we don't, these children may end up as perpetrators.
- Angela Atim

Ugandan Atim was 14 when soldiers from the Lord's Resistance Army (LRA) abducted her from her school. She was marched at gunpoint to Sudan, where she was forced to marry an LRA commander leading to years of sexual abuse and torture. Atim escaped the abuse after eight years of captivity. She then received support at World Vision's Children of War Centre, located in Northern Uganda, and is now a campaigner for victims and their children.
"Since the Global Summit to End Sexual Violence in Conflict in 2014 there has been a lot of change in northern Uganda for the survivors. There was a lot of stigma that has really reduced thanks to the summit and media participation. It really helped the message get round and advocate for the survivors. It has helped empower women who now report their cases. It has really helped give them a voice. It has given them strength. They can go and report incidents to legal agencies that are helping. The mothers have been given courage because they now know people are willing to stand up for them. It's really saving lives," Atim explained.
At the same event, the Prime Minister's Special Representative on Preventing Sexual Violence in Conflict, Baroness Anelay, announced new steps to build on the first five years of PSVI. She announced that the UK intends to host a meeting in 2019 to review commitments made at the 2014 London Summit, and to galvanise further international action.


World Vision is one of 61 local, national and international NGOs working in Myanmar and Bangladesh calling for Rohingya refugees to have a role in decision-making about their own lives, including conditions for their return to Myanmar.
This World Humanitarian Day, we honour the women who work on the front line of their own communities in some of the most difficult places. This is Qamar Al-Kurdi's story.
International children's charity World Vision UK is looking for people to support the movement for gender equality by sponsoring1000 girls in developing countries.
World Vision UK calls on the new DFID Secretary to fight for the department to remain independent.