Survivor of rape in conflict praises Angelina Jolie and UK government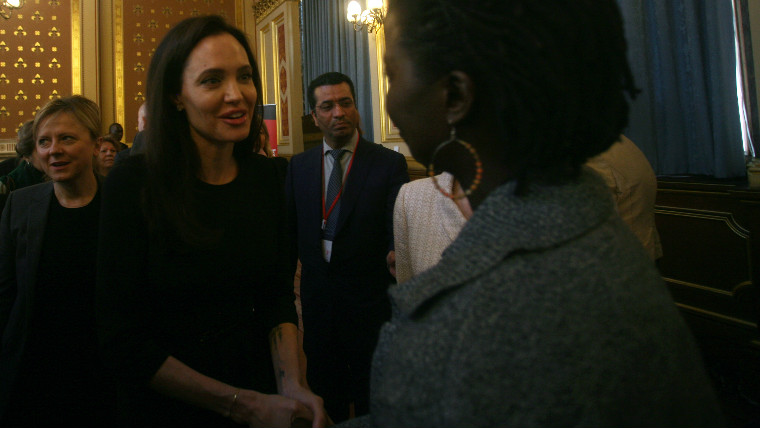 Angela Atim (r) meets Angelina Jolie at UK government sponsored event to end sexual violence in conflict.
World Vision ambassador Jerome Flynn says he is 'changed forever' after hearing heart-rending stories from war-scarred children in South Sudan.
<p>
Jerome met traumatised children last month on a fact-finding trip organised by international charity World Vision. South Sudan is the world's youngest country, gaining independence in 2011. The East African country has been convulsed by a five-year long civil war which has killed at least 400,000 people. Over 19,000 children have been conscripted into various armed groups.
<p>
"Children told me about unimaginable horrors they had seen and experienced," Jerome says. "Some children were kidnapped by armed groups and forced to fight and kill and watch other children get killed for not keeping up. Others fled torched homes and villages and sought refuge in camps for displaced people, with little food and no education. Many lost mothers, fathers, brothers and sisters and were forced to make choices no child should have to make, just to survive.
<p>
"I met families torn apart because of the conflict and talked to parents who had sons and daughters snatched from them," he continued. At times I found their stories of what they had to endure almost too painful to bear.
<p>
"Yet I also saw hope in a country ripped apart by war. Dedicated World Vision aid workers are helping desperate families stitch their lives together amid the chaos. I was blown away by the resilience of the children, humbled by their spirit, and inspired by their determination to find happiness. 
<p>
"I saw how war costs children their innocence but does not always destroy their childhoods. The bravery of the children I met will stay with me forever."
<p>
Full-blown conflict is likely to flare up again in South Sudan unless a national army of government and rebel forces is formed by May 12. More children and young people could then be forced into the bush to take up arms or flee the fighting. 
<p>
Jerome says: "South Sudan's latest peace deal is on a short fuse and the situation is desperate. Help is needed urgently to protect children from further violence. Sadly, there are thousands of children across the world who need support right now. Please give generously to help them."
<p>
Jerome's trip forms part of World Vision's Made for More appeal for funds to protect the world's most vulnerable children.
World Vision UK joined government ministers, Hollywood star Angelina Jolie and other global campaigners at a Foreign Office organised event to mark the fifth anniversary of the Preventing Sexual Violence Initiative (PSVI) in London.
Activists and advocates of the campaign welcomed the progress PSVI has made since Ms. Jolie - special envoy of the UN High Commissioner for Refugees - launched the initiative with Lord Hague, then UK Foreign Secretary, in 2012. However, the Hollywood star insisted much more needs to be done to defeat the scourge of war zone sex assaults; and called for more prosecutions, increased evidence gathering and better training for armies. World Vision partner and survivor of sexual violence in war, Angela Atim, was part of the panel that addressed the London event yesterday.
All of us involved in addressing sexual violence are proud of the PSVI's work so far. In Uganda, we live amongst the perpetrators. The support of William Hague, Angelina Jolie, the UK government and NGO's like World Vision has given survivors strength. Women are now speaking out and seeking justice. We need long term support to help women and their children, born of rape, to live lives free of stigma. If we don't, these children may end up as perpetrators.
- Angela Atim

Ugandan Atim was 14 when soldiers from the Lord's Resistance Army (LRA) abducted her from her school. She was marched at gunpoint to Sudan, where she was forced to marry an LRA commander leading to years of sexual abuse and torture. Atim escaped the abuse after eight years of captivity. She then received support at World Vision's Children of War Centre, located in Northern Uganda, and is now a campaigner for victims and their children.
"Since the Global Summit to End Sexual Violence in Conflict in 2014 there has been a lot of change in northern Uganda for the survivors. There was a lot of stigma that has really reduced thanks to the summit and media participation. It really helped the message get round and advocate for the survivors. It has helped empower women who now report their cases. It has really helped give them a voice. It has given them strength. They can go and report incidents to legal agencies that are helping. The mothers have been given courage because they now know people are willing to stand up for them. It's really saving lives," Atim explained.
At the same event, the Prime Minister's Special Representative on Preventing Sexual Violence in Conflict, Baroness Anelay, announced new steps to build on the first five years of PSVI. She announced that the UK intends to host a meeting in 2019 to review commitments made at the 2014 London Summit, and to galvanise further international action.


An escalation of violence in Idlib, North West Syria, may lead to the worst humanitarian crisis in Syria's 8-year conflict.
Children fear they might not be able to go back to school after the devastation of Cyclone Fani in India and Bangladesh.
World Vision UK has launched an emergency appeal to fund the humanitarian response to Cyclone Fani.
World Vision is ready to provide emergency humanitarian assistance in Bangladesh and India, as Cyclone Fani threatens millions of families.