World Vision fears for the safety of children trapped in Mosul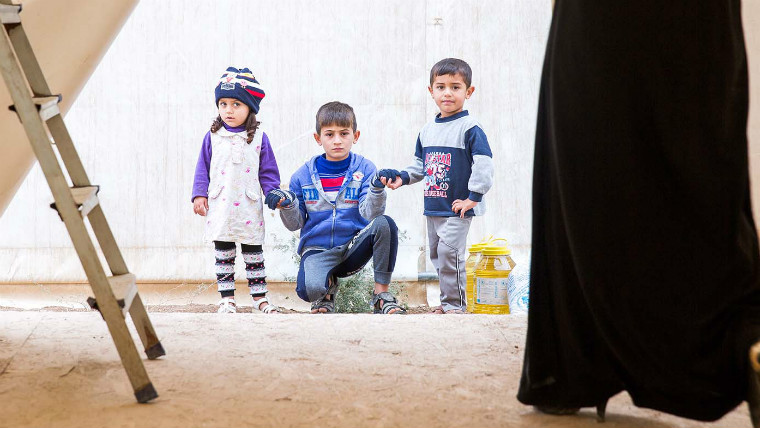 Iraqi children who fled the violence in Mosul.
International children's charity World Vision has today warned that children in Mosul may be used as human shields as fighting escalates in the Iraqi city.
Ian Dawes, World Vision's operations manager in Iraq, said: " The situation facing families in Mosul is dire, and it's clear that things are going to get worse before they get better. We're particularly concerned about reports of civilians being used as human shields. Families who are unable to escape are hiding in their homes with dwindling supplies of food and water.
"Three years under ISIL rule has had a devastating impact on children we're already supporting in camps outside the city, with some arriving unable to speak. We are on standby with emergency supplies and staff trained in psychological first aid," he explained.
The UN estimates that over 100,000 civilians are trapped in the city. World Vision has resumed the charity's commitment to support the new wave of people expected from the latest surge in fighting.
Aaron Moore, World Vision's Programs Manager in northern Iraq, said: "We have been working with children throughout this conflict. Many children have been stuck in their homes while bombings, sniper fire or chaos rules around them. Others have witnessed the death of family members.
"One little boy who is five years old arrived at the camp too terrified to speak. He saw his 15-year-old brother killed while they fled ISIL. He was not mixing with the other children - he was simply staring at them."
World Vision has supported around 28,000 people who have fled the city since last October.
World leaders must wake up to the deadly Ebola crisis in the Democratic Republic of Congo (DRC), World Vision warns today.
The fight against Ebola has intensified after the first Ebola death in the major city of Goma in the DRC, World Vision warns today.
World Vision is delivering life-sustaining aid to hundreds of thousands of children and their families as monsoon rains lash the world's largest refugee camp.
World Vision UK on Monday presented the Department for International Development with a petition urging it to increase spending to stop children being abused and assaulted in disaster zones.