Thousands of Filipino children traumatised by fighting in Marawi
World Vision ambassador Jerome Flynn says he is 'changed forever' after hearing heart-rending stories from war-scarred children in South Sudan.
<p>
Jerome met traumatised children last month on a fact-finding trip organised by international charity World Vision. South Sudan is the world's youngest country, gaining independence in 2011. The East African country has been convulsed by a five-year long civil war which has killed at least 400,000 people. Over 19,000 children have been conscripted into various armed groups.
<p>
"Children told me about unimaginable horrors they had seen and experienced," Jerome says. "Some children were kidnapped by armed groups and forced to fight and kill and watch other children get killed for not keeping up. Others fled torched homes and villages and sought refuge in camps for displaced people, with little food and no education. Many lost mothers, fathers, brothers and sisters and were forced to make choices no child should have to make, just to survive.
<p>
"I met families torn apart because of the conflict and talked to parents who had sons and daughters snatched from them," he continued. At times I found their stories of what they had to endure almost too painful to bear.
<p>
"Yet I also saw hope in a country ripped apart by war. Dedicated World Vision aid workers are helping desperate families stitch their lives together amid the chaos. I was blown away by the resilience of the children, humbled by their spirit, and inspired by their determination to find happiness. 
<p>
"I saw how war costs children their innocence but does not always destroy their childhoods. The bravery of the children I met will stay with me forever."
<p>
Full-blown conflict is likely to flare up again in South Sudan unless a national army of government and rebel forces is formed by May 12. More children and young people could then be forced into the bush to take up arms or flee the fighting. 
<p>
Jerome says: "South Sudan's latest peace deal is on a short fuse and the situation is desperate. Help is needed urgently to protect children from further violence. Sadly, there are thousands of children across the world who need support right now. Please give generously to help them."
<p>
Jerome's trip forms part of World Vision's Made for More appeal for funds to protect the world's most vulnerable children.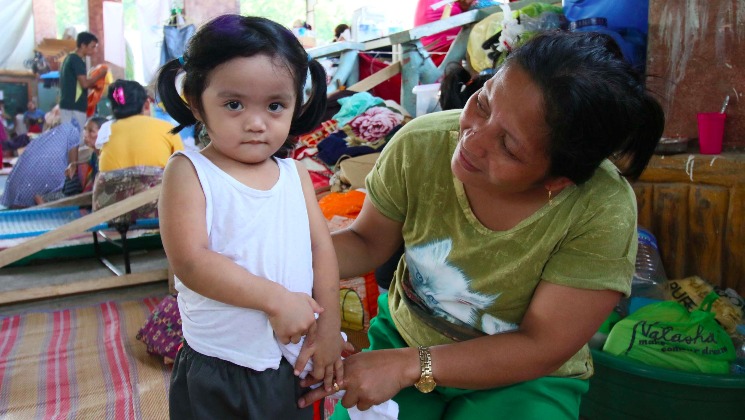 Rosela and her daughter find safety in World Vision supported evacuation centre in Mindanao

International children's charity World Vision, has warned that thousands of children have been left shell-shocked and traumatised by continuous fighting in the Phillipines city of Marawi.
The charity's humanitarian experts say over 100,000 children have been displaced by the conflict that has been raging since the end of May. Thousands of children are paying a heavy price due to the unrest, with many now needing psychological first aid after experiencing and witnessing alarming levels of violence.
Ligaya Munez, World Vision's Programmes Manager in Mindanao said: "We are setting up child-friendly spaces (CFS) to provide psychological first aid to children affected by the crisis. We've been going around evacuation centres and we've seen the struggles of the displaced children. We hope that through CFS, we can somehow give a sense of normalcy to the children.
"Aside from the humid environment and being unable to go to school, some children are still in shock from the gunshots and loud explosions they heard in Marawi," Munez said.
World Vision is currently training tne staff members in psychological first aid. They will support displaced children in the CFS at evacuation centres in Iligan City - less than 25 miles from the ongoing street battles. Reports also show that schooling of at least 22,000 elementary and high school students would be disrupted due to the continuing fighting.
Munez explained: "Many of Marawi's displaced residents have arrived at the evacuation centres with nothing. Now they are desperate for basic items and amenities: water, food, nappies, cooking utensils, school supplies, places to wash and even toilets.
"Many survivors also need cash for transportation to reach extended family members in other parts of the Philippines. The needs here are immense and we need all the support we can get. World Vision is appealing for £160,000 to respond to the immediate needs of the most vulnerable children and their families who were affected," Munez added.
Clashes between the Philippines army and local armed militia groups in Marawi - the capital of the country's second largest island, Mindanao – have claimed the lives of at least 175 people, while more than 220,000 residents have been forced to flee their homes.
Rosela, a 37-year old mother and Marawi-resident has fled to Iligan City after fighting broke out. She said: "My 2-year old daughter cried every time she heard gun shots and loud explosions, I was very worried about my children and no matter how I wanted to be positive, the fear of losing any of my family members shook me to the core."
Children in Marawi were supposed to start school on Monday (05 June 2017), but the violence has made that impossible.
World Vision is working together with the Filipino Department of Education. Together they plan to open temporary learning spaces at 10 locations in Iligan City where many of Marawi's displaced populace have fled. The charity is also planning to distribute 18,000 learner's kits to children who would otherwise miss out on their education.
An escalation of violence in Idlib, North West Syria, may lead to the worst humanitarian crisis in Syria's 8-year conflict.
Children fear they might not be able to go back to school after the devastation of Cyclone Fani in India and Bangladesh.
World Vision UK has launched an emergency appeal to fund the humanitarian response to Cyclone Fani.
World Vision is ready to provide emergency humanitarian assistance in Bangladesh and India, as Cyclone Fani threatens millions of families.