Thousands of Filipino children traumatised by fighting in Marawi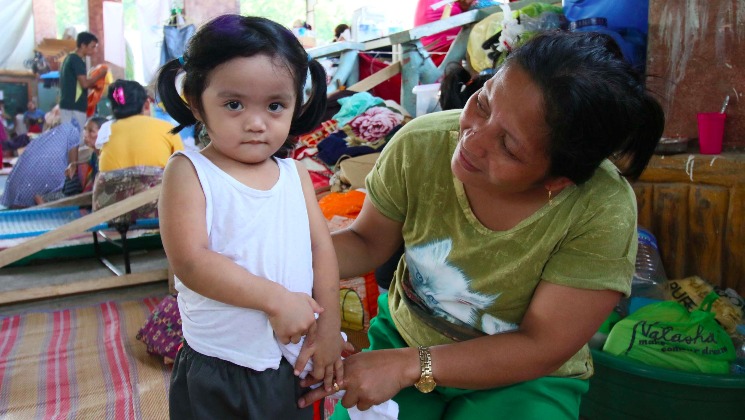 Rosela and her daughter find safety in World Vision supported evacuation centre in Mindanao

International children's charity World Vision, has warned that thousands of children have been left shell-shocked and traumatised by continuous fighting in the Phillipines city of Marawi.
The charity's humanitarian experts say over 100,000 children have been displaced by the conflict that has been raging since the end of May. Thousands of children are paying a heavy price due to the unrest, with many now needing psychological first aid after experiencing and witnessing alarming levels of violence.
Ligaya Munez, World Vision's Programmes Manager in Mindanao said: "We are setting up child-friendly spaces (CFS) to provide psychological first aid to children affected by the crisis. We've been going around evacuation centres and we've seen the struggles of the displaced children. We hope that through CFS, we can somehow give a sense of normalcy to the children.
"Aside from the humid environment and being unable to go to school, some children are still in shock from the gunshots and loud explosions they heard in Marawi," Munez said.
World Vision is currently training tne staff members in psychological first aid. They will support displaced children in the CFS at evacuation centres in Iligan City - less than 25 miles from the ongoing street battles. Reports also show that schooling of at least 22,000 elementary and high school students would be disrupted due to the continuing fighting.
Munez explained: "Many of Marawi's displaced residents have arrived at the evacuation centres with nothing. Now they are desperate for basic items and amenities: water, food, nappies, cooking utensils, school supplies, places to wash and even toilets.
"Many survivors also need cash for transportation to reach extended family members in other parts of the Philippines. The needs here are immense and we need all the support we can get. World Vision is appealing for £160,000 to respond to the immediate needs of the most vulnerable children and their families who were affected," Munez added.
Clashes between the Philippines army and local armed militia groups in Marawi - the capital of the country's second largest island, Mindanao – have claimed the lives of at least 175 people, while more than 220,000 residents have been forced to flee their homes.
Rosela, a 37-year old mother and Marawi-resident has fled to Iligan City after fighting broke out. She said: "My 2-year old daughter cried every time she heard gun shots and loud explosions, I was very worried about my children and no matter how I wanted to be positive, the fear of losing any of my family members shook me to the core."
Children in Marawi were supposed to start school on Monday (05 June 2017), but the violence has made that impossible.
World Vision is working together with the Filipino Department of Education. Together they plan to open temporary learning spaces at 10 locations in Iligan City where many of Marawi's displaced populace have fled. The charity is also planning to distribute 18,000 learner's kits to children who would otherwise miss out on their education.
World Vision is one of 61 local, national and international NGOs working in Myanmar and Bangladesh calling for Rohingya refugees to have a role in decision-making about their own lives, including conditions for their return to Myanmar.
This World Humanitarian Day, we honour the women who work on the front line of their own communities in some of the most difficult places. This is Qamar Al-Kurdi's story.
International children's charity World Vision UK is looking for people to support the movement for gender equality by sponsoring1000 girls in developing countries.
World Vision UK calls on the new DFID Secretary to fight for the department to remain independent.