Farmers in Kenya's 'bread basket' region grapple with armyworm invasion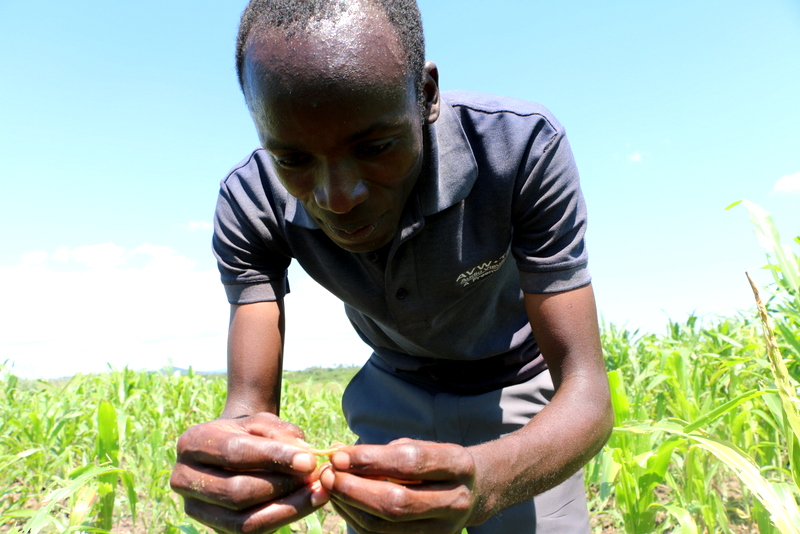 As millions of Kenyan farmers seek to recover from the double crisis of severe drought and floods triggered by an El Niño weather phenomenon, they now face a new threat: the fall armyworm (FAW).
Experts are warning that Kenya is likely to lose a total of 16 million bags of the staple crop, maize, during this year's harvest season due to an armyworm attack. In North West Kenya – a region widely referred to as 'the bread basket' – drought-affected communities are seeing their already depleted food crops further reduced due to an invasion of FAW caterpillars. 
Bernard Owino, Livelihoods and Resilience Project Officer for World Vision Kenya in Nyatike country said: "We had faced similar pests in this region in the past but this one (the FAW) soon proved to be a different monster altogether. It eats everything from stalk, leaf, crop and grain. It is spreading rapidly and can destroy a wide range of crops including maize, rice, millet sorghum, wheat, cabbages, onions and bananas…everything!
"Here in Nyatike, our assessments are pointing towards a very grim picture. On a good season with decent rainfall as we have had this year, we would project an average harvest of 18 bags of maize grain per acre. (But) farmers would be lucky to get 5 bags of maize from an acre this year. That's close to 70 per cent loss."
World Vision is supporting farmers across Kenya with education on how to respond to pest attacks. The charity has also been supporting those most in need with health and food aid across Kenya and East Africa after launching a humanitarian appeal.
Farmers across Kenya's western counties have been asked to report cases of the fall armyworm to the agricultural extension officers for expert advice on chemicals to use in controlling the pest. Most of the smallholder farmers in the region say they cannot afford the cost of pesticides, as they are unable to access loans. Some have resorted to applying ash on their crops, or washing their plants with laundry detergents, all to futile ends.
George Onyango, a farmer in Nyatike, says it may even be too late for most farmers to turn to pesticides.
"I have a 10-acre farm and I have generally done well over the years. We pride ourselves in this region as the 'feeders of Kenya', but this year we are staring into the eyes of a disaster. I have invested a lot of my money in purchasing pesticides but the effect has been minimal. We think chemicals can only be used to deal with the pest in its early stages, but now it has become much harder, and some populations of fall armyworm have developed resistance," Onyango said.
"I doubt very much I will be able to afford to send my children to school this year, as I am haplessly watching my only source of income getting eaten before my very eyes. At this rate, we would appeal to the government and the international community to already start looking into ways of aiding the millions in Kenya who may need food and other forms of humanitarian aid in the near future."
Despite encouraging rains across Kenya, most of the country is suffering from a drought that has left about 2.7 million people in need of food aid and driven up inflation to a five-year high. Experts warn that the country will struggle to contain the threat posed by the vicious FAW caterpillars that have ravaged crops across more than 20 other African countries, putting hundreds of millions of people at risk of hunger.
Tackling the menace of the tenacious fall armyworm pest and avoiding economic hardship for smallholders across Africa requires quick, coordinated action and scientific innovation.
James Ndaga Ogola, chief agriculture officer for Nyatike country government, said: "The challenge is that this pest is not easy to detect. We can also only control the pest and not completely eradicate it. Due to ecological dynamics, if we attempt to completely destroy the FAW, we fear we would also destroy other insects that are beneficial to our crops. This is the dilemma we find ourselves in.
"We are working hard to coordinate efforts between local farmers, scientists, our government and others across the continent to build as much knowledge as we can, as quickly as possible. It is of course, quite a task when you are up against an enemy that can lay up to 1,000 eggs at a time and can produce multiple generations very quickly without pause. So far, conservative estimates indicate the loss of Africa's maize due to the fall armyworm could cost the continent US $3 billion in the coming year."
Save
World Vision is one of 61 local, national and international NGOs working in Myanmar and Bangladesh calling for Rohingya refugees to have a role in decision-making about their own lives, including conditions for their return to Myanmar.
This World Humanitarian Day, we honour the women who work on the front line of their own communities in some of the most difficult places. This is Qamar Al-Kurdi's story.
International children's charity World Vision UK is looking for people to support the movement for gender equality by sponsoring1000 girls in developing countries.
World Vision UK calls on the new DFID Secretary to fight for the department to remain independent.