World Vision denounces any forced return of refugees to Myanmar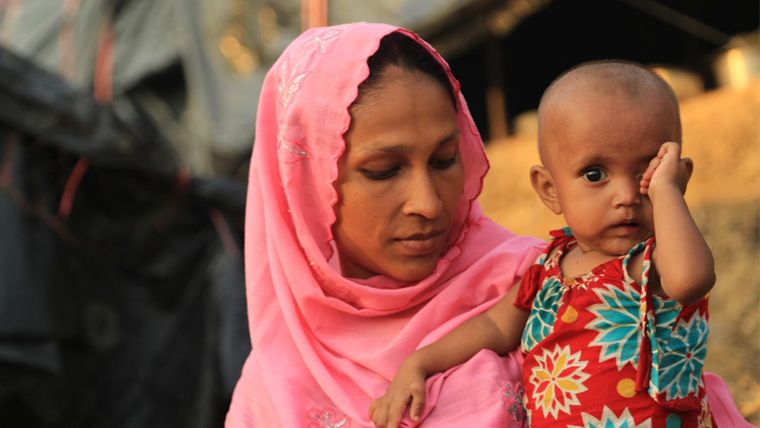 International children's charity World Vision has joined calls condemning any forced return of refugees who have fled violence in Myanmar.
Fifteen major International Non-Governmental Organisations (INGOs) have issued a 12-point declaration calling for the refugees' guaranteed safety and rights.
The charities expressed concern about an announcement by the Governments of Bangladesh and Myanmar on November 23 that the repatriation of refugees would begin within the next two months.
"We uphold the fundamental right of refugees to voluntarily return to their place of origin," the INGO declaration read. "However, we urge that the rights, safety and protection of returnees must be guaranteed before any returns process commences."
The declaration insists that if refugees choose to return, they must be allowed to go back to their original homes or land, or to a place of their choice. Confiscated land and property should be returned and refugees fairly compensated for any that was destroyed or lost.
There should be no form of closed camps or camp-like settlements, the statement said, and the 15 signatory INGOs will not operate in such camps if they are created.
The charities also called for:
an independent investigation carried out into allegations of human rights violations
legal action to be taken against perpetrators
humanitarian agencies to be granted unfettered access to all affected populations
journalists and human rights observers to get unfettered access to Rakhine state
Regardless of what side of the border they are on, the humanitarian needs of these refugees will remain urgent. They could even increase if returns aren't safe and voluntary.
- Suresh Bartlett, National Director of World Vision Myanmar
World Vision is working in Bangladesh's refugee camps to distribute food, protect women and children from exploitation and abuse, and improve water and sanitation sources.
"Everyone deserves full and equal rights, and our priority remains firm: children – the most vulnerable in crises – must be protected from all forms of violence," said Bartlett.
World Vision is one of 61 local, national and international NGOs working in Myanmar and Bangladesh calling for Rohingya refugees to have a role in decision-making about their own lives, including conditions for their return to Myanmar.
This World Humanitarian Day, we honour the women who work on the front line of their own communities in some of the most difficult places. This is Qamar Al-Kurdi's story.
International children's charity World Vision UK is looking for people to support the movement for gender equality by sponsoring1000 girls in developing countries.
World Vision UK calls on the new DFID Secretary to fight for the department to remain independent.