Sierra Leone mudslide: World Vision distributes 4,000,000 water purification tablets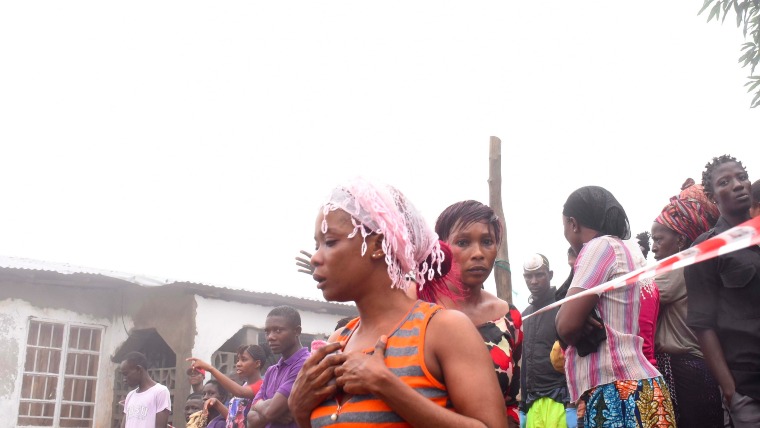 World Vision has begun providing emergency and hygiene kits to survivors of Monday's mudslide on the outskirts of Freetown, Sierra Leone.
The charity will give soap, towels and blankets to thousands of families hit by the mudslides. It will also distribute four million water decontamination tablets to avert an outbreak of deadly diseases like cholera and diarrhoea in water-logged areas.
James Chifwelu, the World Vision Sierra Leone national director said: 'The city of Freetown is in deep shock. We have witnessed heartbreaking scenes of bulldozers removing corpses and morgues filled with bodies. There has been lots of screaming and wailing as relatives face the anguish of lost loved ones and the devastation of their homes and neighbourhoods.
We are racing against time to help communities survive and cope with their loss. The government of Sierra Leone and aid agencies have mapped out a plan to get safe drinking water to the affected.
- James Chifwelu - World Vision Sierra Leone national director
World Vision will provide water purification tablets, jerry cans and information about good hygienic practices. We are also offering crowded hospitals hygiene equipment including bandages, hand gloves, gauze, and all-purpose sponges," Chifwelu explained.
Chifwelu said: "The rainy season will continue until September at least. Continued heavy rains, overcrowding and inadequate water and sanitation systems could leave children and adults extremely vulnerable to outbreaks of cholera and other diseases. We are planning worst-case scenario responses both in Freetown and remote parts of the country."
More than 400 people have been killed while more than 600 are still missing after torrential rains on the outskirts of Sierra Leone's capital Freetown.
Meanwhile, Sierra Leone's President Ernest Bai Koroma has declared a seven-day state mourning in honour of the victims of the disaster. Mr Koroma has also appealed for international help as rescue workers continue to search for survivors.
If you would like to help, you can give to the World Vision Emergency work fund, which will help our responses in unfolding disasters such as this.
World Vision is one of 61 local, national and international NGOs working in Myanmar and Bangladesh calling for Rohingya refugees to have a role in decision-making about their own lives, including conditions for their return to Myanmar.
This World Humanitarian Day, we honour the women who work on the front line of their own communities in some of the most difficult places. This is Qamar Al-Kurdi's story.
International children's charity World Vision UK is looking for people to support the movement for gender equality by sponsoring1000 girls in developing countries.
World Vision UK calls on the new DFID Secretary to fight for the department to remain independent.