Sierra Leone mudslide: World Vision distributes 4,000,000 water purification tablets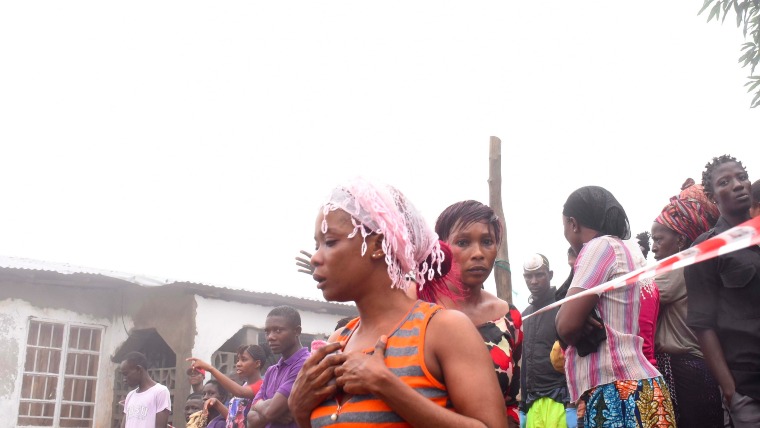 World Vision ambassador Jerome Flynn says he is 'changed forever' after hearing heart-rending stories from war-scarred children in South Sudan.
<p>
Jerome met traumatised children last month on a fact-finding trip organised by international charity World Vision. South Sudan is the world's youngest country, gaining independence in 2011. The East African country has been convulsed by a five-year long civil war which has killed at least 400,000 people. Over 19,000 children have been conscripted into various armed groups.
<p>
"Children told me about unimaginable horrors they had seen and experienced," Jerome says. "Some children were kidnapped by armed groups and forced to fight and kill and watch other children get killed for not keeping up. Others fled torched homes and villages and sought refuge in camps for displaced people, with little food and no education. Many lost mothers, fathers, brothers and sisters and were forced to make choices no child should have to make, just to survive.
<p>
"I met families torn apart because of the conflict and talked to parents who had sons and daughters snatched from them," he continued. At times I found their stories of what they had to endure almost too painful to bear.
<p>
"Yet I also saw hope in a country ripped apart by war. Dedicated World Vision aid workers are helping desperate families stitch their lives together amid the chaos. I was blown away by the resilience of the children, humbled by their spirit, and inspired by their determination to find happiness. 
<p>
"I saw how war costs children their innocence but does not always destroy their childhoods. The bravery of the children I met will stay with me forever."
<p>
Full-blown conflict is likely to flare up again in South Sudan unless a national army of government and rebel forces is formed by May 12. More children and young people could then be forced into the bush to take up arms or flee the fighting. 
<p>
Jerome says: "South Sudan's latest peace deal is on a short fuse and the situation is desperate. Help is needed urgently to protect children from further violence. Sadly, there are thousands of children across the world who need support right now. Please give generously to help them."
<p>
Jerome's trip forms part of World Vision's Made for More appeal for funds to protect the world's most vulnerable children.

World Vision has begun providing emergency and hygiene kits to survivors of Monday's mudslide on the outskirts of Freetown, Sierra Leone.
The charity will give soap, towels and blankets to thousands of families hit by the mudslides. It will also distribute four million water decontamination tablets to avert an outbreak of deadly diseases like cholera and diarrhoea in water-logged areas.
James Chifwelu, the World Vision Sierra Leone national director said: 'The city of Freetown is in deep shock. We have witnessed heartbreaking scenes of bulldozers removing corpses and morgues filled with bodies. There has been lots of screaming and wailing as relatives face the anguish of lost loved ones and the devastation of their homes and neighbourhoods.
We are racing against time to help communities survive and cope with their loss. The government of Sierra Leone and aid agencies have mapped out a plan to get safe drinking water to the affected.
- James Chifwelu - World Vision Sierra Leone national director
World Vision will provide water purification tablets, jerry cans and information about good hygienic practices. We are also offering crowded hospitals hygiene equipment including bandages, hand gloves, gauze, and all-purpose sponges," Chifwelu explained.
Chifwelu said: "The rainy season will continue until September at least. Continued heavy rains, overcrowding and inadequate water and sanitation systems could leave children and adults extremely vulnerable to outbreaks of cholera and other diseases. We are planning worst-case scenario responses both in Freetown and remote parts of the country."
More than 400 people have been killed while more than 600 are still missing after torrential rains on the outskirts of Sierra Leone's capital Freetown.
Meanwhile, Sierra Leone's President Ernest Bai Koroma has declared a seven-day state mourning in honour of the victims of the disaster. Mr Koroma has also appealed for international help as rescue workers continue to search for survivors.
If you would like to help, you can give to the World Vision Emergency work fund, which will help our responses in unfolding disasters such as this.
An escalation of violence in Idlib, North West Syria, may lead to the worst humanitarian crisis in Syria's 8-year conflict.
Children fear they might not be able to go back to school after the devastation of Cyclone Fani in India and Bangladesh.
World Vision UK has launched an emergency appeal to fund the humanitarian response to Cyclone Fani.
World Vision is ready to provide emergency humanitarian assistance in Bangladesh and India, as Cyclone Fani threatens millions of families.