Refugee Crisis: UK "cannot turn a blind eye"
Speaking during Prime Minister's Questions, David Cameron has re-iterated his position that the UK should not be encouraging refugees to make dangerous journeys to Britain by taking in lone child refugees from Europe.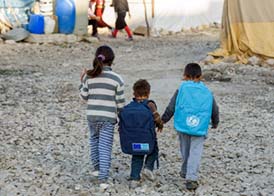 World Vision UK is among agencies backing calls for the UK Government to take refugees already in the continent. The Prime Minister told MPs this afternoon: "We're going to go round the local authorities and see what more we can do, but let's stick to the principle we should not be taking new arrivals to Europe."
Reacting to the statement, Peter Keegan, Government Relations Manager at World Vision UK, said:
"Some are suggesting the Prime Minister's statement signals a U-turn, but we are yet to see the extent of Britain's offer of sanctuary to unaccompanied child refugees currently in Europe.
"What is clear is that there's a ground swell of support for welcoming vulnerable and unaccompanied children, who without their parents are at risk of abuse. We're urging the government to take decisive action, to communicate this clearly, and to show compassion.
"The Prime Minister cannot step away from the reality that tens of thousands of unaccompanied child refugees in Europe are extremely vulnerable to exploitation and abuse that can and indeed will put lives at risk. We commend the efforts the UK government is making in the region, but we cannot turn a blind eye to what is happening on our own doorstep."
World Vision is one of 61 local, national and international NGOs working in Myanmar and Bangladesh calling for Rohingya refugees to have a role in decision-making about their own lives, including conditions for their return to Myanmar.
This World Humanitarian Day, we honour the women who work on the front line of their own communities in some of the most difficult places. This is Qamar Al-Kurdi's story.
International children's charity World Vision UK is looking for people to support the movement for gender equality by sponsoring1000 girls in developing countries.
World Vision UK calls on the new DFID Secretary to fight for the department to remain independent.