Anti-Corruption summit should go beyond lip service and provide room for civil society to function in the most affected countries
International children's charity World Vision UK has urged global leaders meeting in London for the 2016 anti-corruption summit to provide room for civilians and aid agencies to function freely in countries most affected by graft and violence.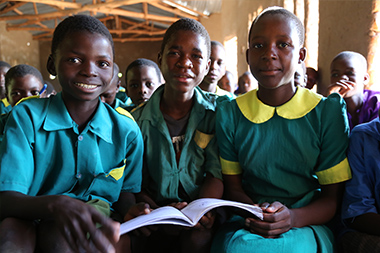 Ahead of the conference, Donald Mogeni, World Vision UK's social accountability advisor said: "Tomorrow's summit provides a real opportunity to take stock on what works, create a standard for policing governments and monitoring corruption and also highlight good practise. Ultimately, we want to see leaders giving citizens the right tools to fight and expose corruption. Unless governments develop firm positions that will enable favourable environments to prevail within the most affected countries, current moves by governments will lead to serious tensions and reversal of gains that have been previously realised."
The summit will bring together political leaders, businesses, sporting organisations, charities and pressure groups for talks at Lancaster House on Thursday.
Mogeni outlined the core responsibilities that should guide participants preparing to attend the meeting reflecting on the challenges they will confront, and the successes that have been made recently.
He said: "We have seen that in the most affected countries (by corruption), governments there have introduced legislative and constitutional curbs to various fundamental rights and freedoms. Such restrictive measures include limitations to civil society organisations' fundraising activities and mobilisation abilities. Other forms of the restrictions include press censorship and muzzling of media, blocking of social media and threats to the activities and lives of civilians. 
"Aid agencies and charities have similarly put the anti-corruption agenda at the top of their priorities. At World Vision UK for example, we have been supporting social accountability initiatives in 11 countries in Africa, Asia, Eastern Europe and Latin America over the past 10 years – making some tangible changes and drawing out vital lessons. We believe that in future, technological innovation and social media will increasingly become essential tools in the fight against corruption given their proven potential to reduce opportunities for wrongdoing, empower citizens to highlight illegal practices, and enhance government transparency and accountability. While media and technology will not be the ultimate panacea by themselves, when fortified with well -intentioned complimentary policy reforms, they can make a significant contribution to the fight for good governance," he explained.
For more information contact Henry Makiwa in the World Vision UK Press Office: 
Phone: +44 1908244446| Mobile +44 (0)7469 154268 |  Twitter: @makiwahenry
World leaders must wake up to the deadly Ebola crisis in the Democratic Republic of Congo (DRC), World Vision warns today.
The fight against Ebola has intensified after the first Ebola death in the major city of Goma in the DRC, World Vision warns today.
World Vision is delivering life-sustaining aid to hundreds of thousands of children and their families as monsoon rains lash the world's largest refugee camp.
World Vision UK on Monday presented the Department for International Development with a petition urging it to increase spending to stop children being abused and assaulted in disaster zones.