World Vision calls for safe routes into the UK for Syrian refugees
World Vision is calling on the UK government to create a refugee 'crisis package' that would admit more Syrian refugees into the country at a key international summit in Geneva today.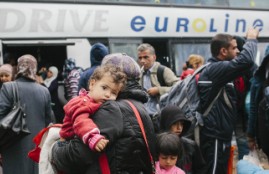 The UN refugee agency UNHCR is bringing together world leaders to address bureaucratic and legal barriers that prevent Syrian refugees from settling in safe havens. It wants European and other countries to share responsibility to resettle one in ten Syrian refugees over the next three years. Options for refugees could include humanitarian visas, private sponsorship, reuniting families, academic scholarships and study opportunities.
Speaking ahead of the summit, Johan Eldebo, Senior Humanitarian Policy Advisor for World Vision UK, said: 
"Today's talks are about making sure all countries pull their weight and take in their fair share of Syrian refugees. This must be done in an organised way that doesn't put people's lives at risk.
"We fear that turning refugees back at Greece, through the 'one in, one out' deal struck between the EU and Turkey this month, will force desperate families and their children underground into the hands of smugglers."
Over 10,000 refugee children have already gone missing in Europe, facing the risk of sexual and other forms of exploitation which could put their lives at risk.
World Vision is one of 61 local, national and international NGOs working in Myanmar and Bangladesh calling for Rohingya refugees to have a role in decision-making about their own lives, including conditions for their return to Myanmar.
This World Humanitarian Day, we honour the women who work on the front line of their own communities in some of the most difficult places. This is Qamar Al-Kurdi's story.
International children's charity World Vision UK is looking for people to support the movement for gender equality by sponsoring1000 girls in developing countries.
World Vision UK calls on the new DFID Secretary to fight for the department to remain independent.