South Sudan's independence anniversary marred by fresh fighting
Heavy fighting has taken place across South Sudan's capital Juba this evening with World Vision staff reporting incidents of intense gunfire. The new fighting comes just before South Sudan marks its fifth independence anniversary on Saturday.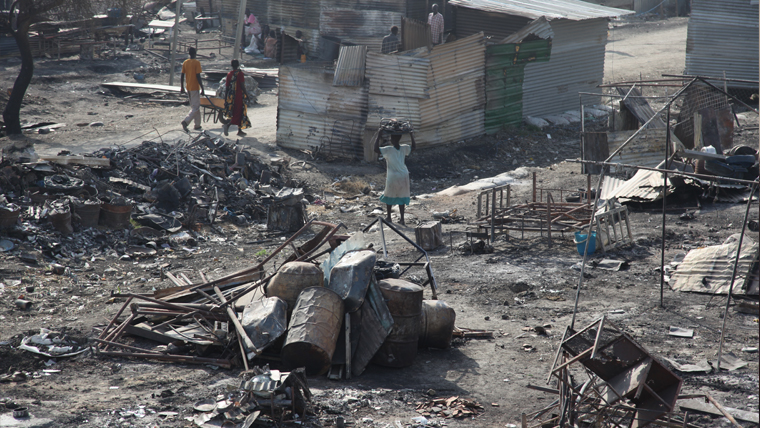 World Vision staff are hunkered down in the Juba headquarters following an outbreak of armed fighting within the capital. At one stage shooting took place in the streets outside the World Vision compound.
Speaking from Juba, Jeremiah Young, World Vision South Sudan's Policy, Advocacy and Peacebuilding Adviser, said, "Shots and heavy shell fire could be heard ringing across the city while there has been a heavy presence of patrolling armed individuals too. All our staff are safe and accounted for and we hope things will get calmer now. For now, it seems the fighting appears has subsided.
"There are a number of us in the office compound. We can't go anywhere as the streets are in lockdown. Our building sits in a walled compound and is fairly safe. We have supplies to keep us going. We truly hope that those involved decide to hold back. This is a very concerning situation as it has the potential to deteriorate quickly.  The children of South Sudan have suffered years of violence, poverty and displacement that is the result of this violence. It is imperative that the chaos of the recent past is not reignited."
The new fighting comes just before South Sudan marks its fifth independence anniversary on Saturday.
World Vision is urging the transitional South Sudanese government to intensify its reconciliation efforts to hasten the peace process. Despite the ceasefire deal signed nearly a year ago, which provided renewed hopes for South Sudanese, the ongoing fighting continues to force hundreds of people to flee to neighbouring countries each day in search of safety. 
World Vision UK spokesperson, Stefanie Glinski, who has recently returned from South Sudan and Uganda said, "One in every five people in South Sudan has been forced to flee their homes since the conflict began in December 2013. In one of the transit centres in Northern Uganda, located just 250 kilometres from Juba (the capital of South Sudan), an average of 180 South Sudanese refugees arrive daily. These families often carry no more than a change of clothes."
An agreement that saw the fighting parties of President Salva Kiir and his deputy Riek Machar, working together under the Transitional Government of National Unity had brought a sense of national optimism, peace and stability. However, uncertainties of lasting peace persist in the countryside with many seeking refuge beyond their borders. 
"The ongoing violence through the country is deeply worrying. For those who make it out of the country, the journey is treacherous and harsh. Sixty-five per cent of those fleeing are children under the age of 18. It's hard to imagine how many of them have managed to walk for days or even weeks barefoot, without much food or water and in constant fear," Glinski said.
In the past week, heavy fighting in South Sudan's Wau district has led to the displacement of a further 70,000 people. Prior to the latest round of fighting, the UN said there were an estimated of 100,000 people displaced in and around Wau. The organisation now expects the number to go up to 150,000.  
The ongoing fighting has also fostered worsening conditions that have left an estimated 4.8 million people in dire need of food. 
World Vision experts in South Sudan say reductions in donor contributions to the UN Humanitarian Response Plan - currently funded at 39 per cent - as a chief cause of the challenges aid agencies are facing. Logistical difficulties have also hampered aid efforts to reach the most affected and vulnerable South Sudanese, especially children. 
Please give now to provide emergency food, water and medical care to children and families most in need.
Reports of new cases of Ebola in north-western DRC confirm World Vision's greatest fear: that the country is contending with yet another outbreak in a new province – Equatoria.
Cyclone Amphan is creating crisis on top of a crisis – making it even more difficult to contain COVID-19 at a critical time in the response by both India and Bangladesh, World Vision warns.
Up to 85 million more children face physical, sexual and emotional violence at home and in their communities over the next three months, as COVID-19 spreads worldwide.
World Vision has dramatically scaled up its emergency response to the COVID-19 pandemic, as the virus continues to spread rapidly around the world.