World Vision among top ten UK charities to work for
World Vision UK has been hailed as a top charity by its workforce, climbing to ninth place in the Sunday Times' prestigious 'Best 100 Not-for-Profit Organisations' list.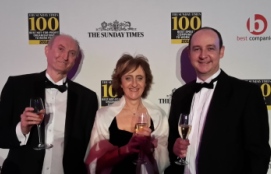 The ranking is based on anonymous staff surveys on issues such as 'giving something back', leadership, work –life balance, wellbeing, and fair deal.
The charity has soared steeply up the list from 52nd place last year, thanks to positive feedback from its workers.
Adrian Blair, World Vision UK's Director of Organisational Effectiveness , said:
"World Vision UK is an inspiring place to work and we're delighted to see how happy our staff are here. Valuing people runs right through our organisational culture.
"It lives and breathes in the UK as much as in our work with children and communities overseas. 
"Our staff are incredibly committed to our mission of transforming children's lives in the world's hardest places, and this award is a true recognition of all our staff and their contribution to our organisation."
More than 1,300 staff from nominated organisations attended a celebration to hand out the awards.
Issues included in the survey included:
Leadership: How employees feel about the head of the company and its senior managers
Wellbeing: How staff feel about the stress, pressure and the balance between their work and home duties
Giving something back: How much companies are thought by their staff to put back into society generally and the local community
Personal growth: To what extent staff feel they are stretched and challenged by their job
My manager: How staff feel towards their immediate boss and day-to-day managers
My company: Feelings about the company people work for as opposed to the people they work with
My team: How staff feel about their immediate colleagues
Fair deal: How happy the workforce is with their pay and benefits
For more information go to The Sunday Times Best 100 Companies »
or visit our Best Companies Profile »
We always have new opportunities for talented individuals looking to take the next step in their career.
International children's charity World Vision UK hosted a general election hustings event open to all electoral candidates for Milton Keynes North.
"We are desperately sad to hear reports of the deaths of a number of Ebola aid workers who were killed in the line of duty – giving their lives to help vulnerable communities in eastern DR Congo," says Anne-Marie Connor, National Director for World Vision DR Congo
A sudden surge in violence in the DRC has forced aid agencies to suspend work, putting lives at risk as the fight against Ebola and measles is undermined.
World Vision welcomes reports of the repatriation from Syria of three orphaned British children. Innocent victims of war should not be punished for the actions of their parents.