Sponsorship brings Uttam friendship and hope
By Lauren Vail, Children's Communications Officer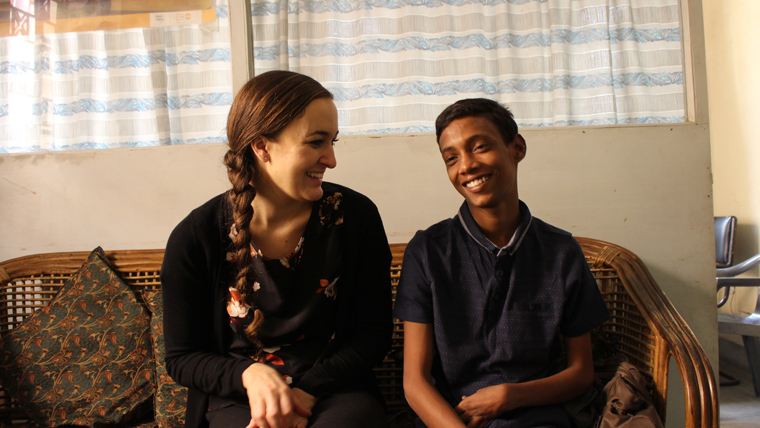 During my trip to India last year, I had the great privilege of meeting Uttam, a World Vision sponsored child.
I work for World Vision UK as Children's Communications Officer and I was in India to lead a training at our urban project in Patna, which does brilliant work in the slums in Bihar, the poorest state in India. World Vision India has been intentional about including children with disabilities in sponsorship, because often they are marginalised and stigmatised from the rest of the community.
Uttam is one of these sponsored children. Mentally, he is bright, curious, and a bit shy. Physically, his body has not developed properly and he has lost most of the function on his left side. While he can walk, he drags his left foot, and his left hand can't execute any fine motor skills, like tying shoes. His older sister Rupa helps him and is patient as a saint.
I met Uttam because a friend of mine, Katie, recently signed up to sponsor him and asked me to deliver a letter and package to him while I was visiting his community. This would be Uttam's very first letter from his sponsor.
It's difficult for me to describe to you the smile on his face when we met. He walked into the door drenched in excitement. That smile never once left his face. This was a special day.
I gave him the parcel that Katie had sent. He was over the moon. Sweets, some photos, an encouraging letter, and a new T-shirt. Incredibly, Uttam presented a gift for me to give Katie – a necklace he picked out for her himself.
Swarup is the World Vision worker in charge of Uttams sponsorship. She told me that when she signed Uttam up for sponsorship, he was so excited he could burst. He couldn't wait to see who would sponsor him. When the day came that World Vision was alerted that someone signed up to sponsor Uttam, Swarup visited him to let him know. She said that he was ecstatic. Uttam explained to her that he does not have any friends. Because of his disability, when he walks long distances, often he will fall over. He said no one helps him up or cares about him. Often, he is mocked. He said that having this sponsor means he has a friend. Someone who cares about him. And this gives him hope.
Uttam's life continues to be incredibly difficult. This will not soon change. For example, here is the most recent letter that Katie has received from him: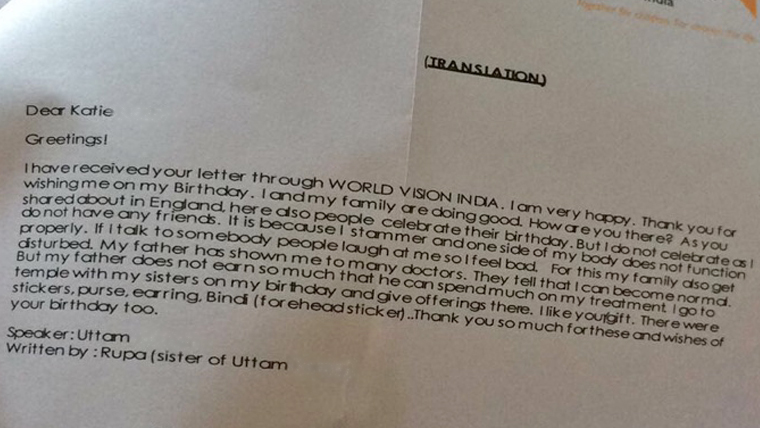 While his life is difficult and it will take time for the community to fully welcome and support those with disabilities, progress is being made and World Vision is on his side, helping provide the care and support he needs. And importantly, thanks to child sponsorship, Uttam has found a friend in this world. One who will encourage him, support him, and pray for him. And that means absolutely everything.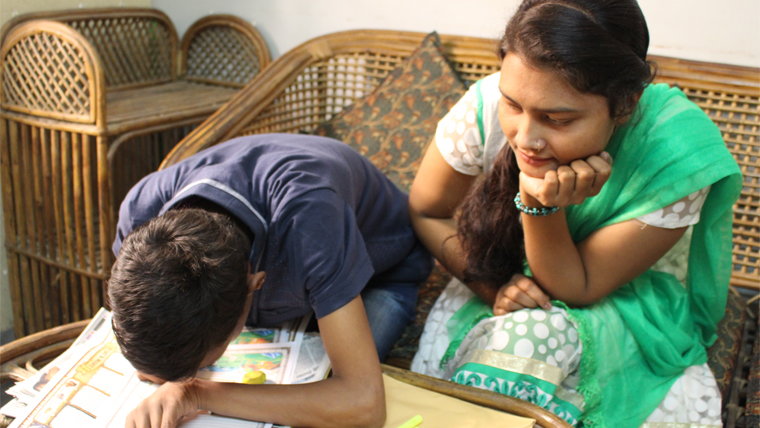 Uttam and his sister Rupa. He's hard at work writing a response to Katie's letter.
Working in Child Sponsorship, I am often overwhelmed with the amount of work there is still left to do. But when I look at Uttam, I see the purpose and heart of child sponsorship: To build relationships. To share the love of Christ to light up places of darkness. To reach across borders to support the world's most vulnerable children. The ones that need it the very most.
I hope his smile captures your heart like it did mine.
Find out how you can change a child's life through sponsorship today »
5 of the best ways to fill the summer holidays and help your kids achieve something great.
First-hand accounts of Beirut's explosion, from the children who live there. Plus, how you can help them today.
In 2020, handwashing is more important than ever. This August, we can bring vital clean water to children like Ireen.
A celebration of children across the UK who've been inspired to fundraise for more vulnerable children during the global pandemic.