Sharing seeds, sparking connection
By Mark Nonkes
We all start off as strangers. It's random connections or, perhaps, a higher power that brings people together. With some, we connect and build bonds. We nurture family relationships and develop friendships that span years. With others, we are mere ships in the night, passing by – attending the same places and interacting with the same people, but the proverbial fire never ignites.
And then there is another category. A mystery category, the people we meet just once, where a single spark of a connection is created but never replicated.
Last month, I met Muhammad. We couldn't be more different. He has two wives, seven sons and three daughters. He is 54 years old and comes from Darfur, in warring Sudan. On the otherhand, I am single, childless, 37 years old and from peaceful Canada.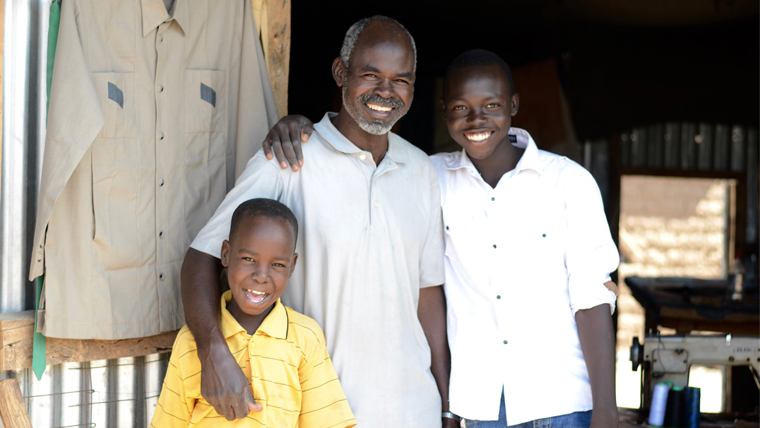 On a bright June morning, we both found ourselves in a community garden and conversation ignited. Muhammad and his 15-year-old son Nejmadin, who acted as a translator, were keen to show off their family's prized watermelon and pumpkins, their sweet corn and cucumbers. Nejmadin quickly volunteered that he wanted to be just like his father in the future, a farmer who "grows what he eats."
This garden is a green oasis in a drought-stricken corner of northern Kenya. It's a place of hope among many who have faced desperate situations.
I was there with World Vision, which is responding to the drought and conflict. Millions in eastern Africa have been robbed of their ability to earn an income. Many of the worst affected were once productive farmers.
Muhammad is one of those farmers. He has been forced to abandon his fields twice – once because of war, the second time because of drought.
In Sudan, Muhammad was a market gardener, just like his father and grandfather. Muhammad grew fields of corn, sorghum and millet – local grains that are a staple of the African diet. He was "large-scale" he says, the land fertile and the harvest plentiful.
And then it all fell apart.
"There were attacks, we don't know why they started attacking us. We don't know what the problem was. During the attacks, people were killed, they burned the houses and they raped the girls. They killed my brothers and sisters." Muhammad pauses, stands silent, and then doubles over, sobbing.
He grabbed his family and ran, taking just one thing – a package of seeds.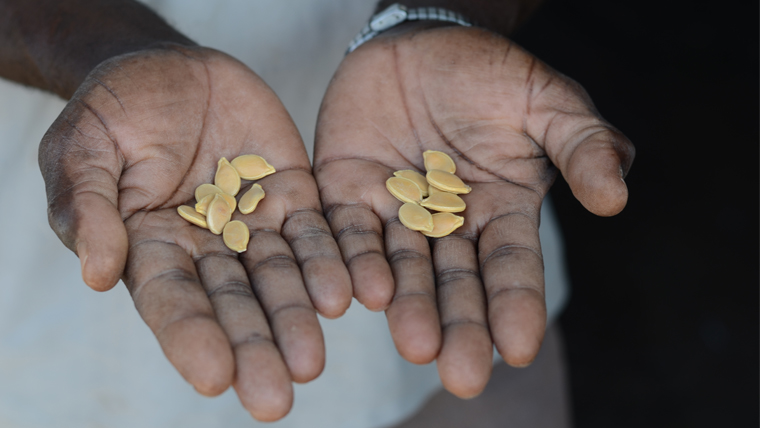 They arrived in a city they thought was peaceful. Juba – the capital of the newly independent South Sudan – offered Muhammad's children education. He gave up farming, instead, repairing shoes for nearly two years. He tried to forget about the past, of the life that he lost.
Other people could not forget though. Old enemies were unforgiving. A thirst for vengeance and a fight for power quickly escalated. By 2013, Juba became a battleground. Once again, Muhammad fled with his family and grabbed those old, dormant seeds.
In 2014, Muhammad and his family were registered as refugees in a Kenyan camp, with a population of 160,000. In the camp, Muhammad's family were provided brown, mud-brick structures and children registered in schools where they study in languages he doesn't understand.
It is here, for the first time, Muhammad was forced to rely on food assistance and where water is strictly rationed. Kenyan law bars refugees from working for an income outside the camps, but can engage in petty trading within the camp. After sitting idle for nearly a month, Muhammad could hardly stand it.
He noticed the land overgrown with weeds and thorn tree surrounding the camp. The land didn't seem to belong to anyone.
"I decided to cut the trees. I dug out all the roots that remained. My oldest sons helped. Then I hand-dug a well. I took those seeds, the ones I brought from Darfur, and they grew," Muhammad says.
After a few months of diligent weeding and watering, the seeds had turned into vibrant fields of okra and ombra – a green leafy vegetable like spinach.
"I harvested, saved the seeds and expanded the fields," he says.
The family was quickly able to supplement the food aid of beans and corn-based flour with fresh vegetables. Seeds were traded with farmers in nearby towns and he started to have fields that burst with sweet potatoes, corn, watermelon and much more.
But, of course, there's not a simple ending.
Last year, the rain was far less than normal. Muhammad's hand dug well ran dry. He dug deeper, and still the well was dry. He watched helplessly as the crops withered away and died. For the second time, he was forced to abandon the land, waiting endlessly for rain that never seemed to come.
Earlier this year, World Vision dug a borehole, which tapped into a deep underground water source. After, World Vision partnered with another non-governmental organization to create gardening project and asked 200 people to share 7 acres of land. Muhammad quickly signed up to join. He still had seeds left over from his earlier ventures in farming.
His sons tell me that he's quickly become the unofficial leader of the group – producing more crops than any other garden member. He's been given the key to the garden to unlock the gate, as he's always the first to arrive in the morning and the last to leave. Once more, the family is eating meals with vegetables. His seeds are now being traded in the market.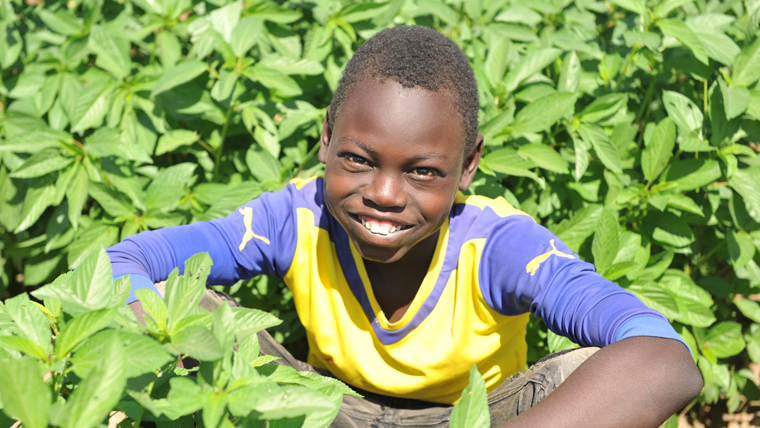 "If the rains come again, many people will be able to farm," he says.
That one-time meeting expanded my perspective – and perhaps, that's why I needed to meet Muhammad. Muhammad taught me that, counter to what we see in news broadcasts, people who are refugees, or stricken by drought are not victims. They do not want to rely on aid and find no dignity in it. They are survivors of circumstances that are far beyond their control but are determined to help themselves.
Before I left, Muhammad offered me a few pumpkin seeds. I too have planted them and wait for them to emerge – a symbol of hope and resilience.
Note: World Vision distributes food assistance to families in the refugee camp on a monthly basis. The organization has also built primary schools in the refugee camp to ensure children are educated.
Find out how you can support our work in East Africa.
A celebration of children across the UK who've been inspired to fundraise for more vulnerable children during the global pandemic.
From genocide to pandemic: World Vision South Sudan's Emilienne Cyuzuzo is helping vulnerable families facing COVID-19.
12-year-old refugee Priscillia, in the DRC, is trying to protect her friends and family from the coronavirus pandemic.
Bored of banana bread? If you're looking for some foodie inspiration join World Vision child sponsor Rhiannon Tuntevski on a culinary journey.