A helping hand in India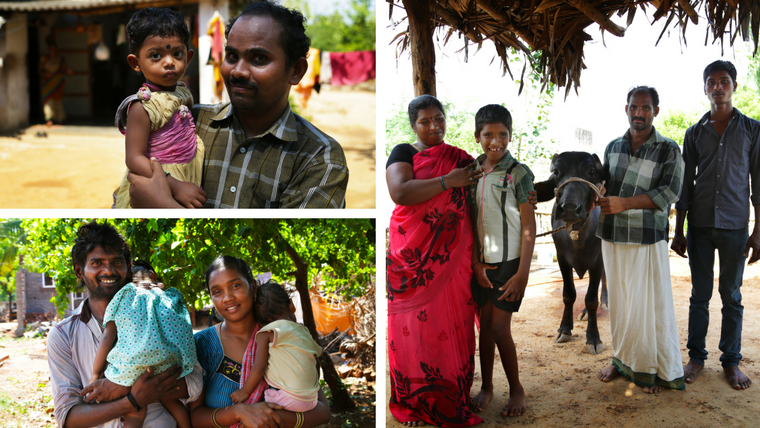 We recently visited three families in India that are facing health and money challenges as they strive to provide a bright future for their children. Struggling financially and unable to provide the amount of care required, the families were finding it difficult to cope. This was until World Vision India offered a solution that provided the families with both a form of income and nutrition…
Narasinga
Narasinga lives with his wife and two sons, Harikrishna, 18 and Sivakumar, 14, in a small village in Andhra Pradesh, India.
Working as a woodcutter, he earns just enough money to meet the needs of the family. However, Narasinga's younger son, Sivakumar, was born with intellectual and physical disabilities and requires additional support.
The family have been struggling to pay for Sivakumar's treatments, and even though they'd always somehow pulled the money together, the family were not seeing any improvement in his health.
On top of this, Narasinga fell sick a few years ago, which severely crippled the income of the family. 18-year-old Harikrishna suddenly became the main breadwinner in the family, and the healthcare of both his father and his younger brother now depended on him.
The heavy costs of medical treatments soon put the family in debt– and in no time, most of Harikrishna's earnings were being eaten up with minimum repayments.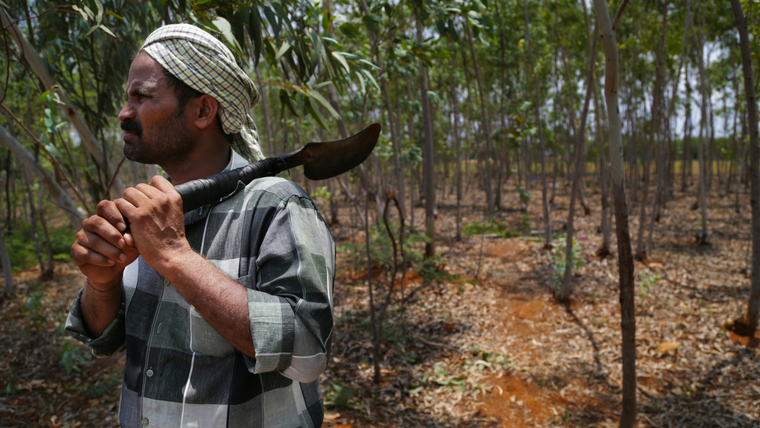 Babu
Similar to Narasinga, Babu also knows the costly pressures of having a family member who needs extra support.
Babu lives in Andhra Pradesh, India, and works as a teacher in a private school. He lives with his wife, daughter, mother and elder sister, who suffers from intellectual disabilities.
Despite a good job as a teacher, Babu was unable to provide for his family's needs. Like Narasinga, most of his earnings went into repaying debts that were piling up.
Soon, his mother became unwell as well, and as Babu struggled to make ends meet, his one-year-old daughter Manswiny became malnourished.
Nagaraju
The third family we met with sadly lost their father just two months ago. Nagaraju's father suffered a heart-attack, and he's now struggling to repay the debts his father left behind.
Things had started off well. Nagaraju and his father took out a loan and were building a house for themselves. However, Nagaraju's father had a heart-attack not too long after they found problems with the build of the property. Nagaraju has been left with an unfinished house and rising debt.
The situation was so strained that Nagaraju had to borrow more money so that his father could have a cremation service.
Nagaraju and his mother are now the only earning members of the family, and they face a daily struggle to make ends meet.
These struggles had an impact on Nagaraju's two children Enluri, three and Vijay, six months, as he was not able to provide for their nutritional needs.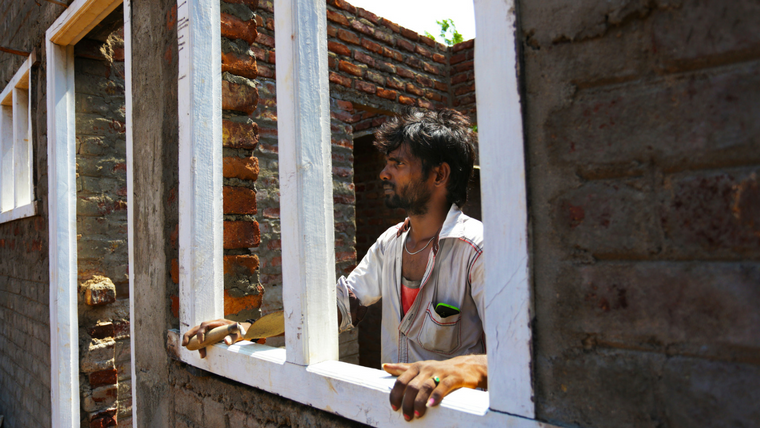 A surprising gift
When World Vision heard about the plight of the three families, they decided to help. The help came in the form of a buffalo - a simple solution which gives families a way to stabilise their financial situations and improve the family's nutritional health.
Speaking to us with a smile, Narasinga says, "This gift from World Vision India has given us hope - we now have means to an additional income and nutrition for my children."
Each family has benefitted greatly since receiving the buffalo.
Babu's daughter enjoys drinking the milk and is no longer malnourished. He tells us that he dreams of seeing his daughter achieve big things, and will do all he can to help his daughter get there.
Nagaraju has been able to use his profit from selling milk to sustain the family financially, and he tells us with a warm smile that he can now finally envision a future where he is debt-free. He's looking forward to contributing even more towards his children's nutrition and education.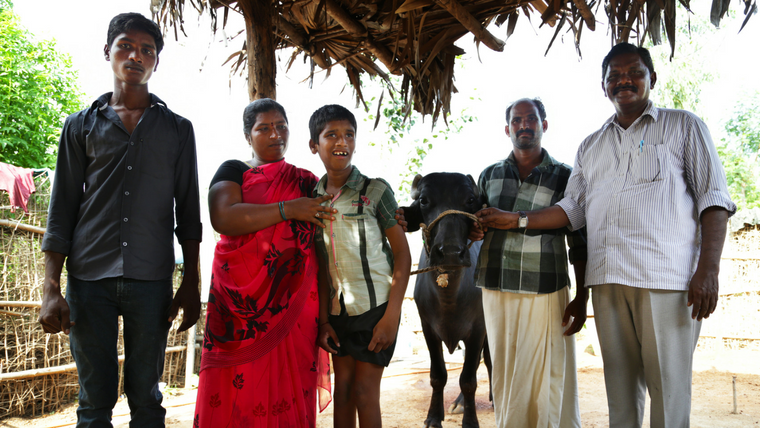 World Vision is working with over 6000 communities across India and carries out work through sponsorship programs. Our work is important for many families, like the ones mentioned above. If you'd like to find out how you can help, you can read about how you can sponsor a child in India, here»
5 of the best ways to fill the summer holidays and help your kids achieve something great.
First-hand accounts of Beirut's explosion, from the children who live there. Plus, how you can help them today.
In 2020, handwashing is more important than ever. This August, we can bring vital clean water to children like Ireen.
A celebration of children across the UK who've been inspired to fundraise for more vulnerable children during the global pandemic.