Princess Charlotte's first birthday | The view from Sierra Leone
By Desiree Stewart, Senior Health Programmes Adviser, World Vision UK
This Monday will mark the first birthday of Princess Charlotte, and as I see all the photos of a happy baby girl and her family in the media, I'm reminded of another healthy little girl and proud parents I met this past week in Sierra Leone.
However, as our news and media wrap up their coverage, I've also been reflecting that sadly, the first birthday is a milestone that many children around the world never reach.
In my position at World Vision I hear many stories of the challenges that infants face in order to survive the first year of life. Childbirth threatens the life of mothers and babies alike in much of the developing world, and for those who make it out of the hospital, preventable illnesses like pneumonia, diarrhoea and malaria loom, as well as hunger and malnutrition. In Sierra Leone, nearly 9% of newborns never reach their first birthday.*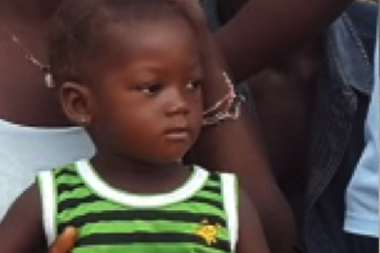 Musu was born in Sierra Leone in 2014 when the Ebola epidemic was spreading across the country. When her mother, Kattah, went into labour she was worried about going to a health centre because of the epidemic, but she also knew that she would have a better chance of giving birth safely if she had assistance from a midwife.
As her labour progressed, Kattah's husband became concerned that there might be complications, so he went to see Festus, the local Community Health Worker.
As a Community Health Worker, Festus is linked to a local clinic and visits households to provide health education and advice about when to use health services. She rode to the local hospital to arrange an ambulance for Kattah, but even the small fee required to cover the cost of fuel was too much for her husband to pay out of their meagre earnings. Determined to get Kattah the best care possible, he quickly asked around his relatives and gathered the money to pay for the ambulance transfer.
However, when Kattah finally arrived at the hospital, it was poorly equipped with staff and equipment and unable to manage her complicated labour. They had to drive another 32 kilometres to another hospital, where midwives were available to help her to finally give birth uneventfully, more than 24 hours after her labour had started.
I had learned of Musu's story through our staff in Sierra Leone, and met her last week during a field visit to see the benefits of the health projects we are supporting. When I arrived Tuesday night, Musu was running around with all her friends, having just come home from the gardens where her mother had been working for the morning.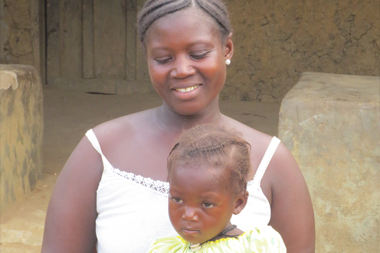 Her parents are especially grateful for the help of Festus who they say is very dedicated to helping his community so that less lives are lost. Musu was able to have a good start in life and today is healthy and growing well, but many women giving birth in Sierra Leone face challenges with health facility costs or having to travel long distances to access care. Some women give birth on the way to the hospital if they are unable to pay for the ambulance.
Before Ebola began, about one in six Sierra Leonean children died before their fifth birthday from preventable diseases like diarrhoea, pneumonia and malaria. Close to 40 percent of children were chronically malnourished, which significantly affected their health and physical and psychological development. The Ebola emergency has further reduced children's access to health care, while increasing food insecurity.
Part of my job at World Vision is working with our staff in the field to make sure that every child, no matter their station in life, has a happy and healthy childhood.
We can help by strengthening the local health systems so that health workers are able to do their job effectively and babies can be delivered safely within easy reach of every household.
In countries like Sierra Leone, we're working with Community Health Workers to help them teach mothers and other family members about basic ways to keep their children healthy. These visits are scheduled at key times throughout pregnancy and the first two years of a child's life, so that health workers can provide the right advice at the appropriate time. Thanks to funding from the UK government and our child sponsors, we are able to work with Sierra Leone's health authorities to try to improve infants' chances of survival.
My hope is that by the time Princess Charlotte has her own children there won't be such a contrast between the life they can expect, and those of the children we work with.
World Vision works to reduce child mortality as an integrated part of child sponsorship programming. UK sponsors are directly funding this work in 49 communities in 19 countries, and aid from the UK government is further helping us save lives in Sierra Leone, the Democratic Republic of Congo, Uganda, Kenya, and Somaliland. You can find out more about sponsoring children in Sierra Leone here.
* As estimated by World Bank, 2015 (http://data.worldbank.org/indicator/SP.DYN.IMRT.IN)
Obaidur, a respected Rohingya camp leader, believes that with good teaching, men can create positive change in the heart of the coronavirus crisis.
How can you maintain social distancing in a camp of crowded tents? How do you wash your hands regularly when the queue for the water point is long?
During the current coronavirus crisis, children are finding ways to bring hope and healing to those around them.
In South Sudan, already vulnerable children face a deepening crisis as coronavirus hits their country. Here we meet Paska, an extraordinary girl, who has become carer to her three younger siblings at the age of just 11.