On her own | Post Ebola story in Sierra Leone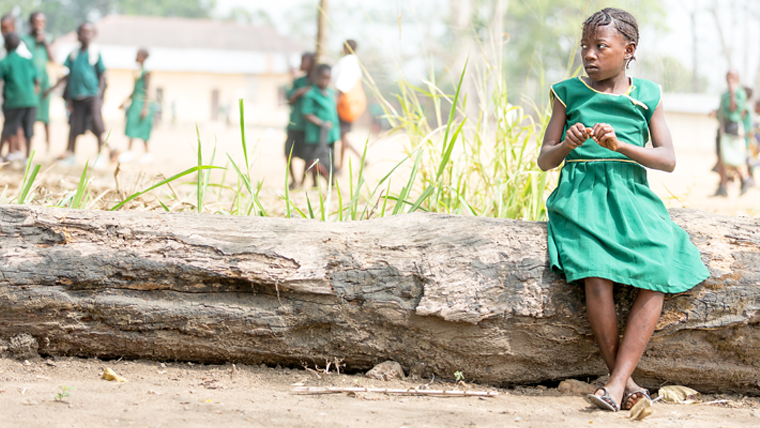 Maria has endured many ups and downs in her nine years. In pre-Ebola Sierra Leone, Maria lived with her parents, two sisters and little brother. She had a good life and was happy. Her memories of family days echo the happy, sunny, carefree days many of us associate with childhood.
Speaking to us quietly, Maria begins, "I have such fond memories of my mum and dad. We did everything together as a family. During the holidays, we went out to the fields together to pick cassava. We'd prepare the food out there over an open fire and eat it, sitting together around a big plate. We'd stay out all day and only went home in the evening. I loved spending these days with my parents and my siblings. I was so happy."
Maria smiles as she remembers the happier times with her family, and tells us "Dad was a tall man, but he was gentle. I loved my father so much. In the evenings, after my father helped me with all of my schoolwork, we played together, ate and then prayed before we went to sleep."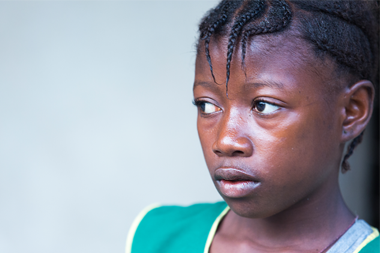 Maria pauses for a moment, and continues, "I think of my parents before I fall asleep, when it's dark and quiet. I try not to think of Ebola. I just have one photo of my father, but none of my mother."
Ebola swept away Maria's happy family.
"My little brother is dead. My mother was pregnant when she caught Ebola. My father had already died at the treatment centre; he was the first one in my family. My mum felt very sad. I cried with her through the night and in the morning, she was taken away. I've never heard her voice again."
Maria's mother sadly lost the baby too.
"I was quarantined after the deaths of my parents and my younger brother. Both of my sisters got ill too and were taken to the treatment centre. I was so scared then. I was left alone with my aunt and we stayed inside the dark house for 42 days. When my sisters recovered, I moved out of my house and into my uncle's hut. I have never been back to the place where I grew up and lived with my parents."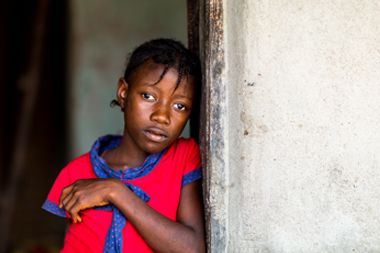 After Ebola, Maria was luckier than some and is now being cared for by her uncle. But while he struggles to provide for her, she struggles to deal with the changes Ebola brought, particularly saying goodbye to her sisters.
Thankfully her sisters have recovered, but they need extra emotional and educational support. They're getting help, but at a children's home some distance away.
Maria often thinks of her sisters, telling us "they receive enough food there and have someone who takes care of them and loves them. They can play and they are treated very well."
With a quiet sadness, Maria tells us, "I wish I could go, too. I am alone and I am hungry often. I said goodbye to them and wished them good luck. Now I have no one to play with and I rarely see my sisters. I miss my brother too. I used to carry him on my back and I ran through the village with him.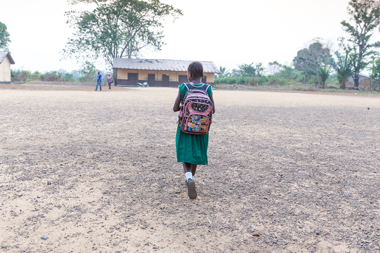 "I'm all alone now and that makes me sad."
But there is hope. Maria has a sponsor, someone she's never met who's chosen to protect and support her and her whole community as they recover. Thanks to sponsors like Maria's we've trained local volunteers to become home visitors to help children like Maria as they cope with loss and stigma. 
"I am very close to my visitor Mary. She is my family now. She relates to me."
"Mary also helps me with my schoolwork and, like my father used to, encourages me to continue with my education. With her, I'm not alone. I can tell her everything and she listens. I even tell her when I miss my parents. I'm so glad she's in my life. Mary makes me smile," Maria tells us with a clear fondness.

With notebooks and pens provided through sponsorship and with Mary's encouragement, Maria is now back at school and as fear recedes, hope comes in.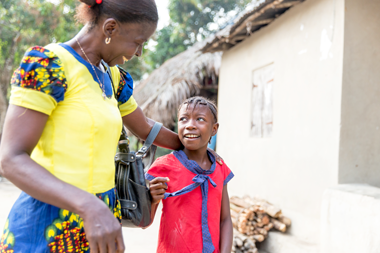 "I love school because I want to be educated and become a lawyer. This would help me to take care of my family and my friends. I don't have much family left, but I know my friends will look out for me just the same. I'm so happy to be back in school now and I'm glad to have my friends back again. When I'm in school, it feels like my life is normal and I'm happy to play with my friends."
Child sponsorship not only transforms one child's life, but also has a profound effect on the lives of others: their family, friends, neighbours and even the sponsor. The kindness of Maria's sponsor is raising her back up to a place of hope. Could you do the same? To find out more about sponsorship and our gardens at this year's RHS Chelsea and Hampton Court, please click here.
Obaidur, a respected Rohingya camp leader, believes that with good teaching, men can create positive change in the heart of the coronavirus crisis.
How can you maintain social distancing in a camp of crowded tents? How do you wash your hands regularly when the queue for the water point is long?
During the current coronavirus crisis, children are finding ways to bring hope and healing to those around them.
In South Sudan, already vulnerable children face a deepening crisis as coronavirus hits their country. Here we meet Paska, an extraordinary girl, who has become carer to her three younger siblings at the age of just 11.