'I have a reason to smile again' | Safe childbirth in Sierra Leone

By Sahr Ngaujah, Communicator, World Vision Sierra Leone
28–year-old Nancy is overjoyed to have safely given birth to her second child. She lost her first child last year due to complications and lack of proper medical care. Sitting on her hospital bed in the local clinic that World Vision has equipped, Nancy can't stop looking at her beautiful new daughter and smiling.
The past few decades have been difficult for Sierra Leone. Its people have suffered through a vicious eleven-year war that claimed the lives of many innocents, and more recently, the Ebola epidemic. Although both crises are now officially over, their legacies have both fed into and exacerbated a third one – high rates of child mortality and deaths in childbirth.
Prior to the Ebola outbreak the government of Sierra Leone was working on introducing free health care, but in many rural areas medical facilities are still very poor. In 2014, Sierra Leone had just 120 doctors to treat almost six million people; 11 of them were some of the almost 4000 who died of Ebola during the crisis.
The Ebola emergency has further reduced access to child health care, and in a culture already reticent to seek medical health and advice, the spectre of disease and death hanging over health clinics from Ebola has made changing attitudes even harder. More lives have been lost during the epidemic because people were afraid that they would catch Ebola if they went to a health centre.
Nancy bravely spoke to me about her traumatic first pregnancy, "I lost my first child because the place I delivered in didn't have the proper equipment or trained nurses. Not only did my daughter die, but I almost lost my life in the process. I suffered stomach pains for months after I delivered."
"When I became pregnant again, I was afraid when I thought about my past experience. But this time around a miracle happened." Nancy smiled and continued, "my mum told me about a clinic in her village that World Vision had equipped with drugs, baby kits, foam mattresses and mosquito nets, plus they have trained nurses."
"The distance to my Mum's village was too long for a pregnant woman to travel either on motorbike or foot. But I took the risk going because I couldn't lose another child. I never regretted my decision."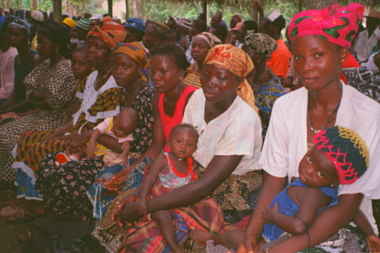 Giving birth in a clinic goes a long way to determining the fate of mothers waiting to deliver, and Nancy told me she felt happy and content at the clinic.
"The environment alone put my mind at ease. The bed was comfortable; I slept under mosquito nets and I was given the right medications. I delivered safely without complications and the nurses monitor me regularly. With all these good things, I have a reason to smile."
Nancy believes this year has been a breakthrough, "Last year I was crying when I lost my child. But this year is different. I smiled again," she tells me with an unmistakable joy.
"My husband and I are happy again. I never knew of World Vision and their work, but I know now and I will encourage fellow women to use the clinic."
Before Ebola began, about one in six Sierra Leonean children died before their fifth birthday from preventable diseases like diarrhoea, pneumonia and malaria. Close to 40 per cent of children were chronically malnourished, which significantly affected their health and physical and psychological development. Child and mother health is an integrated part of World Vision's sponsorship work, and we are also working on projects to teach families about the risk of home deliveries and to reduce mother and child deaths. As part of our Ebola recovery work, we run a nutrition programme to support children and pregnant and breastfeeding mothers, making sure that they get the food they need for a healthy start in life. You can find out about how to support World Vision's child sponsorship work in Sierra Leone here.
*Mother and baby, Sierra Leone.
Obaidur, a respected Rohingya camp leader, believes that with good teaching, men can create positive change in the heart of the coronavirus crisis.
How can you maintain social distancing in a camp of crowded tents? How do you wash your hands regularly when the queue for the water point is long?
During the current coronavirus crisis, children are finding ways to bring hope and healing to those around them.
In South Sudan, already vulnerable children face a deepening crisis as coronavirus hits their country. Here we meet Paska, an extraordinary girl, who has become carer to her three younger siblings at the age of just 11.