Helping mums deliver safely | Reducing child mortality in the DRC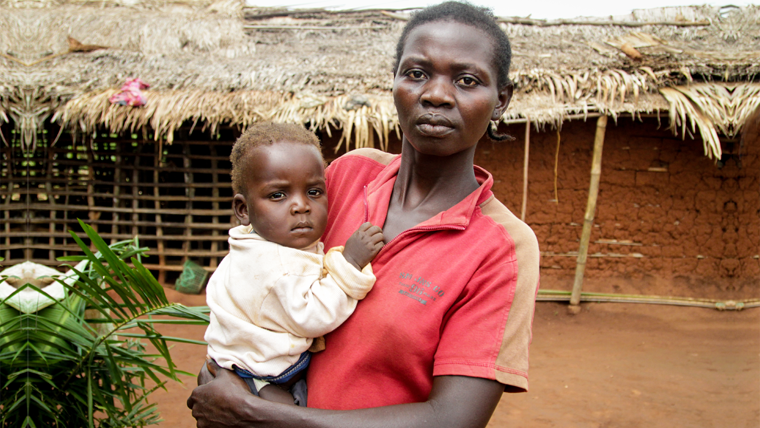 By Alice Bafiala, World Vision DRC
"It's so hard to carry a pregnancy for nine months and then lose your baby." Sandra*, 20, collapses in tears as she tries to tell us her story. She lost her baby just five days ago, and cannot express her pain in any other way, only tears.
We meet with Virginie, the head nurse of the health centre that Sandra is staying. Virginie explains that Sandra's traumatic experience is not uncommon.
"Sandra lost her baby in utero. He had already died in the womb before birth. How could we know? We do not have proper equipment to monitor the growth of the baby in the womb," Virginie tells us solemnly.
Sitting next to Sandra is 35-year-old Albertine (pictured, above). She looks distant, and doesn't speak until spoken to. She quietly reveals that she also lost three children because of problems during delivery.
"The role of women is to bring life, but we dare to give birth here with all the risks involved. There are not enough drugs for pregnant women. We do not even know the position of the child in the womb. Most of the time, nurses find out the position of the baby when the labour starts," Albertine looks visibly troubled, before adding, "It is too risky because the life of the mother and the baby are in danger. Giving birth is really hard for us here."
"We need good equipment and drugs to protect pregnant women and new-borns. I was lucky not to die while giving birth to my last boy, born prematurely and with his feet forward. Thanks to God that my life and baby were saved. I am glad he is alive," she says with a calmed smile.
"I'll stop there because I have carried eight pregnancies. Now my oldest daughter who is 20 years old is starting a family, I hope she does not experience the same problems as me."
In Sandra and Albertine's region of the Democratic Republic of Congo, the infant mortality rate was 124 per 1000 births in 2013. The overall rate has now dropped to 75 per 1000, but there are still concerns that many health centres are not well equipped.
'Libenge ya Muke' health centre, which welcomes an average of 45 pregnant women per month, is struggling to prevent such fatalities. For Virginie, the head nurse, the big challenge is to ensure a safe environment for women who give birth and for the children born here.
"We have the skills it takes. Unfortunately, we are facing a shortage of materials. We must send on all caesareans to the general hospital," Virginie tells us. "This clinic needs equipment like birthing beds, birthing kits, equipment for surgery, an ultrasound scan and electricity."
Virginie tells us with warm thanks, "We hope that World Vision will help to improve the situation faced by women in Gemena to give life."
We've been working with the British Government for the past five years to improve the health of mothers and babies in Southern and Eastern DRC. We're making sure they get the nutrition and immunisations they need, as well as regular check ups and treatments they need to ensure they're on track for a healthy future. World Vision is working with over 4400 community health workers in the Democratic Republic of Congo. You can find out more about our work in the DRC here. 
*Sandra's name has been changed to protect her identity.
Obaidur, a respected Rohingya camp leader, believes that with good teaching, men can create positive change in the heart of the coronavirus crisis.
How can you maintain social distancing in a camp of crowded tents? How do you wash your hands regularly when the queue for the water point is long?
During the current coronavirus crisis, children are finding ways to bring hope and healing to those around them.
In South Sudan, already vulnerable children face a deepening crisis as coronavirus hits their country. Here we meet Paska, an extraordinary girl, who has become carer to her three younger siblings at the age of just 11.