Willing the Rains: Zimbabwe affected by drought and climate change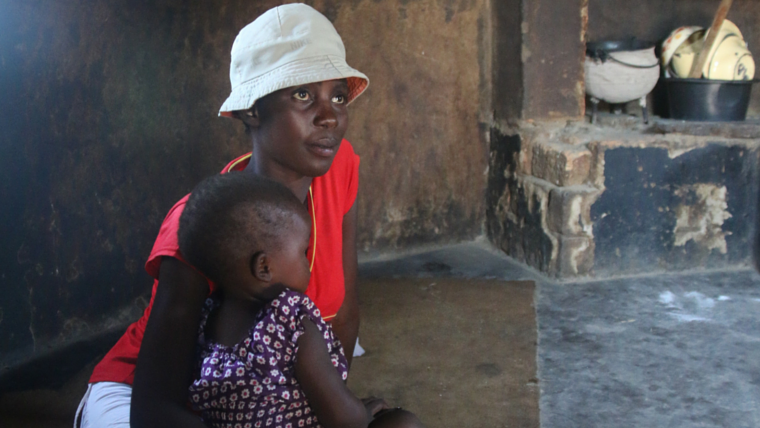 Sibonisiwe is a mother of six from the Gwanda district of Zimbabwe. Meeting with us one hot afternoon, it is clear that her village has not been spared by the relentless drought made worse by El Nino. Sibonisiwe tells us that community members were meeting that afternoon to discuss money for food and seed, but due to her poor health, she did not feel up to attending.
Suffering with blinding headaches and dizziness from a lack of drinking water, Sibonisiwe could not bring herself to leave the shade of her home for too long. Cradling a baby in her arms whilst she speaks to us, it is clear that Sibonisiwe is finding it a challenge to keep herself and her family well.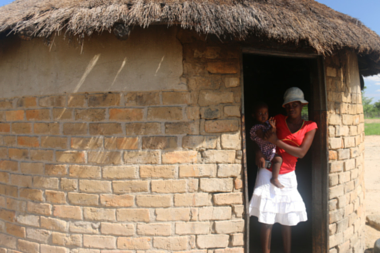 Sibonisiwe's eldest daughter, 20-year-old Sithokozile (pictured wearing red), enters the room, cradling another young child.
Despite her troubles, Sibonisiwe welcomes us with a big smile and makes sure we are comfortable.
"This is the worst year for me and my family. My husband is not well. We have gone to hospital several times but his ailment won't go. Even the weather has been hostile to the extent that whatever we plant is scorched in the gardens," she says glumly.
"Before my husband was taken ill, he used to work and come back home with food. I, too, used to go out when money was tight to find menial jobs." Sibonisiwe explains.
An estimated three million people living in Zimbabwe are in need of food assistance, which is more than a quarter of the population. President Robert Mugabe recently declared the drought situation a 'state of disaster.'
Today, Sibonisiwe is unable to work. She must stay home and take care of her family. Her husband, Zibusiso, is very unwell and requires help getting by. As well as taking care of her youngest child, one-year-old Sicelo, she also helps take care of her one-year-old granddaughter Barbra.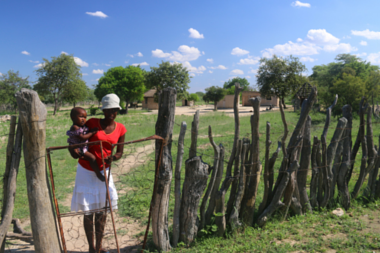 Sibonisiwe's family of ten is one of 149 worst affected families in her district and so they are receiving a monthly cash transfer from World Vision and DFID.
"Truthfully, I do not know what we would be doing, or where we would be if it were not for the £35 that my household receives every month," Sibonisiwe tells us gratefully.
A similar sentiment was echoed at the village meeting, with many village members speaking of their appreciation for the help they have received from World Vision and our supporters.
Village member Girls tells us that the monthly transfers made a huge difference to her quality of life, "I was a problem to my neighbours because I was a constant beggar, but with this money I do not beg any more."
Neti, a mother living at the village, has been able to provide more for her family thanks to the monthly transfers, "Our children were getting only one meal a day but with this help I can now afford two meals," says Neti with a smile.
Unfortunately, the monthly cash transfer programme is ending in March, and this terrifies the families. Any harvest resulting from the recent but late rains will not be ready until end of April. Already maize gardens are withering, and experts predict high crop failure rates. Sibonisiwe worries about her family, and feels that they would be helpless if anything were to happen to her. Feeling troubled about their present situation, and losing faith in an uncertain future, Sibonisiwe simply wills the cash transfers to continue until the next harvest.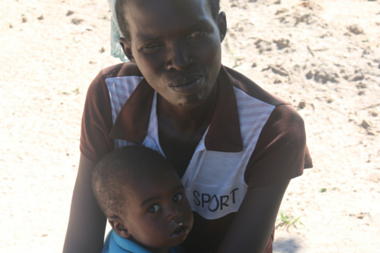 Pictured to the left, she solemnly looks at the sprouting crops in her garden and hopes they make it this time. Several farmers, like her, have suffered two or more failed crop-planting trials already.
Under the Word Vision and DFID drought mitigation project farmers are being encouraged to embrace small grain production, as well as growing early maturing crops like cowpeas. Farmers can now access five kilograms of cowpea seed at a highly subsidised price. Cowpea can now be bought for £2, when it would have cost at least £9 elsewhere.
Even the cattle keepers, reduced to counting their dying animals, are now buying stock feed from the programme.
Despite the rains finally setting in and communities rushing to plant crops, the impact of many months and seasons without rains has swollen the number of people in need of food assistance.
Sibonisiwe and her family, as well as many other residents of her village, are waiting and willing for more rain, more crops to bear fruit, and further humanitarian assistance.
Brought on by the El Nino phenomenon, this year's drought has been more extreme than expected, and has made it difficult for families like Sibonisiwie's to grow food. 'El Nino,' an irregular weather pattern, is caused by the warming of the Pacific Ocean near the equator and can disrupt typical weather patterns, alter temperature and rainfall and, in some areas, lead to drought and food insecurity. An estimated 33,000 children in Zimbabwe are in urgent need of treatment due to severe malnutrition.
As our work continues to help the community through the drought, we're now helping with the immediate needs of families who are close to using up all their food. However, the number of hungry families in the country has doubled in the past eight months. We don't know how long the drought will go on for, but your continued love and support means that children affected are being cared and provided for, and can have hope for the future. You can find out more about our child sponsorship work and sponsoring a child in Zimbabwe here »
First-hand accounts of Beirut's explosion, from the children who live there. Plus, how you can help them today.
In 2020, handwashing is more important than ever. This August, we can bring vital clean water to children like Ireen.
A celebration of children across the UK who've been inspired to fundraise for more vulnerable children during the global pandemic.
From genocide to pandemic: World Vision South Sudan's Emilienne Cyuzuzo is helping vulnerable families facing COVID-19.