Through the eyes of a refugee child: A story in 23 pictures
We recently visited an informal tented settlement in Lebanon's Bekaa Valley that houses Syrian refugees. When it rains, the camp turns into a mud pit, making it hard for children who only have rubber shoes to walk. But when the sun comes out, mothers hang out laundry and children find a way of playing in the most difficult of circumstances. Here are their stories, in pictures…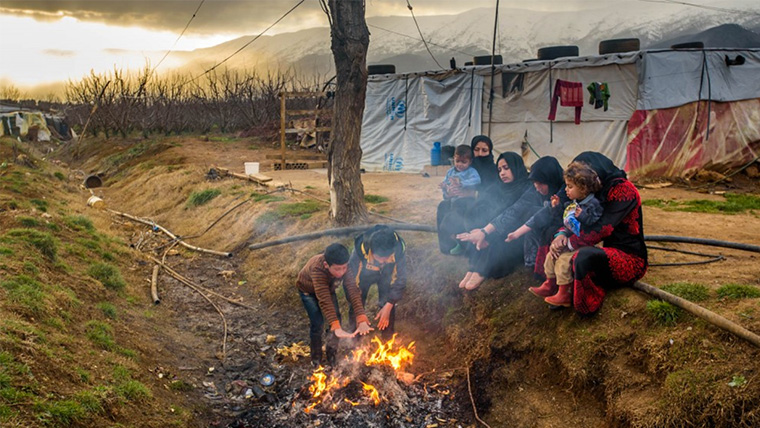 It's cold in the late afternoon. This family burns rubbish – most of it plastic – to stay warm. Until the weather warms up and they can work in the fields and orchards, many families struggle to have enough to eat.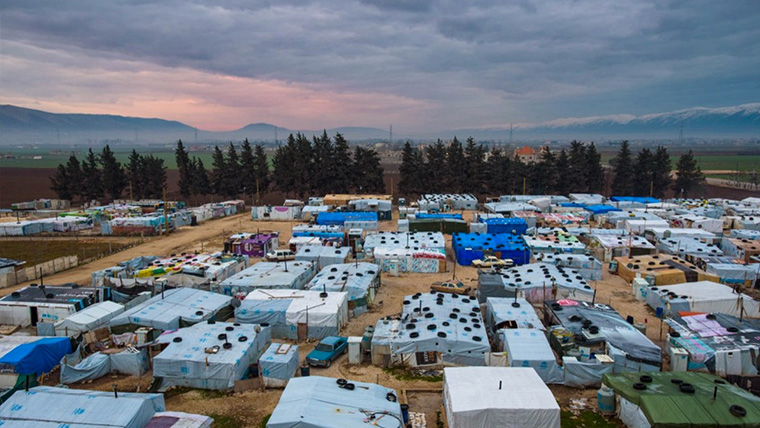 Many Syrian refugee families live in informal tented settlements in Lebanon. Living in makeshift tents makes it hard for them to stay warm, dry, and clean.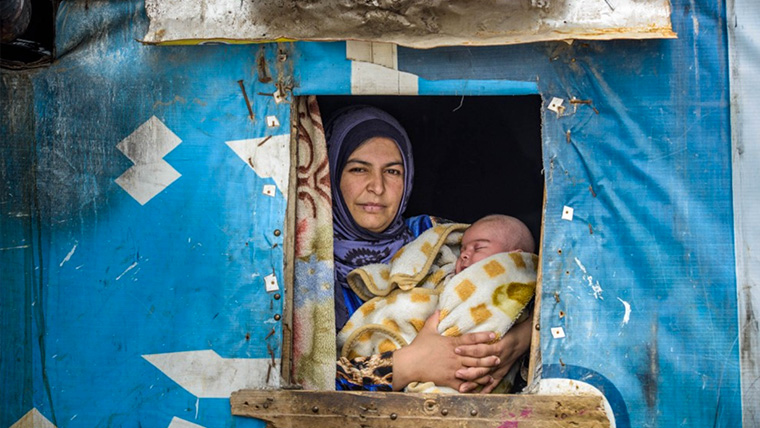 Heven tries to keep an eye on her older children while she takes care of her youngest - baby Hasan. He's just two months old - one of the camps' youngest residents.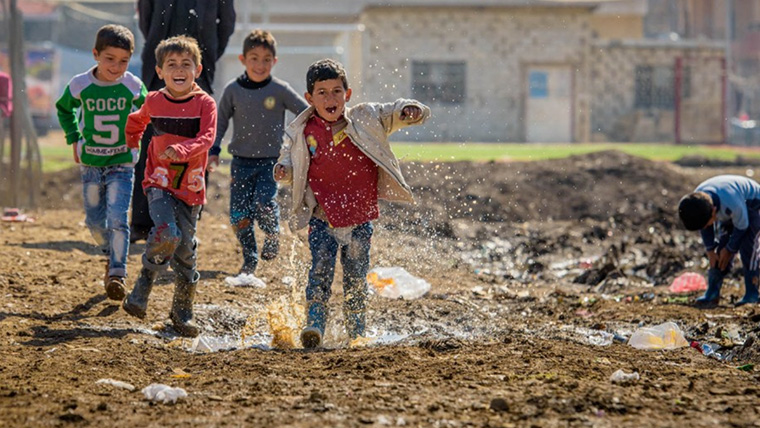 Groups of refugee children try and amuse themselves - stomping through the mud, splashing through puddles and trying to stay out of the grownups' way.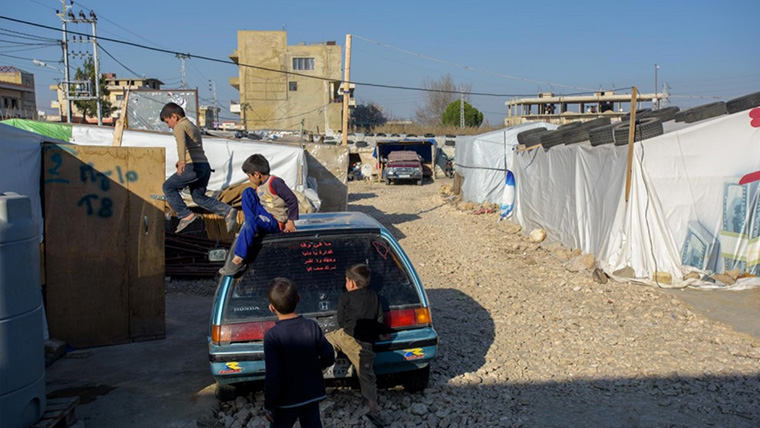 Until an adult chases them away, a group of boys turn an abandoned car into a playground, taking it in turns to climb on top and then jump off. They don't have any proper facilities to play sports, or even a ball to play with.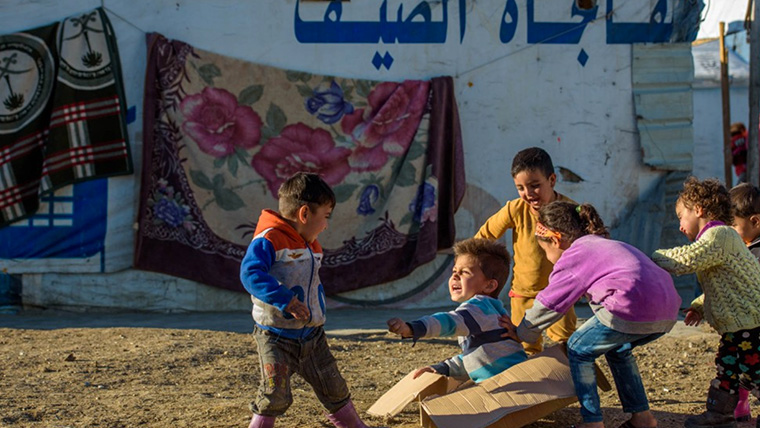 This group of children have found a cardboard box and are pretending it's a car. When they tear it up, someone will take it away to sell. Lots of children collect cardboard, drink cans and plastic bottles to sell in order to help support their families.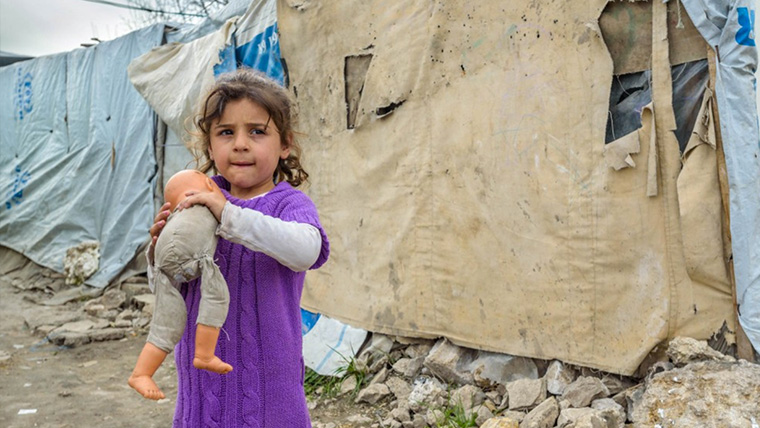 Five-year-old Rahaff is new in the settlement, and she's a bit shy. Even though the border was closed, she, her mother and baby brother were smuggled in a few months ago.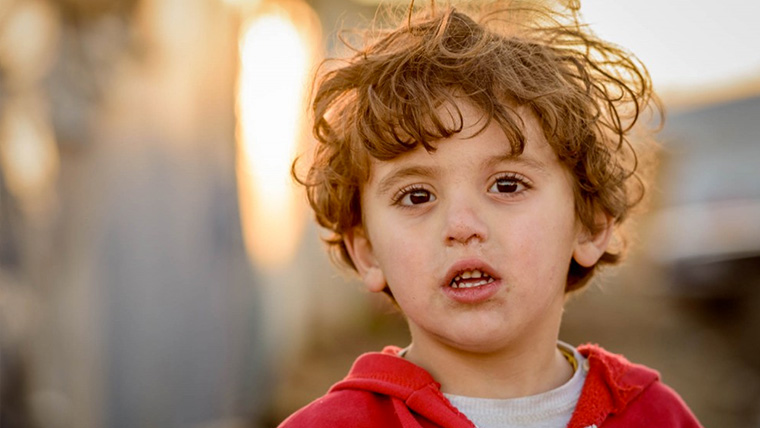 Mohammed's mother and father were killed in Syria. His grandmother, uncles, and cousins now take care of him, but he's still afraid. He's not quite three-years-old, but he says that most of all he wants a bike.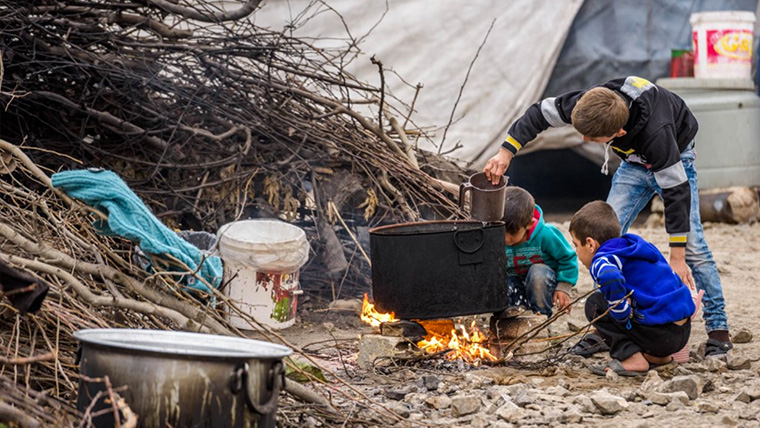 Mothers around the settlement cook and wash using water heated on a fire outside the tent. Sometimes children find things to help feed the fire while others just play around it.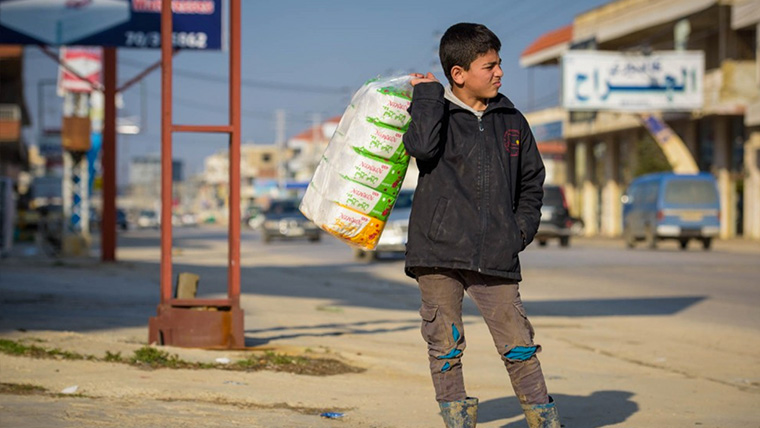 13-year-old Ali sells tissues on the Damascus highway so that his family can pay rent. As the eldest amongst his siblings he tries to be strong, but his work is thankless and can get him down.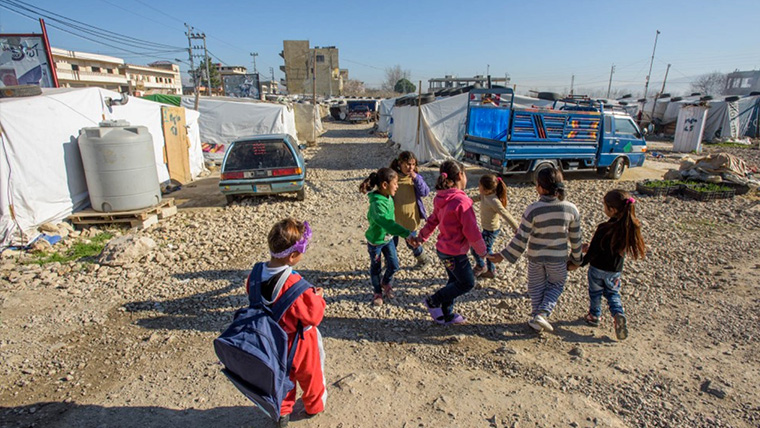 Children who go to the Child Friendly Spaces teach the other children games they've learnt. Children attending one of the Early Education Centres receive backpacks with pens and workbooks.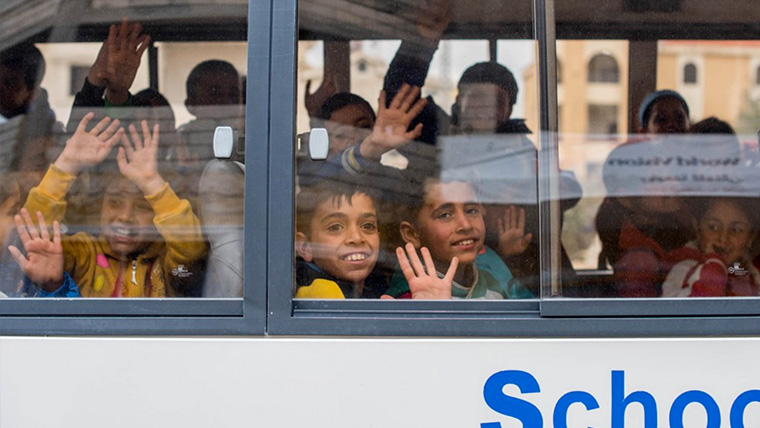 Children heading towards the Child Friendly Space are excited to board the bus together.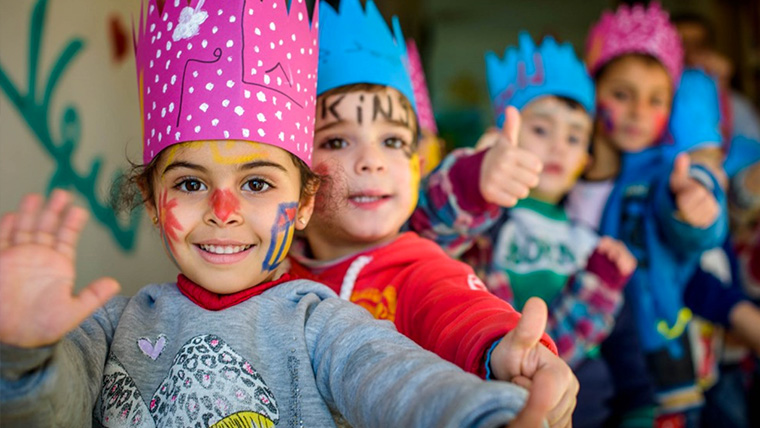 Once there, they wear crowns, have their faces painted, sing songs, and dance.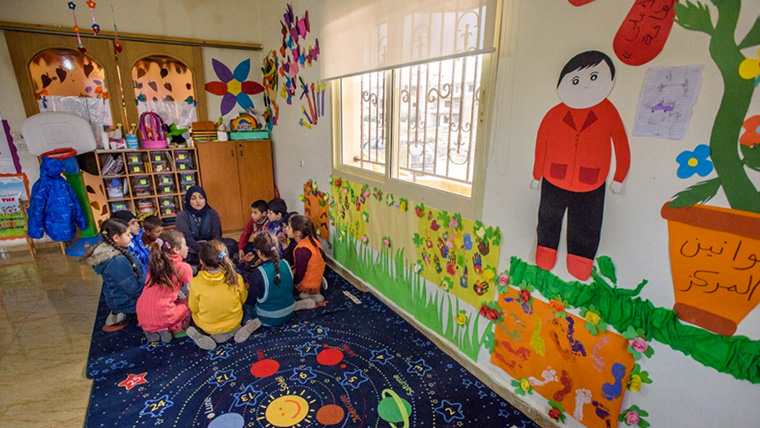 In circle time, Miss Huda gives everyone a chance to speak. "That's the way to show everyone is respected," she says.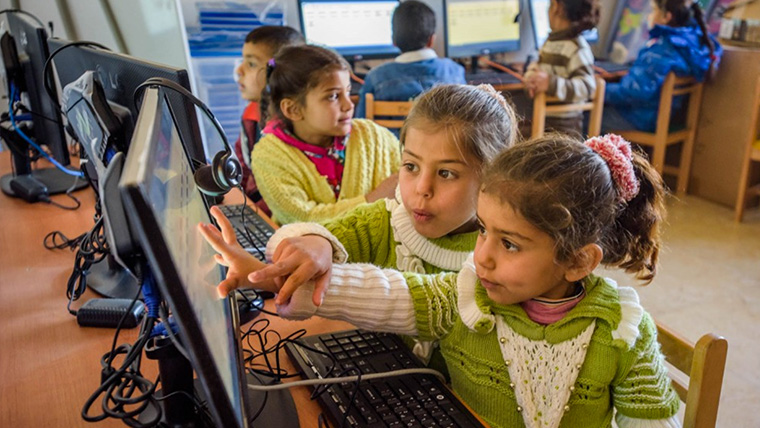 E-learning is part of the fun at an Early Childhood Education programme, where Syrian children, aged between three and six, study so they'll be ready to go to a Lebanese school by the time they reach seven.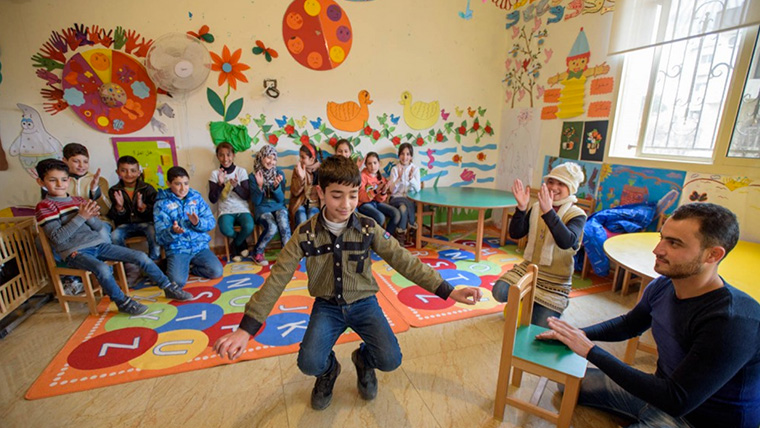 When Thaer starts to dance, children and teachers all clap and keep time. When he first came to the childrens' centre, he was always depressed because his father is in prison in Syria. Now he's amongst friends who help him to feel better.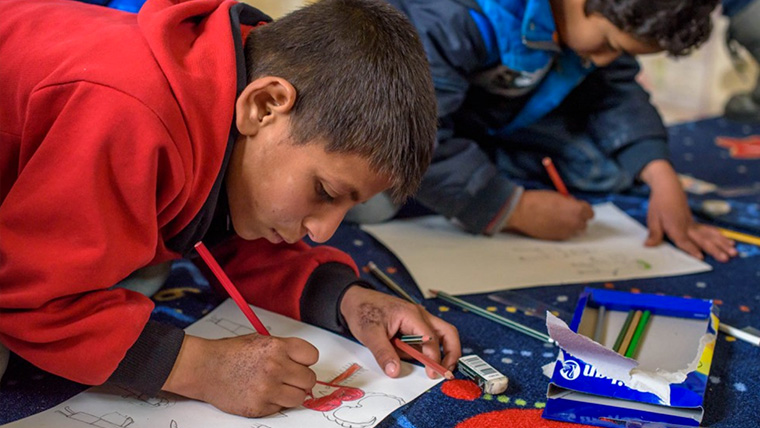 In the Child Friendly Space, children draw pictures to tell their stories, hopes, and dreams. The red hearts being drawn symbolise love and peace.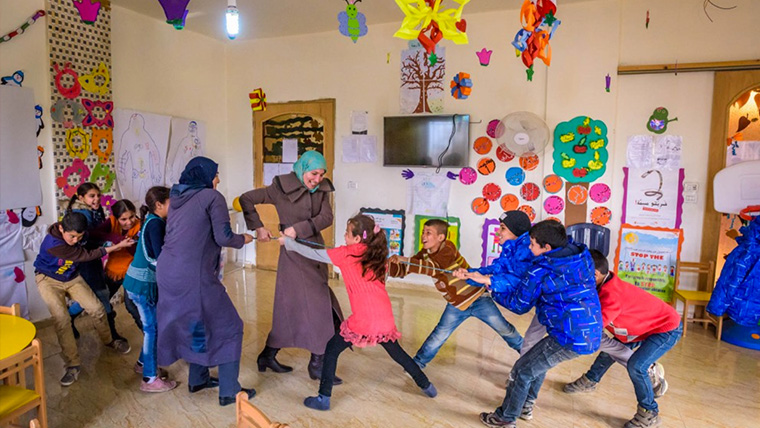 Pull harder! Miss Huda and Miss Bassima have a great time playing tug-of-war with the boys and girls.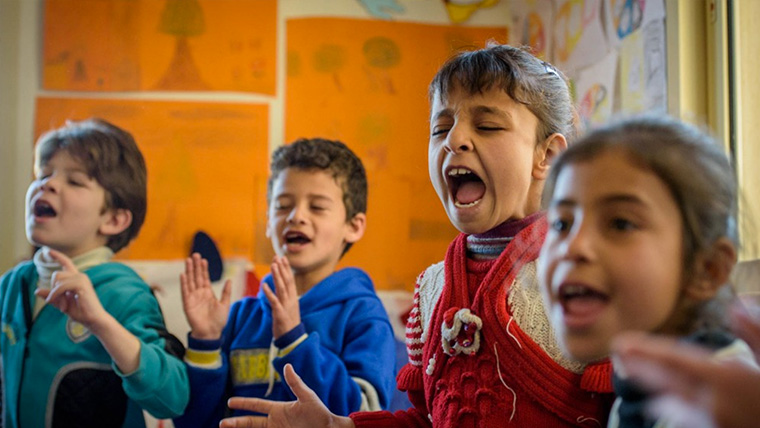 "If you're happy and you know it, clap your hands!" sing all the children, especially Yasmin, in red. She tries to remember every word so she can teach songs to her brothers and cousins when she gets home.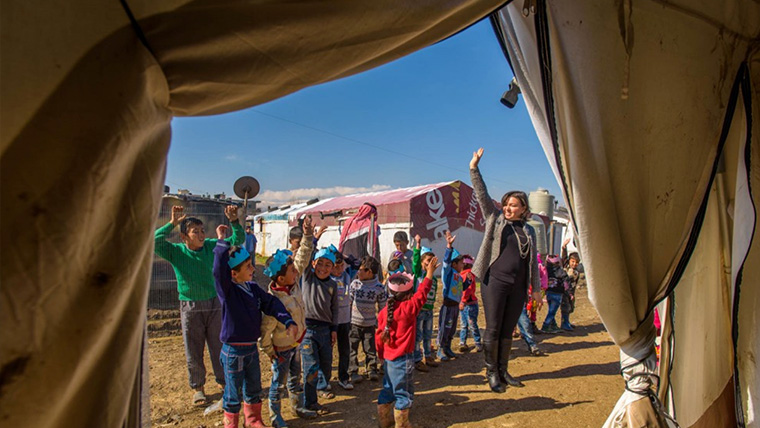 Which is the right hand? Miss Wafaa leads her group playing follow the leader. The kids' centre just opened near their tents.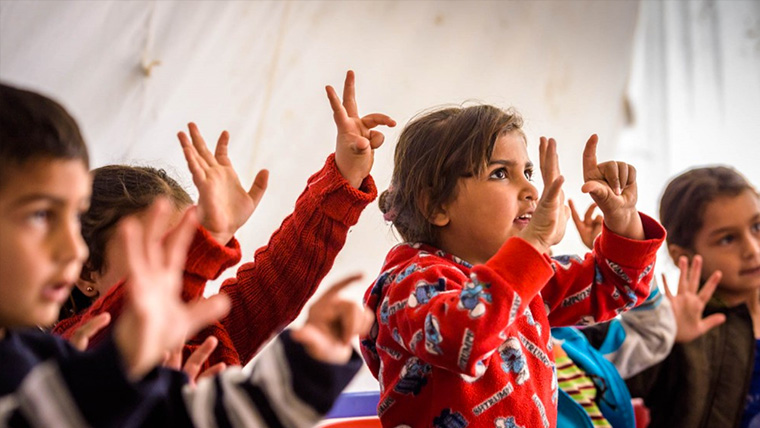 Five-year-old Samira, (in red) learns how to count in English and Arabic.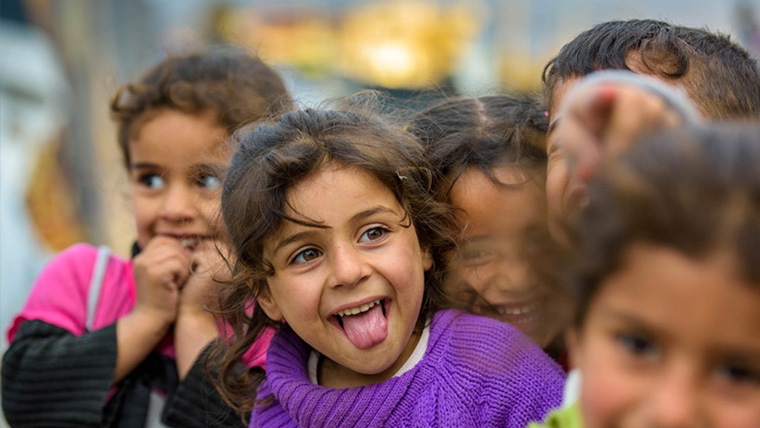 Rahaff (in purple) arrived from Syria just six months ago. She is making new friends and learning new things at the children's centre.
There are currently over one million registered Syrian Refugees in Lebanon. We are providing families with toilets, water tanks and sanitation facilities in Informal Tented Settlements in the country's Bekaa Valley. We are also providing food assistance through a World Food Programme project and run an Early Childhood Education centre so that children aged between three and six can pick up their education and regain a sense of normality. You can help fund our work giving relief, aid and dignity to refugees by donating to our Refugee Crisis Appeal »
Obaidur, a respected Rohingya camp leader, believes that with good teaching, men can create positive change in the heart of the coronavirus crisis.
How can you maintain social distancing in a camp of crowded tents? How do you wash your hands regularly when the queue for the water point is long?
During the current coronavirus crisis, children are finding ways to bring hope and healing to those around them.
Here we meet Paska, an extraordinary girl, who has become carer to her three younger siblings at the age of just 11.