Terrifying, painful nights: A child mother in Bangladesh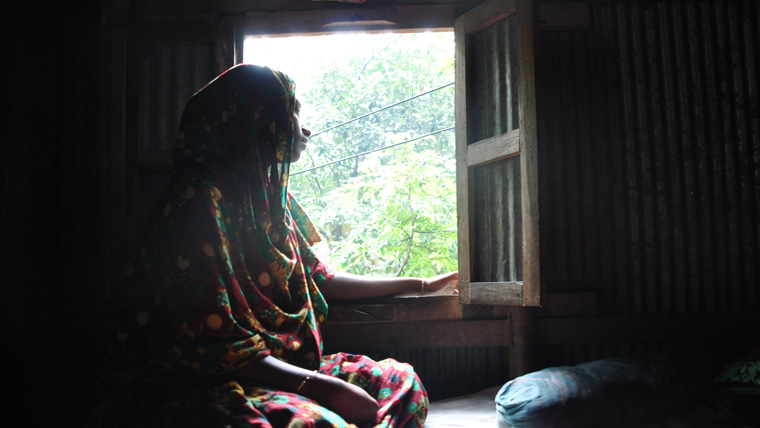 Born into poverty in Bangladesh, Rani loved school and playing with her friends, but at the age of 11 she became a wife. Now 16-years-old and pregnant for a third time, she fears for the safety of her unborn child and is looking forward to another risky delivery at home. She shares her story with us…
Carrying a baby eight months into her pregnancy, Rani* feels too heavy to bear her own weight. Her pale eyes, dry lips and lined forehead mean she is often mistaken for a much older woman, though she is only 16-years-old.
Rani was forced to marry at just 11 years of age.
"In the winter five years ago, I was coming home from school and heard my neighbours gossiping at the roadside about my wedding the following week," she recalls. "I was shocked. I couldn't understand what was going to happen to me."
Sadly for Rani, her situation isn't unusual in Bangladesh. In 2015, Unicef reported that 65% of Bengali women aged 20-24 had been married prior to the age of 18, and 29% before the age of 15. Struggling to make ends meet, parents often turn to early marriage as a way to make sure their daughters' are cared for and deeply entrenched cultural practices often only encourage the practice.
For poor families, the added cost of getting together enough money to pay a dowry – the amount for which often increases the older a girl gets – often means that their daughters are married off early. Despite regularly attending and enjoying school, Rani's parents told her to end her education.
"My father didn't want to waste any more time," she explains.
For child brides, marriage is fraught with risks to their health, both emotional and physical. Three days after her wedding, Rani was sent to sleep with her husband.
"I was so afraid, I cried a lot," she says, remembering the traumatic event. "I didn't want to submit myself to him. I tried to flee, begged him to stop and got off the bed."
"But he caught me… those nights were terrifying and painful," she continues, struggling to describe the rape. "I can't even express how I felt then. I was frightened and afraid of his touch."
Rani is now eight months pregnant, but not many would know due to her small belly. "Ours is a family of 12. We can't have eggs, meat or milk for meals as my husband only earns a small amount and can't contribute much," she says.
Rani's husband works as a day labourer, digging soil for road constructions, and earns about £2.80 per day. During the rainy season, work is uncertain, and Rani and her children are subject to the whims of her husband's family.
"I feel so tired when I move or walk, but I have no choice," Rani says. "I have to work in the same way, sometimes twice as much as the other women in the family."
"I feel tortured and humiliated," she adds. "I have no dignity in this family. If I cook, nobody appreciates it. They only criticise me. So I can't cook what I want. I can't even prepare good food for my little son when he asks for it."
Rani's three-year-old son was born when she was 13. With an untrained midwife assisting, the boy was lucky to survive the delivery, but Rani's health was damaged. During her second pregnancy, Rani lost her baby during the second trimester and had to be hospitalised for a week.
Now sitting wrapped in a six-metre sari and pregnant for a third time, Rani fears for her unborn child, but feels helpless, as a safe delivery in hospital is far beyond the family's means. She often feels pain in her lower abdomen, which a doctor explained is due to multiple pregnancies at a very young age.
Although Rani is preparing to give birth at home again, she has hope that this birth will go better than her previous ones. Over the past few years we have been working to train traditional midwives around the country, which studies have shown improves the chances of survival for both mothers and babies.** Rani is also optimistic that thanks to World Vision and government campaigns, the growing opposition to child marriage means that in the future far fewer parents will force their children to marry at a young age.
As part of the Girlsnotbrides partnership, we are committed to reducing the factors that can lead to early marriage. Our child sponsorship programme plays a vital role in partnering with governments and faith groups. Our supporters in the United Kingdom are currently sponsoring over 6,800 girls in three communities in Bangladesh. You can read more about how our work is benefitting communities in Bangladesh, and discover how you can help children like Rani, here»
*Rani's name has been changed to protect her identity
** http://apps.who.int/rhl/pregnancy_childbirth/antenatal_care/general/cmacom/en/
Obaidur, a respected Rohingya camp leader, believes that with good teaching, men can create positive change in the heart of the coronavirus crisis.
How can you maintain social distancing in a camp of crowded tents? How do you wash your hands regularly when the queue for the water point is long?
During the current coronavirus crisis, children are finding ways to bring hope and healing to those around them.
Here we meet Paska, an extraordinary girl, who has become carer to her three younger siblings at the age of just 11.