A bright start: New business for mum of four in Zambia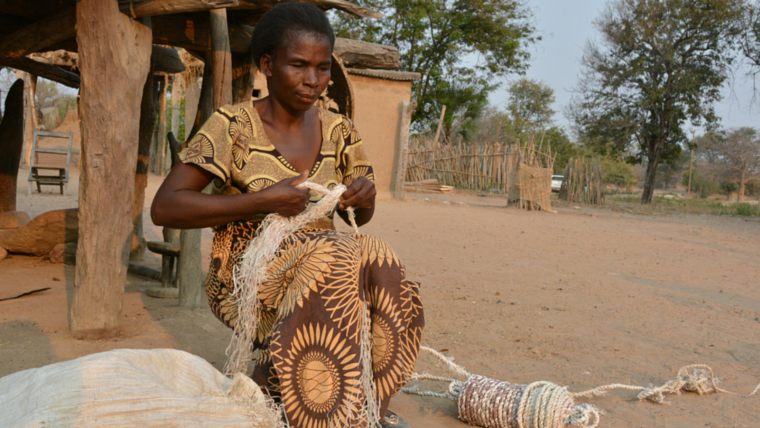 As a single mother, Nomai's dream is to ensure her children have a bright future. However, having a disability makes it difficult for her to pay the fees to keep her children in school. Thankfully, with help from a World Vision savings group and assistance starting her own business, Nomai's dream of enriching and educating her children is slowly starting to come true.
"I may be blind, but I will never fail to educate and provide for my children," says 42-year-old Nomai, who lives in southern Zambia. Nomai is blind and a single parent to her four children.
In 2003, Nomai's husband filed for a divorce, leaving Nomai to look after her sons and daughters alone. Nomai had no source of income to depend upon, and her eyesight made finding a job particularly challenging.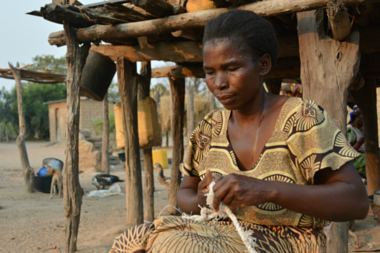 Things slowly got worse, and Nomai found it increasingly difficult to get the money together to pay the school fees. Finally, her eldest son was stopped from attending school and it didn't seem possible that his younger siblings would be able to continue either.
"When my son was chased from school, I was very disturbed and I did not know what to do. It broke my heart to see my son miss class almost the whole term." Nomai remembers.
Desperate to generate an income, Nomai started a small business making ropes from mealie-meal bags and selling them to the local fishermen in her village as fishing nets.
"Looking at the problems I was going through, I started making ropes to sell to the fishermen. When I made two I would sell them and save part of the money for my son's school fees and the other part I bought food and other needs for my children," explains Nomai.
With the little savings she was making, Nomai managed to pay her son's school fees, but she was still struggling to pay for his uniform and schoolbooks.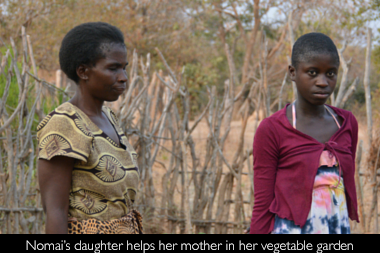 At the same time Nomai was struggling to raise money and provide for her family, we began a project to help women in her community save and receive small loans. The project aimed to increase the women's ability to improve the health and education of their family through economic opportunities, and it turned out that this was the support Nomai needed.
"In 2013, I started hearing people talk about the savings group, but I had no idea what they were talking about, not until a friend briefly explained to me." says Nomai. "I became interested and joined the group immediately because I knew that was the only way I would overcome some of my problems."
After being in the savings group for some time, Nomai managed to save the equivalent of £12 and invested the money in vegetable seeds so that she could start a small garden and sell vegetables to other families in her community.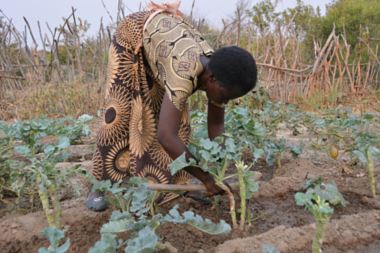 With all the hard work she put in, her small garden was able to support a number of different plants such as rape greens, cabbages, tomatoes and eggplants. The small income she now generates has enabled her to pay her children's school fees, and she knows she can always turn to the savings group for support when she needs it.
"When I am in need, I just explain to my fellow women in the group and they give me a loan that helps for my problems," she says. "And I do not get worried about how I would pay back the loan because I know I am always investing the money into something that is very important, and that is education for my children."
When the time comes to pay back the loan, Nomai's new combined income from selling ropes and vegetables makes it easier for her to raise what she needs to pay back the group.
"Every day when I wake up, I always give thanks to my God for sending World Vision to our village because if it was not for them, I do not know what I would have done or where I would have been," she says with a smile. "I will never stop saving as long as I live, my aim is to easily provide for my children and educate them until they all go to colleges and universities; then I will know that all this struggling and poverty will come to an end."
World Vision UK runs child sponsorship programmes for 119343* children around the world, including in two communities in Zambia. As part of securing a better future for children we often provide parents with the tools they need to better able provide for their children's needs. You can find out more about our child sponsorship work and sponsoring a child in Zambia here »
*Children currently sponsored, and waiting to be sponsored as of 19 Feb 2016.
Obaidur, a respected Rohingya camp leader, believes that with good teaching, men can create positive change in the heart of the coronavirus crisis.
How can you maintain social distancing in a camp of crowded tents? How do you wash your hands regularly when the queue for the water point is long?
During the current coronavirus crisis, children are finding ways to bring hope and healing to those around them.
Here we meet Paska, an extraordinary girl, who has become carer to her three younger siblings at the age of just 11.