Hearing from the Kids Club | Pregnancies and education in the time of Ebola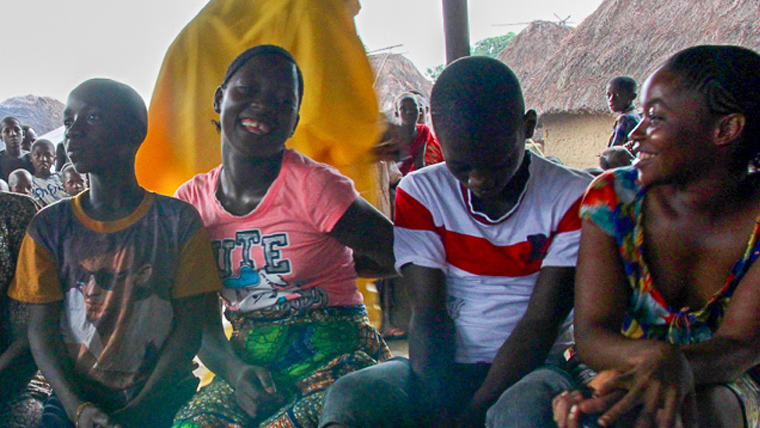 Together with Annie of Fable and Folk, our Social Media Manager Kate recently had the opportunity to visit World Vision UK's child sponsorship work in Jaiama Bongor, Sierra Leone. Inspired by Alice's stories of change through Kids' Clubs, Kate and Annie spoke to the local group in one village to hear how the Ebola crisis has affected their work.
'Before Ebola, we were doing lots of activities,' Fatmata, one of the members of the local Kids' Club in Jaiama Bongor, tells me.
For many of the children, when the Kids' Club began in the village five years ago, it was the first time they learned about their rights.
'I had no idea about some of the things that really happen with violence against children,' Mary begins. 'But with the Kids Club I now have the knowledge. We used to take these things in our community as normal. Teenage pregnancy, rape - they were just normal. Beating children was normal. But with the presence of the Kids' Club I have the knowledge that it's not good.'
Her friend Abdulai chimes in, 'Without the Kids' Club, abuse was normal and we didn't know our rights. I didn't know our rights, so people could abuse me and I would just let it go. And even if I saw people abusing other children I would just let it go - I would rather say it's not my business. But now with the Kids' Club I know my rights and I have the power also to advocate for my fellow pupils.'
'FGM was normal before; it was traditional. Before the Kids' Club we wouldn't see it as anything wrong. But with the Kids' Club, we realised it was wrong and we started advocating against it,' Fatmata added.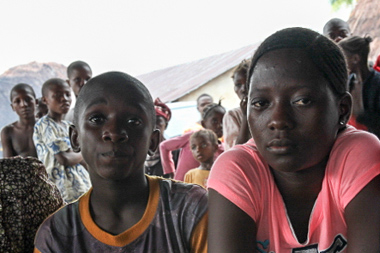 Part of the Kids' Club training includes learning how to stop any abuses the children see in their community, and Abdulai proudly told me of one case where his actions led to the perpetrator trapped and punished.
'One time before Ebola, when a child was abused, I took a mobile phone and called the World Vision staff,' Abdulai recounts. 'They came into the village to make sure the child was alright and the perpetrator was arrested.'
The Kids' Club had successfully seen a reduction in the cases in their community, but during the epidemic, the cases began to rise again.
'Before, we were galvanised,' Abdulai says firmly, 'and perpetrators knew we would report them to the appropriate authorities. But during Ebola, we were no longer operating, so the issues rose again.'
'And now?' I asked Abdulai. 'Has it improved?'
'There are still incidences of rape,' he tells me, 'but we want to galvanise and fight against it.'
'All abuse needs to stop,' Mabel chimes in, 'verbal, physical, sexual…it all needs to end.'
'We want the violence against children to stop,' Mary adds. 'We are asking that things should be done. Abuse of the rights of the child should stop - at any level, be it minimal or rape, flogging, or even emotional abuse, it needs to stop.'
Due to the Ebola crisis, many children have dropped out of education, and the skyrocketing cases of abuse have only compounded the numbers of children permanently leaving school behind. Mary's sister is one of the girls for whom the future has completely changed in the past two years.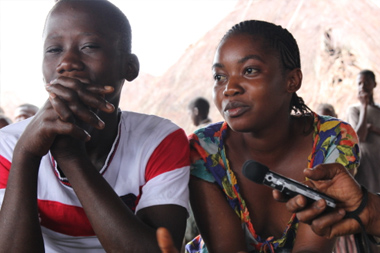 'One of my sisters was staying in Kenema for school,' Mary begins, eager to tell her sister's story. 'She got pregnant by a guy who couldn't even answer for the pregnancy, and she was sent back to his village. Things there were not ok there, they were not going well – there was no business, no food in the community. She was really suffering. Every morning she used to go to the farm to work. At the end of this she gave birth, but there were so many issues around malnourishment of the child. These were the things that really happened during Ebola.'
Everyone, it seems, has a story of a friend who fell pregnant during Ebola.
'In this community, a girl who was attending school got pregnant, but she couldn't make it. She had a stillbirth and at the end of this she lost her life,' Boukarie says.
Mabel tells of another girl who was also pregnant. She survived the pregnancy, but she's now living in a nearby village and is working on a farm, doing farming activities with her family.
Someone else tells of another stillbirth, but the girl survived. And my colleague Sahr tells me of yet another girl who sat (and passed) her secondary school entrance exams whilst seven months pregnant last summer. She lost her baby, from yet another stillbirth, and is fighting to retake her seat at school.
'Rape was a big issue during Ebola,' Abdulai explains, 'and there were also those who were not abused at all, but because of the break from school, they couldn't go back to school.'
'The mentality is that Ebola has taken two years of their time. During Ebola, they used to work to earn some money, and now they can't go back - they just need to keep earning. Now they are working on farms, doing menial tasks.'
Almost all the Kids' Club members were working during Ebola too, but their families were more willing to let them go back to school. Fatmata helped on her parent's farm by weeding, and Mary worked on her father's farm too.
'There was no money after Ebola,' Mary says. 'During Ebola we had produce from my father's farm but there was no market for it. So after Ebola there was no money, and we had eaten all that we had.'
World Vision has since helped Mary's family with seeds and tools to start again, and with government assistance for her school fees, she is now back in school.
'We're working to encourage education as something that's really important, getting our peers back to school after the break,' Abdulai explains. 'Ebola is still having affects. We lost lots of Kids Club members, too, and we need to include more children. We numbered 30 before, but now we're just 18.'
'We need our brothers and sisters to come back, we still need support,' he adds. 'We want to boost our numbers and become as active as we used to be.'
The ups and downs of our Ebola response are being reimagined as part of John Warland's World Vision garden at the Chelsea and Hampton court flower shows this year. In the aftermath of Ebola, our support of children in Sierra Leone, is more important than ever. Discover how sponsorship can help safeguard children in the aftermath of Ebola, and find out more about the World Vision gardens >>
On International Youth Day, World Vision UK's Dr Carine Le Borgne reflects on her work with youth advocates for our It Takes A World campaign.
True gender equality means we're all in it together. In India these men are redefining gender roles and protecting girls from child marriage and violence.
Across the world, girls are standing up for their rights and creating a better future for women. Discover girls' stories of extraordinary everyday courage.
A wedding day that could have been so different. Temwa from Malawi has just married the man of her dreams – but other girls from her home face a very different idea of 'bride.'