Winning against the odds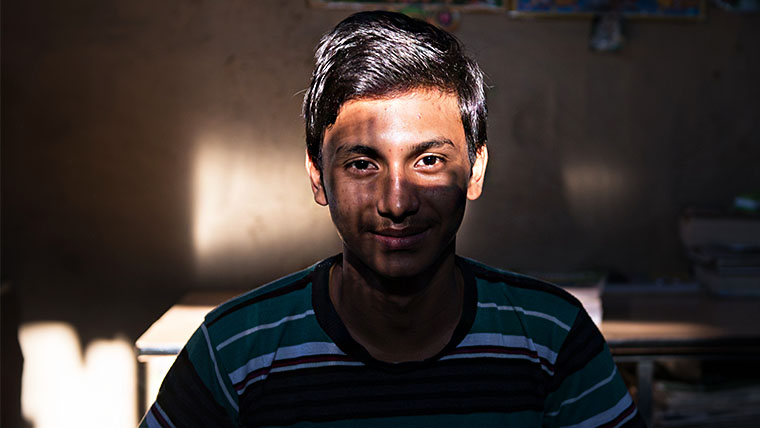 On a day when young people across the UK will be picking up their A-level results and hoping for the best, Satyajyoti has already spent much of his school life exceeding expectations. Living in a tiny farming community of 45 families, access to education was almost impossible for his parents, but with World Vision's help, Satyajyoti has been outperforming classmates and is well on the road to success…
Nestled inside the dense forest in the region of Assam, north-eastern India, is Satyajyoti's home. He's back at home visiting his family while they celebrate Durga Puja - a festival widely celebrated in this region of India, which tells a story of good triumphing over evil. In some senses, the festival draws parallels with Satyajyoti's life.
Satyajyoti's school achievements have been celebrated by his entire school and village, where many members of his community, including his parents, are uneducated. "I am very proud of my son and know he will achieve great things in the future," says his proud father Anil.
Enjoying his tea and homemade festive sweets, 16-year-old Satyajyoti, tells us that life hasn't always been easy, and his academic success has been hard won.
"Without the tuition classes supported by World Vision India during my ninth and tenth grade, I would not have gained such high scores," he says.
Private tuition classes are not affordable to many in this tiny hamlet and no private tutors would travel this far to teach. Currently, Satyajyoti is staying in a hostel close to his school which is about nine miles away from his home.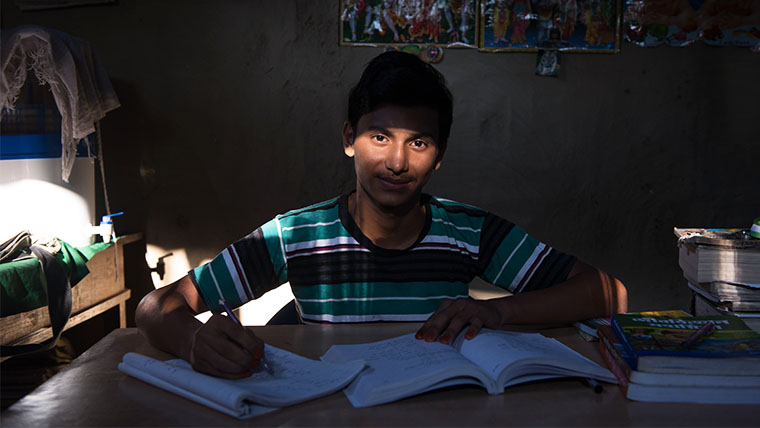 "Travelling to and from school on my bicycle for three hours a day was extremely exhausting. On reaching home, I would have to sleep and my studies were affected," he tells us. It is even more dangerous riding home after sunset- wild elephants venture out in search of food and are known to attack people.
"The road to my village was also a thick jungle until World Vision India involved the community in building proper roads," says Satyajyoti.
World Vision has provided 3,000 bicycles for children pursuing higher education in Satyajyoti's area and he received his five years ago. "My bicycle has been a close companion since fifth grade and it has supported me on my educational journey," Satyajyoti says with a smile.
Satyajyoti used to rise at 3am while preparing for his 10th grade exams, and studied for about nine hours each day. To help students study at home, World Vision India distributed 4,300 solar lights - the use of which extended Satyjyoti's studying time by almost five hours.
As the sun slowly sets, Satyajyoti goes to the fields to check on the 50 trees he and his father recently planted. He says that he learned about the importance of replenishing trees in the eco-system at the Life School for Transformational Development supported by World Vision.
"I wanted to give back to the environment as we cut down trees for our household purposes such as building our roof, boundary walls and furniture," Satyajyoti explains.
After inspecting the trees and ensuring they are growing well in the fields, Anil shows off his freshly ploughed field - nicely furrowed by the two bulls provided by World Vision. He tells us that he can generate additional income by renting out his bulls to other farmers, making him better able to provide for his family.
"Our family received 3,300 tea saplings this year, and within five years' time it is going to pay for my son's engineering course," adds Anil, proudly. About 600 families in his region have received tea saplings from World Vision India over the past year.
"All my achievements have only been possible due to World Vision India's support and encouragement," says a smiling Satyajyoti, who now has his sights set on becoming the first engineer from his community…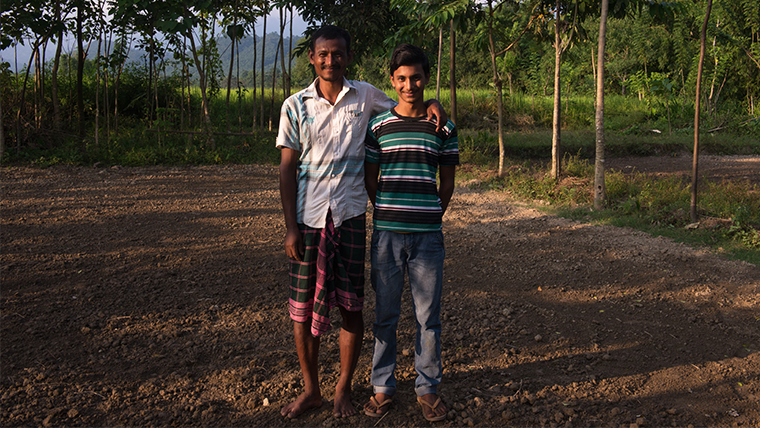 World Vision is committed to partnering with the people of India to improve their lives today and to help deliver sustainable solutions for the future of their children, families and communities. Our child sponsorship programme plays a vital role in this partnership, with donors from the United Kingdom sponsoring over 6,538 girls and boys across three community projects. Discover how you can help the children of India experience life in all its fullness»
First-hand accounts of Beirut's explosion, from the children who live there. Plus, how you can help them today.
In 2020, handwashing is more important than ever. This August, we can bring vital clean water to children like Ireen.
A celebration of children across the UK who've been inspired to fundraise for more vulnerable children during the global pandemic.
From genocide to pandemic: World Vision South Sudan's Emilienne Cyuzuzo is helping vulnerable families facing COVID-19.