One goal / Football, fun and food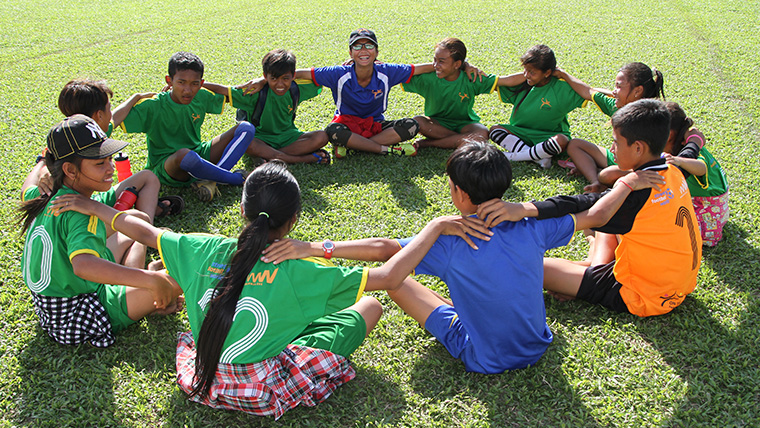 During the Rio Olympic Games we can witness the world's top athletes, at the peak of their fitness and physical ability after years of training and conditioning, compete for the most prestigious titles in their fields. Nutrition is key to their performance; but in Cambodia many children are malnourished, without the strength to run with their friends. In partnership with One Goal, we're changing that...
"Sorry, I'm a bit emotional about this, I'm speechless."
Over the next couple of weeks many athletes and medal-winners will repeat this sentiment as they realise their life-long dreams at the 2016 Olympics in Rio.
These aren't the words of an Olympian though, but of 13-year-old Sreyoun in Cambodia. She told us how her life has changed since she became involved in the youth club we run in her community. For Sreyoun the opportunity to learn new skills and to pass them on to her siblings is like winning gold.
Knowledge: more precious than gold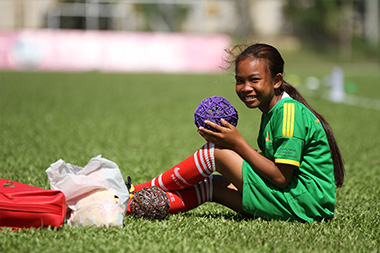 "I have gained new knowledge despite the fact that I don't have money. I come back home and teach things that I've learned to my younger siblings, like reading and writing." Sreyoun explains.
Children like Sreyoun are the embodiment of the Olympic spirit; displaying the Olympic values of 'Friendship, Respect, Excellence' in their pursuit of knowledge and in helping others to grow too.
One Goal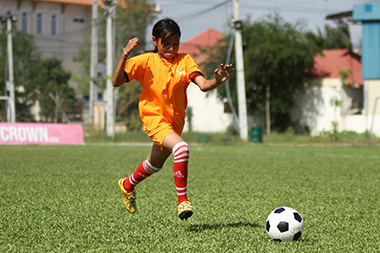 This is reflected in the aims of the One Goal campaign. We're partnering with One Goal as they work with children across Asia, using sport - particularly football - to spread positive messages about nutrition and health. Sreyoun's friend Rita explains what she's learnt from these sessions:
"Good athletes should avoid unhealthy foods and eat healthy foods such as rice, lean meat such as chicken and fish, and vegetables." Rita, 11.
In Cambodia, it's estimated that almost 40 per cent of under-fives are chronically malnourished. For children like Sreyoun, her friends and their young brothers and sisters, the opportunity to learn about eating well, to play football, to grow strong are vital. And as the Olympic ethos echoes, it's not just about the sport. These girls are seeing so many positive changes:
"There are many benefits from playing sport, like good health and a strong body. You also don't get sick often." Sreyoun.
"A good athlete should have good character and learn to be forgiving and understanding." Wattheany, aged 12.
"It's fun to play in a team. I have new friends from getting involved in this sport." Rita, aged 11.
Faster-Higher-Stronger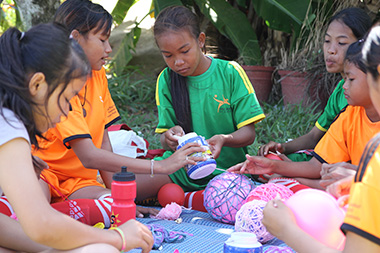 The children in the sports programme, may not realise it but, as the world watches Rio, this group of children in rural Cambodia are living out the Olympic motto 'Citius-Altius-Fortius' (Faster-Higher-Stronger).
The girls we spoke to are from the most vulnerable families, but through our youth clubs and the One Goal project, they're getting opportunities they never would have thought possible; school supplies, literacy support, nutrition knowledge, sports coaching, new friends, and creativity with new crafts.
Through these opportunities their horizons are growing. In a country fielding a small Olympic team, and a community where many parents have to travel abroad to find work that pays, this next generation of girls are full of aspiration for their futures: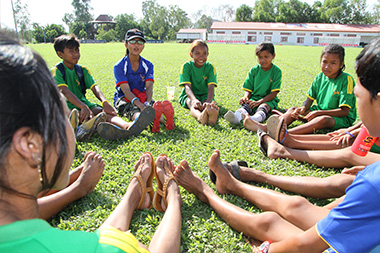 "I want to be an athlete and a doctor." Wattheany, 12.
"I want to be the best athlete in Cambodia." Sreyoun, 13.
So, when the spectacle of Rio's games is over, all eyes will turn to Tokyo 2020: maybe we'll watch Sreyoun, Wattheany or Rita compete, as more of Cambodia's young people become inspired and able to show their sporting strength and skills.
You can help Cambodia's next generation grow up healthy and educated.
Obaidur, a respected Rohingya camp leader, believes that with good teaching, men can create positive change in the heart of the coronavirus crisis.
How can you maintain social distancing in a camp of crowded tents? How do you wash your hands regularly when the queue for the water point is long?
During the current coronavirus crisis, children are finding ways to bring hope and healing to those around them.
In South Sudan, already vulnerable children face a deepening crisis as coronavirus hits their country. Here we meet Paska, an extraordinary girl, who has become carer to her three younger siblings at the age of just 11.