For the love of the game: increasing girls' access to sport in India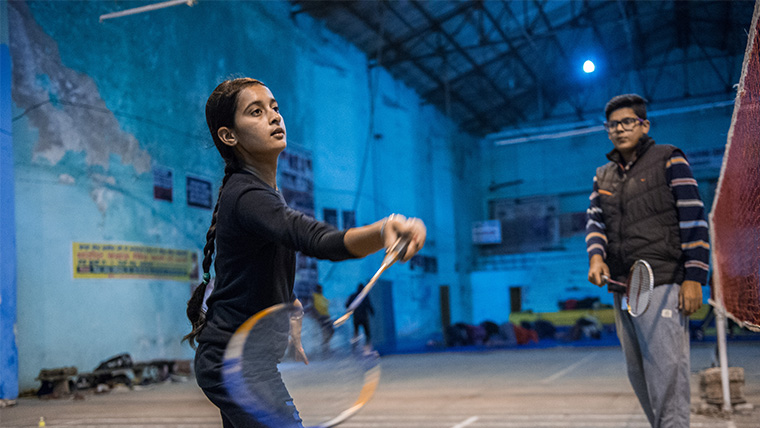 Many sports personalities come from humble beginnings…
At a stadium in northern India, Arshdeep dreams of one day competing in the Olympics. The 15-year-old discovered her love for badminton at a World Vision children's club, and now feels much more confident about her future…
"I love badminton," says Arshdeep. "I especially like it because it doesn't require too many people to play it."
As she explains, finding other girls as passionate as she is about the game can be hard.
"Most girls my age aren't interested in sports, so it's difficult to find friends who share my similar interest in sports to play with."
Arshdeep is the eldest of four siblings, and cites playing badminton as a key part in building her confidence.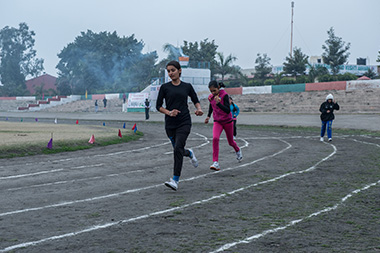 Not all of Arshdeep's time is spent in school and at training, however. She is also part of a girl's youth club organised by World Vision, where she has made many friends.
"I lacked the confidence to even speak to a single person let alone compete with so many players," says Arshdeep. "But with World Vision's help, I now have the confidence to say that no dream is too big."
The facilities available to children here are limited. Besides the stadium, they don't have many options of locations for practice.
Mr Kumar, Arshdeep's teacher at school, says that providing the girls with adequate facilities has always been a challenge.
"Badminton is an indoor sport but the space provided is not sufficient for the children to play and practice freely. Arshdeep, and others like her, try to make the best of what is available to them," he says.
A makeshift outdoor court provides better space to play, and even though the shuttle is not very stable due to the slight gusts of wind, Arshdeep and her friends aren't deterred from their games.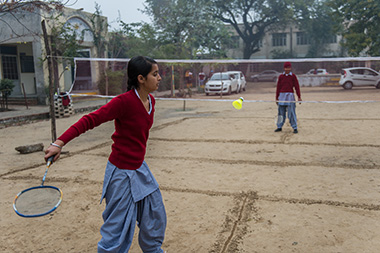 "It's not the best location to play the game but it at least gives me a place to practice what I learn from my coaching at the stadium," says Arshdeep. "And I also have fun at the same time."
They run, they skip, they stretch and they run some more. Training isn't easy for Arshdeep but stamina and agility are very important for badminton and she is determined to never give up no matter how hard it gets.
"Even though the children come for practice everyday, they barely get to play 15 minutes from the two hours they spend here. Most of their time is spent on exercises, which will improve their game eventually," says Harpreet, Arshdeep's coach.
"To be the best you have to beat the best," says Arshdeep. "I like to play with someone better than me so I can learn and improve my skills and maybe beat them someday."
Her favourite player is Saina Nehwal, currently ranked number two in the world, and she hopes to get a chance to play with her someday.
The players do practice drills repeatedly in order to be familiar with the movement during an actual game.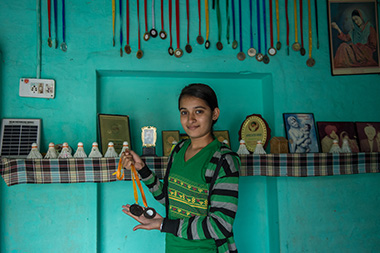 Even though Arshdeep's village is barely 30 minutes drive from the town where she trains, her mother, Paramjeet, had never visited the town until five years ago when we began working in the region.
"World Vision has changed our lives. As a woman, I would barely even step out of our home, as was the custom," says Paramjeet. "Today I am part of a Self-Help Group set up by World Vision, involved with many activities, and my daughter even travels to town on her own for her badminton practices."
Arshdeep may not be an Olympian yet but she is determined to continue playing badminton no matter where life takes her.
"I want to be an engineer when I grow up," says Arshdeep.
"I know it requires a lot of work but I will put my mind to it and give time for both my studies and badminton. It's a passion I won't give up on," she says confidently.
World Vision is committed to partnering with the people of India to improve their lives today and to help deliver sustainable solutions for the future of their children, families and communities. Our child sponsorship programme plays a vital role in this partnership, with donors from the United Kingdom sponsoring over 6,538 girls and boys across three community projects. Discover how you can help the children of India experience life in all its fullness»
First-hand accounts of Beirut's explosion, from the children who live there. Plus, how you can help them today.
In 2020, handwashing is more important than ever. This August, we can bring vital clean water to children like Ireen.
A celebration of children across the UK who've been inspired to fundraise for more vulnerable children during the global pandemic.
From genocide to pandemic: World Vision South Sudan's Emilienne Cyuzuzo is helping vulnerable families facing COVID-19.