A search for safety : Child labour in Bangladesh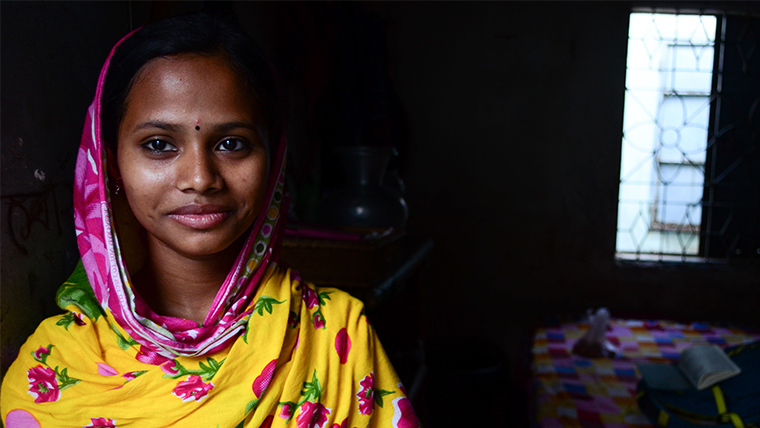 15-year-old Nasrin is one of Bangladesh's four million garment workers. Every day for 12 hours she sits behind a sewing machine, rushing through orders of trousers that will be sold in high-income countries. The money she earns helps to keep her younger siblings in school, but each day is a struggle and fraught with danger.
Every day, just before 8pm, Nasrin whispers a prayer – "Let there be somebody walking my way home."
"When I walk back at night alone, I worry about what might happen," she tells me.
The streetlights don't reach Nasrin's dirt road, and she worries that groups of men will be hanging around.
"It's not safe," says Nasrin. "Luckily nothing has happened yet."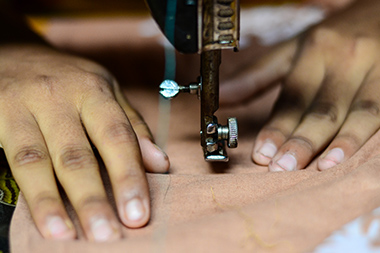 While the darkened streets of the capital, Dhaka, might be Nasrin's biggest fear, it is far from being her only concern.
As a worker in a garment factory, the 15-year-old is expected to help create 1,200 pairs of jeans every day. That's the minimum number, Nasrin says, to earn the equivalent of just 90p per day for a 12-hour shift.
"My boss uses bad language when I can't work quick enough," Nasrin says. "Sometimes I cry when that happens, but I look down to hide my tears in my scarf."
After just four months at the factory, her hands are already covered with short scars.
"Once I cut my left finger really badly. It was really bleeding. Some of my colleagues brought me to a sink, washed it and put some anti-septic medicine on it. Then bandaged it. I wanted to leave - to go home for the day - but the owner wouldn't allow it. Later, when I pulled the bandage off, it looked odd, very ugly," Nasrin remembers
Changing fortunes
Life hasn't always been this way for Nasrin, but her family's poverty left her with few options.
"I used to go to school but my father's income was low and I felt I had to help with my sisters' education," she says.
Nasrin's mother died eight years ago from typhoid - a disease spread by eating dirty food or drinking unclean water. In her absence, six growing girls - the youngest not even a year old - were left to fend for themselves.
Nasrin's father, a rickshaw puller, worked late into the night to earn enough to provide for his daughters' daily meals. He was barely ever at home.
Nasrin's two older sisters also dropped out of school and joined the army of four million garment workers labouring across Bangladesh - producing expensive clothing, while earning just a fraction of the sale price in wages. When her older sisters married and moved out of the family home, the household responsibilities fell to Nasrin.
"I used to dream of being a teacher. But now, I dream of helping my sisters so they can stand on their own two feet."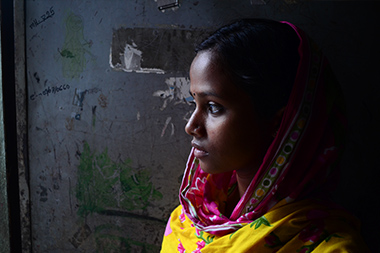 "I don't want my younger sisters to have to stop studying," Nasrin says outside the family's one room concrete apartment.
When she first started at the factory and joined the other 120 workers, many of whom are also teenagers, the task of cutting jeans all day was hard and used to force her hands to cramp. Nasrin also had to get used to giving up her freedom for 12 hours each day.
"The whole day I am confined to that room. I can't go anywhere," she says.
"But it's worth it," Nasrin says.
A steely look crosses her face when she mentions that her sisters are now able to afford to go to an after-school study programme. They get extra tutoring - Nasrin stresses - thanks to her income.
"I feel proud that even though I can't study, I can at least help my sisters," she says.
Still, every night before she leaves work, when she's searching for someone walking in her direction, Nasrin wishes she could be like the other girls - the ones who go to school.
World Vision works around the world through child sponsorship and other projects to help reduce children's vulnerability to trafficking, abuse and exploitation. In Bangladesh, a total of 161,231 children from vulnerable communities have been reached by our Child Safety Net Project that aims to help children like Nasrin. You can find out how to help a child in Bangladesh through sponsorship, here.
How can you maintain social distancing in a camp of crowded tents? How do you wash your hands regularly when the queue for the water point is long?
During the current coronavirus crisis, children are finding ways to bring hope and healing to those around them.
In South Sudan, already vulnerable children face a deepening crisis as coronavirus hits their country. Here we meet Paska, an extraordinary girl, who has become carer to her three younger siblings at the age of just 11.
One Buckinghamshire girl has turned disappointment into opportunity – and is bringing hope to other children around the world.