Reading buddies for change: Education in Ethiopia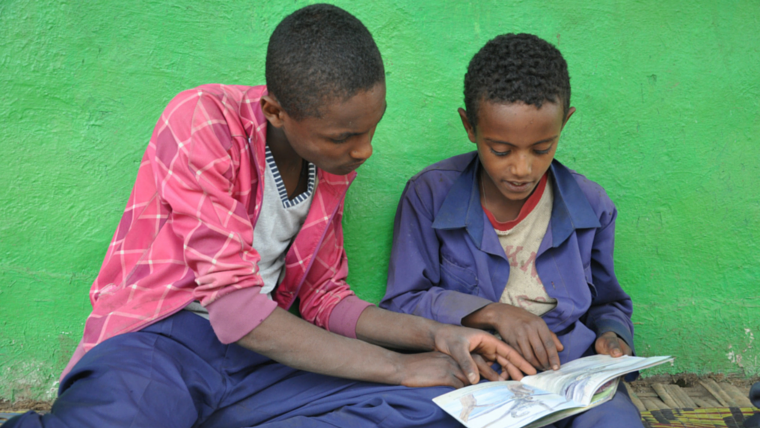 16-year-old Giduma lives in Ethiopia with his family. He is the oldest son, and has two brothers and two sisters. He is in Year 8 at school and is ranked first in his class. Giduma is one of the 'reading buddies' in his community.
Reading buddies are children who have good reading and writing skills; they are selected from each household in order to help their younger siblings with learning at home. Over the past two years in his community, more than 102 children have trained as reading buddies, helping increase the number of children who can read and write at the lower grades.
After attending the necessary training with World Vision, Giduma is now able to support his siblings with their lessons at home. He tells us with a big smile, "I was very happy when I was chosen as a reading buddy. Using the books provided by World Vision, I am helping my siblings read and write, and I create exercises for them to complete too. I encourage them to remember each and every letter and word."
Giduma tells us that he used to struggle at school - "When I was in the lower grade, I had difficulty reading. Unlike my brothers, I started reading late and it was a struggle for me to catch up. It's part of the reason I've been so motivated to support my siblings and the other children in our village."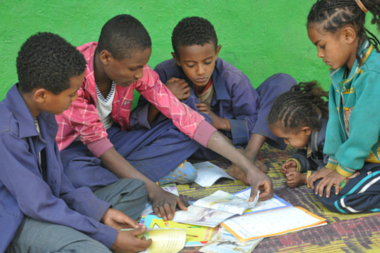 Giduma and his siblings have a reading schedule every day after school and on weekends. His younger brother Wakuma, who is 14-years-old and in Year 4 at school, tells us that he enjoys learning at home.
"Identifying letters and reading was very difficult for me. I could not read until I finished Year 2. Because of this I used to answer exams by guessing. Now I am attending reading camp with my brother and we practice reading with our older brother when returning back home from school. Our brother Giduma is very clever. He reads stories for us and helps us to read like him," Wakuma says with a big smile.
Reading with his big brother has also helped Wakuma improve his rank in class. "My rank in class was very bad before, but now I'm fourth in our class. With studying more I want to take the first rank next year. Studying with our brother at home has helped us to practice and improve our reading skills."
The youngest brother, Diriba, is ten-years-old. He is four years younger than Wakuma, but just one year behind in school.
Diriba is very happy with his development since his eldest brother began helping him learn.
"We attend reading camp on weekends and we study with our brother daily. Because of this I have shown progress in my reading skills. I read stories to my colleagues at school, and this year I got the third rank in class," he says to us with a big smile.
Diriba cheerfully talks about his favorite book, 'A New Worker', summarising, "there were two bad boys, and a good man advised them to stop their bad behavior and they become good people. I learned honesty and integrity from reading it."
The boys' mother, Bekelu, is very proud of her children's success.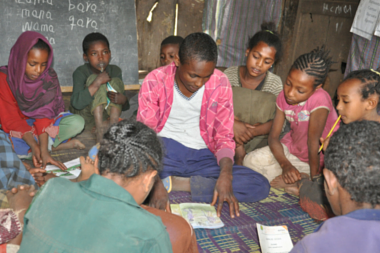 "I am very happy seeing my children's academic improvements. Previously, even though we sent our children to school, they identified few letters and could not read. My husband and I did not have time to help them, but now after they started attending reading camps and started studying with their brother at home, I have seen a great progress in them. All of them take good ranks in their class. They also prepare their own reading classes at home, and now they practice reading without any disturbance," Bekelu says warmly.
Giduma has also benefited from supporting his brothers and sisters. "I enjoy reading these books. They are designed in a very attractive way. They help me improve my reading a lot."
The literacy boost programme started in Giduma's community two years ago, and more than 74 reading camps have now been held in the area, with more than 6000 students attending. Over 86 books are available to the children, all titles that are culturally appropriate, entertaining and child-friendly.
World Vision's began working in Ethiopia in the early 1970s, with initiatives around education, food security, health, HIV and AIDS, water, sanitation, and hygiene, as well as sponsorship management. All programmes are implemented with the goal of addressing the strategic and basic needs of children while supporting and building the capacity of families and communities. In cooperation with the government, World Vision has planned to incorporate the reading buddies system at school level. 
You can find out more about our work & how you can sponsor a child like Giduma here
Obaidur, a respected Rohingya camp leader, believes that with good teaching, men can create positive change in the heart of the coronavirus crisis.
How can you maintain social distancing in a camp of crowded tents? How do you wash your hands regularly when the queue for the water point is long?
During the current coronavirus crisis, children are finding ways to bring hope and healing to those around them.
Here we meet Paska, an extraordinary girl, who has become carer to her three younger siblings at the age of just 11.