Implications of illness: Child labour in Bangladesh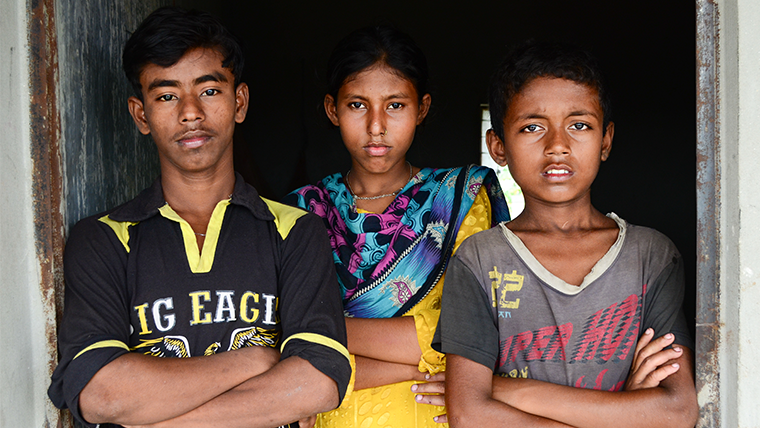 What happens when a child worker becomes ill? Without adequate social support or a workplace that will pay for sick leave, 15-year-old garment worker Anis lies in bed, his family unable to afford to send him to the hospital.
Over the last six weeks, 15-year-old Anis has been growing weaker and weaker. Most of his days are spent lying on a bed in the dark cement room where his family lives. His eyes are cloudy and even walking a short distance is difficult.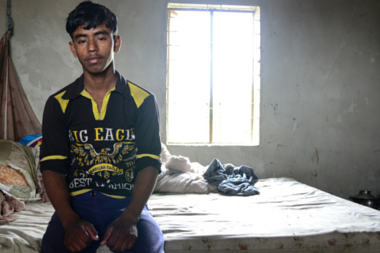 His family are worried, but there is nothing they can do. There is no money to pay for a hospital visit and no money to pay for medicine. To intensify the situation, each day Anis remains sick earnings are lost.
When Anis is healthy, he walks to a nearby factory for a 12-hour night shift. As one of Bangladesh's four million garment-factory workers, the teenager embroiders colourful designs onto jeans that one day will be sold in North America, Australia or Europe.
"The designs look nice, but they're very difficult to do," Anis tells us of his efforts, for which he is awarded the equivalent of 90p per day.
By law, factories are required to offer workers paid sick leave, hire staff older than 18 and pay a minimum wage of 5,300 taka (about £47 per month).
Lima Daring, a World Vision child protection officer working in Dhaka, explains that companies often bypass the law by saying that the children in their factories are not official workers.
Instead, the child labourers are labelled as 'helpers' undergoing training, "and as for the children, they don't have any other option," Lima adds.
For the family, Anis' salary helps pay for simple meals and a tiny room, where all six members share a single bed. "It's very tough," Anis tells us glumly.
When he became sick, his family moved him to his own room, isolating him from his younger siblings. The risk of the rest of the family falling ill is far too great.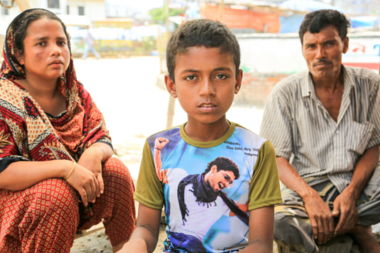 Anis' 11-year-old brother, Jabbir, is already working washing cars and tending a garden. Their father is a blacksmith, sweating over a fire as he pounds iron into tools from dawn to 10pm. There is no sign that any of his four children will enter the government's free primary schools.
The boys' father, Abdul, tells us, "I can't afford the uniform and sandals they'd need to go to school. Life in the village was better than in Dhaka. It's very hard in Dhaka."
Eight months ago, the family imagined Dhaka would be a city of opportunity, a place to start over. They left their small rural town when their debts mounted and could no longer be overcome. Speaking frankly, Abdul tells us, "I lost everything that I owned." His brow furrows, and his face is etched with stress.
Abdul tells us that there was a time when the family thrived, "I had six shops and 20 employees, I owned a motorcycle in the village, my children went to school and I used to have a bank account."
But that was before his business partner was caught illegally importing materials from India for his blacksmith shops and 300,000 taka, or £2681, was lost. Loans to keep the business afloat were taken out, often at high interest rates, until the family owed the equivalent of £3576.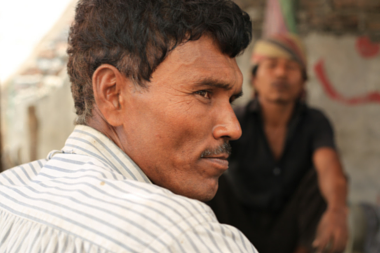 There was no way the family could pay the moneylenders back. "I had to close all the shops," Abdul tells us. "I had to borrow, but I couldn't pay the money back. I lost everything that I once owned. There was no reason to stay."
Like thousands of others who leave Bangladesh's countryside for the city every year, Abdul, his wife and the four children boarded a bus to Dhaka, their only belongings stuffed into a few shopping bags.
Once they arrived, Anis quickly found a job in a garment factory, Jabbir found work too and the boys' 13-year-old sister was kept from school to cook the family meals and tend to the other housekeeping tasks.
Meanwhile, Abdul set up a tiny blacksmith stall underneath a worn-out tarp. Each day, he sits on the side of a busy street between fruit sellers and a hardware shop, and tries to sell the butcher knives, heavy-duty nails and garden hoes he has made. He earns just enough to pay for food and rent, and not much else.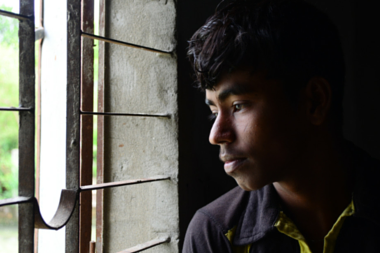 The lines on Abdul's forehead crease as he talks about his children's future, "If my children could go to school, they could build a better future," he says solemnly. But for now that remains a dream. And Anis remains sick.
World Vision works around the world through child sponsorship and other projects to help vulnerable children, their families and their communities. In Bangladesh, a total of 161,231 children from fragile communities have been reached by our Child Safety Net Project. You can find out more about child sponsorship in Bangladesh here.
Obaidur, a respected Rohingya camp leader, believes that with good teaching, men can create positive change in the heart of the coronavirus crisis.
How can you maintain social distancing in a camp of crowded tents? How do you wash your hands regularly when the queue for the water point is long?
During the current coronavirus crisis, children are finding ways to bring hope and healing to those around them.
In South Sudan, already vulnerable children face a deepening crisis as coronavirus hits their country. Here we meet Paska, an extraordinary girl, who has become carer to her three younger siblings at the age of just 11.