Angela's Story: "Enough is enough."
At this week's Global Summit to End Sexual Violence in Conflict we'll be promoting the voice of one survivor whose road to London is one of both heartbreaking pain and heart-warming recovery.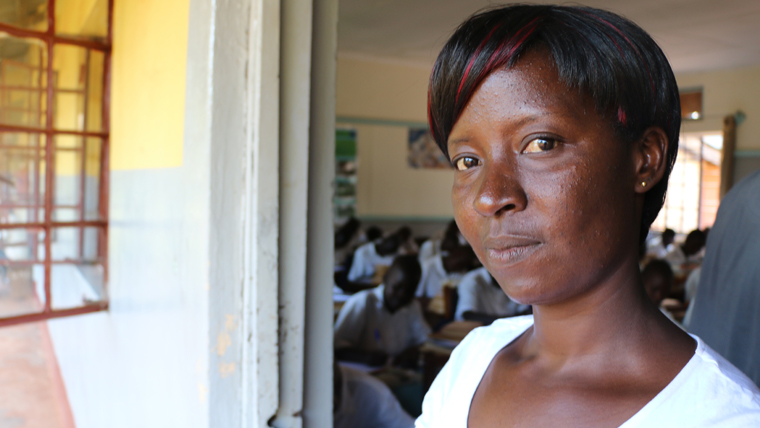 By Peter Simpson, Media Specialist, World Vision UK
Angela Atim was a happy schoolgirl from North Uganda when she was kidnapped at gunpoint aged 14 in the dead of night by Joseph Kony's Lord's Resistance Army (LRA).
"We had heard rumours that the rebels were close and for a week we lived in fear they would appear from the forest," Angela recalls. "When they came we hid under our beds but they smashed the windows to our dorm and took us away."
Along with 138 pupils from her all-girl school, she was tethered and force-marched out the gates as her teachers begged for their release.
"After walking for miles we were lined up and inspected. One girl whispered the LRA were going to keep only pretty girls and release the others," says Angela. "So we all started pulling faces to appear less attractive."
But the rebel soldiers saw through the girls' desperate disguises and Angela was one of 30 chosen by Kony's men and her eight-year nightmare began.
Trained to fire a gun and shoot to kill, she was assigned to a commander under the LRA's "forced wife system" and subjected to daily abuse including constant rape until she made a daring escape in 2002.
The summit
Fast forward to 2014 and Angela is in London where she will make a plea to UN chiefs and heads of governments from 140 countries to act to bring the perpetrators of such abhorrent crimes to account.
The event is being chaired by William Hague and Angelina Jolie, the UN Special Envoy. It's the largest gathering of its kind on this subject – being held in the ExCel Centre in London – and will seek to create irreversible momentum against sexual violence in war and work towards enforcing an international law across all borders.
"Justice must prevail," says Angela. "To end sexual violence in conflict we must hold the perpetrators accountable. Such abuse is being committed today in many countries. I will tell the summit that enough is enough."
World Vision provided counselling for Angela at one of our Children of War Centres after her escape from the LRA, and we'll be using the summit to highlight the plight of survivors who do not receive the support and attention they require and deserve – those vulnerable individuals such as Angela and groups such as children born of rape during conflict.
Despite being labelled a "rebel child" and being harshly stigmatised when she returned to school following her escape, Angela has turned her traumatic experiences into a positive force. She is now a project coordinator for Watye Ki Gen (We Have Hope) which documents and support hundreds of Ugandan children born of rape and facing the same stigma that she has had to fight against.
Together with her co-worker Janet Arach, another survivor, she travels across north Uganda, visiting remote villages and homesteads, offering support to those facing new battles having found their freedom.
Many of the children born of rape are teased and bullied at school – and not always from other children.
"Some parents tell their kids not to play with us because of who were are and where we were born. Some teachers can be horrible, too," says 14-year-old Job, who was born in the bush after his mother Santa who was kidnapped by the LRA, and who has spent most of his childhood enduring, night marches, ambushes and escapes from the Ugandan military.
"I want to become a lawyer and make sure fair justice prevails,' Job says.
Promoting the kind of legal reform Job wants to be a part of is one of the main aims of the summit: enabling countries to prosecute the perpetrators of rape, sexual slavery, enforced prostitution or any other form of sexual violence as international crimes.
It shows the perpetrator that his or her actions were criminal – and that they never were and never can be justified.
Silenced survivors
"The voices of survivors are often silenced – in their communities, in political dialogues and peace processes, and in justice processes. They must be at the forefront of the summit," says World Vision UK CEO Justin Byworth.
"We have a duty to ensure this unique opportunity does not become a talking shop but instead brings about real, permanent, positive change on the ground to the people who matter, inspirational survivors like Angela, especially for children who are particularly vulnerable.
"We have a collective responsibility to end the culture of impunity that exists around sexual violence in conflict and we must take meaningful steps to not only to respond to sexual violence, but also to prevent it by addressing the root causes before, during and after conflict."
Angela will speak up for all those affected by sexual violence in conflict.
"Enough is enough. The time for talking is over. Now we need action," she says. "If we all come together we can end sexual violence in conflict. Action begins with me, it begins with you."
Find out more about the summit and our involvement and follow what's happening on Twitter.
On International Youth Day, World Vision UK's Dr Carine Le Borgne reflects on her work with youth advocates for our It Takes A World campaign.
True gender equality means we're all in it together. In India these men are redefining gender roles and protecting girls from child marriage and violence.
Across the world, girls are standing up for their rights and creating a better future for women. Discover girls' stories of extraordinary everyday courage.
A wedding day that could have been so different. Temwa from Malawi has just married the man of her dreams – but other girls from her home face a very different idea of 'bride.'