The locals in India thought I was Queen Elizabeth...
Brenda, a wonderful and loyal 80-year-old supporter of World Vision, contacted us to say she'd like to see her sponsored child, Sachin, and brave a trip to one of the hottest parts of the world, accompanied by her son, Vaughan.
Here is Brenda's account of a truly remarkable visit: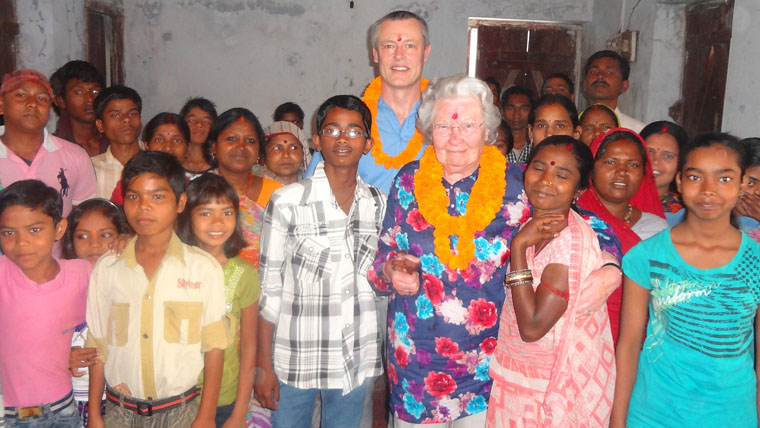 My son and I recently flew to India, both of us making our first visit to the subcontinent.  Our destination, via Delhi, was the city of Patna.
Patna, the capital of the Bihar state in North East India, was the most important city in India in ancient times, but now has a less conspicuous profile.  Bihar is now among the least developed states of India with an estimated 42% of the population living below the poverty line.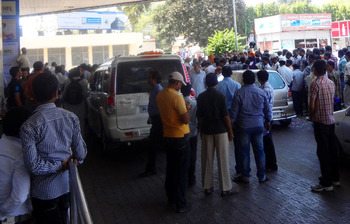 We arrived at Patna airport to a huge crowd and fanfare.  Alas the massed crowd was there to welcome home a local politician, so clearly the Indians think more of their elected representatives than we do!
We managed to find the World Vision staff amongst the melée and they drove us out of the airport and into 38 degrees.  We knew to expect this heat but at 36 degrees hotter than the country we left the day before, it took some getting used to.

During the entire trip, the driving in India never ceased to amaze us both.  We took dozens of pictures in an attempt to capture the utter mayhem on the roads but none could do it justice.  The Indian people drive predominantly on the left but that is about the only rule of the road we could ascertain.  In fairness to them, they make it work by expecting other road users (lorries, cars, tuk tuks, rickshaws, motorbikes, cycles, pedestrians and cows – all in equal numbers) to appear from any direction at any time.  A note of caution – if you are a patient driver, do not go to India, you won't move for a week.
Into the Slum
After a night in a Patna hotel we were collected the next morning and taken to the slum.  We knew we were going to meet Sachin, our sponsored child and his family but were unaware of the extra special welcome we would receive from his community.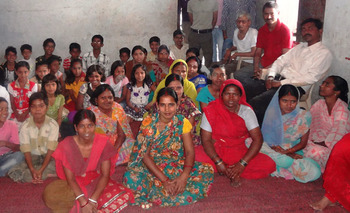 On arrival, we were shown to their "community hall".  A single room about 20′ x  40′ containing a couple of tables and a few chairs.  At the door, we were greeted by a young girl who placed garlands of flowers around our necks, touched our feet as a blessing and applied the tilak – the red spot to our foreheads.  We truly were honoured guests.
As we sat in the hall, the children came in and sat down on the floor.  When they had all assembled, they rose and sang beautifully a song they had learned in English to welcome us.
After the song, more and more people came to meet us until the room was quite packed.  Sitting at the front were the fabulously dressed Ladies Self Help Group that World Vision had coordinated and given guidance in how they can literally help themselves.
For instance, their normal way of life involved simply spending what they earned. World Vision acted as a go-between with the local banks (who would not normally entertain these groups) so that the ladies could put a little in savings and then any member of the group could borrow from that pool for their particular enterprise scheme.
Our turn to talk
My son was then asked to tell our audience a little about where we were from.  Being unprepared for this, his talk majored on geography, climate, population and cricket!
My son then asked if anyone had any questions for us and the lady in the green floral dress at the front stood up and asked, "Why have you chosen to help us?"  My son explained that his father's family had lived in India for nine years in the 1920′s and that allied to our historical, cultural and sporting ties had made India an easy choice to support.
Afterwards, a local group leader spoke for a few minutes to our audience.  He then explained to us that he had been describing how much the British had done for their particular area when India gained independence and that explains why his address had ended in an unexpected round of applause for us.
At this point, we were asked if we would pose for some photographs and I asked if Sachin was there because we had still not been introduced.  I thought I had recognised him (from the pictures I had received) sitting at the back of the room and I was right.  We were formally introduced to Sachin, his parents, older brother and sister before smiling for the first of many, many photographs.
In the picture above Sachin stands to my right and his mother and sister to my left.  Sachin's father is the moustachioed man back right and his older brother (in the white and black chequered shirt) is trying to hide at the back of the room over my left shoulder.
Time with Sachin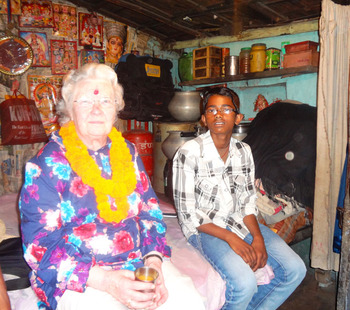 After leaving the community hall, we walked a few hundred yards through the slum to visit Sachin's family home. On the way there,  I was walking a few steps behind Vaughan and Priya. I heard some whispering and then people bursting out laughing. I found out the locals thought I look like Queen Elizabeth. Vaughan joked that his sister and him sometimes pretend I was the Queen on an undercover visit to get VIP treatment.
Inside Sachin's two room house we were given a local desert to eat which was nice but extremely sweet.  We then gave Sachin and his family a few simple gifts we had brought with us and exchanged family photographs.
Back to school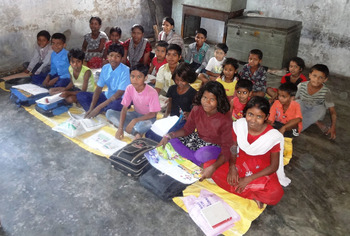 From there, we walked back to see the school which was next to the community hall.  The two-classroom school was used for all ages and the children who had serenaded us earlier were already hard at work.
Outside the school, we were shown some cycle carts that World Vision have sponsored to enable people to generate some income of their own.
We then said an emotional farewell to Sachin and his family before we headed off.
The Ganges and other sights
The World Vision staff then took us to see the river Ganges as we had said it was something we wanted to do and after a couple of hours rest back at the hotel we met again at the World Vision head office.
Over some little refreshment we discussed all aspects of what World Vision do in the area with the Programme Officer, Priya Ranjan Das.
We learned so much about how they help the inhabitants of the slum from basic feeding programmes for the malnourished and the sponsored carts, right up to the financial guidance of the co-operative groups I described earlier.  It was fantastic to hear first hand exactly how our small contribution was ultimately being used to make such improvements in the lives of those living in the slums of Patna.
Our brief trip to India concluded with a tour of Delhi and a visit to the truly magnificent Taj Mahal in Agra.
Although our time with World Vision and Sachin had only been a few hours, it was an unforgettable experience.  The organisation of the visit by the local World Vision staff was excellent and their enthusiasm for helping the people they do shone through.
Sachin does not speak much English and being the centre of attention was perhaps a little overwhelmed by the occasion but overall we were made to feel very welcome indeed.  We were allowed into and got a brief glimpse of Sachin's world and my son and I both agreed it was an eye-opening experience.  We would strongly recommend visiting your sponsored child if you have a chance!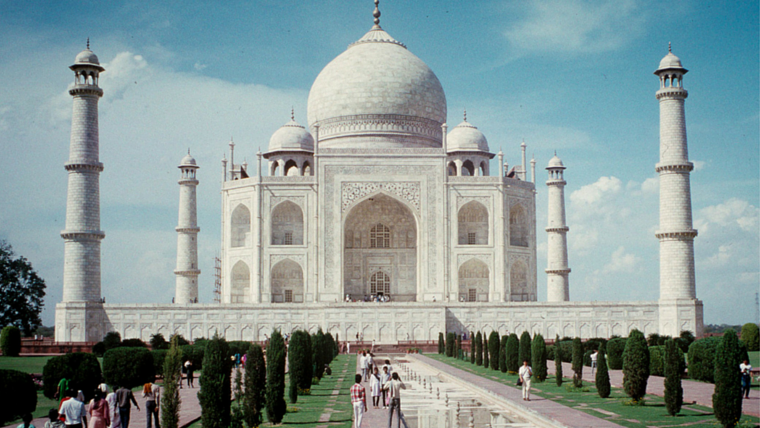 Huge thanks to Brenda for sharing her sponsor visit story with us. If you have any questions for Brenda she is happy to respond. Head over to our Facebook page here to join the discussion.
5 of the best ways to fill the summer holidays and help your kids achieve something great.
First-hand accounts of Beirut's explosion, from the children who live there. Plus, how you can help them today.
In 2020, handwashing is more important than ever. This August, we can bring vital clean water to children like Ireen.
A celebration of children across the UK who've been inspired to fundraise for more vulnerable children during the global pandemic.