Catherine Hatton, a World Vision child sponsor and new Ambassador, recently travelled to the Patna community in India, with a group of like-minded sponsors to meet Nisha and her family, who she ha.uk/files supported for years. Here she tells us about her special day.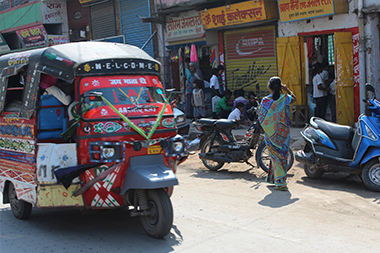 After meeting the wonderful World Vision team at the Patna office we then drove through roads packed with a large number of animals, rickshaws, bicycles, wagons, buses, lorries, pedestrians, Tuk Tuks and motorcycles. It was a wonderful and exciting drive to the slum community where Nisha lived. Quite different to my much quieter morning commute back in England!
I was excited, nervous and apprehensive all at once!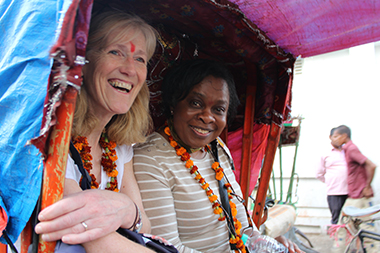 Clutching a bag of goodies for Nisha and her family we rounded the corner and I was totally amazed to see many many children standing on the steps to the Children's Club to meet us cheering and waving with huge smiles on their faces. I recognised Nisha straight away as she came towards us all, very solemnly putting garlands of flowers over our heads with Preeti, another sponsored child. They marked bindi's on our foreheads and blessed us with water. Nisha's Mum recognised me and came up to me and said "Hello, I am Nisha's Mummy" - I was overwhelmed with emotion.
I felt extremely privileged and I was received with such a very special welcome that it was truly humbling.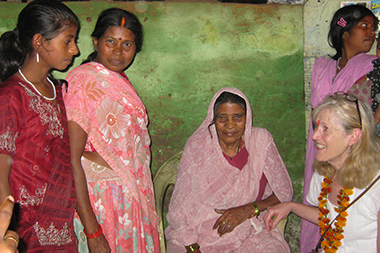 I walked with other sponsors, Pam and Karen, alongside Sudarshan, who has the challenging job of delivering and translating the hundreds of letters sent from sponsors, to Nisha's house. Nisha held my hand and led me. I couldn't quite take in the precious moment with my sponsored girl's little hand in mine. I felt so blessed at how such an amazing and precious thing could happen to me. We chatted and the language was no barrier. We looked at photos, played games by torchlight on the floor and I was introduced to members of Nisha's family. I was given food and drink and made extremely welcome.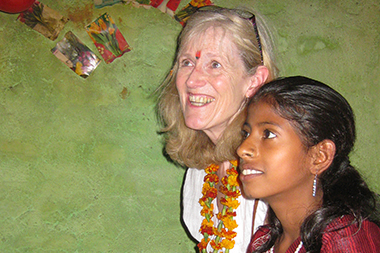 The time I had with Nisha and her family in their home is beyond words. I had to stop my self from crying with happiness every time I spoke to them. It was a visit I will never forget as long as I live. How extremely fortunate was I!
Why don't you make the journey to your sponsored child's community to visit them and see more of how your donations are being put to great use. Find out more about visiting your sponsored child »