VOLUNTEER AT OUR EVENTS
We have exciting events happening across the UK this year and we have volunteering opportunities for you, friends and families. Join us and find out more about our work and how you can support us in changing the lives of the world's most vulnerable children. We will provide you with everything you'll need to share the impact of our work with others. You'll have free access to the events, hear from our partners and learn about issues impacting children around the world. You will also get a certificate of appreciation from World Vision.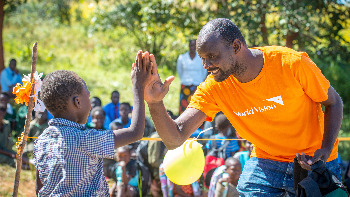 Week 1: 27 July - 2 August
Week 2: 4 August - 10 August
We still have some spaces for people to serve in the World Vision Café at New Wine United 19.
To apply to join our café team in week 1 or week 2, please visit united.new-wine.org/teams and select "World Vision Café" from the team drop down menu as part of your application.
We do also have some limited day passes to support our other activations.
To apply for a day pass to volunteer with us, please register here.

All applicants must be 18 years and over to volunteer at any World Vision events. Thank you for your interest.